2021 Topps Heritage Baseball Checklist, Team Set Lists and Details
When you click on links to various merchants on this site, like eBay, and make a purchase, this can result in this site earning a commission.
2021 Topps Heritage Baseball brings back the funky vibes of 1972. It was the year the Watergate scandal broke, The Godfather made an offer moviegoers couldn't refuse and the likes of David Bowie and Simon and Garfunkel put their personal stamps on both music and fashion.
The set-up is one that's going to be familiar to Heritage fans. That means a checklist that's built largely with nostalgia and set building in mind.
Hits? They're in there but with just an autograph or memorabilia card per hobby box, they are a secondary focus.
2021 Topps Heritage Baseball Base Set Basics
The main set is a 500-card affair. At least it will be. Cavan Biggio's base card was mistakenly left out and will be added in the later High Number set.
The cornerstone feature of the line is that it recreates the focus year's flagship Topps Baseball design. For its 21st Heritage set, it's 1972 Topps Baseball. That means bursting team names and the "psychedelic tombstone" frame as Gregory Gay so appropriately put it.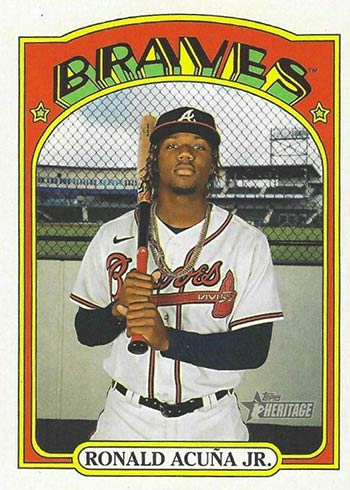 Subsets give a nod to the original 1972 set. This includes cards for year-end MLB awards (not the winners), In Action and Boyhood Photos of the Stars.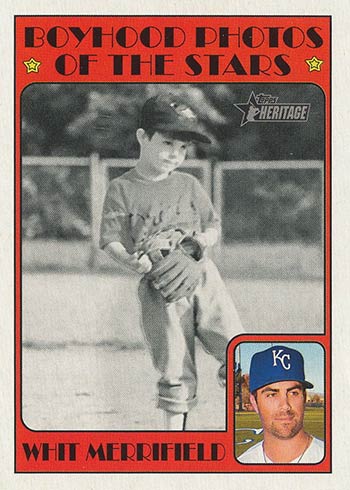 The first 400 cards are the most common. Short prints (#401-500) are 1:3 packs.
Hobby-only parallels include Black Border (50 copies each) and another round of Flip Stock (five copies each). These are essentially printed on the opposite side of the sheet where fronts have the rough texture normally found on backs and vice versa.
Minis are a partial parallel that don't exist for every base card. Like past years, these are serial-numbered to 100.
Variations have been a big part of Topps Heritage for several years. These come in a variety of themes, some of which are easier to spot than others. Action Image Variations are only in hobby packs once again. Nickname Variations play with the player's name on the front. Throwback Variations are some of the toughest cards on the entire checklist. These switch out the photo for one of the player wearing an old-time uniform. Errors return, using some sort of manufactured mistake.
New for 2021 are Missing Stars Variations. These simply remove the star icons that flank the team name on the front banner.
Chrome
Chromium cards didn't exist in 1972. They most definitely do today. Chrome cards cover 100 cards, giving base cards a metallic look.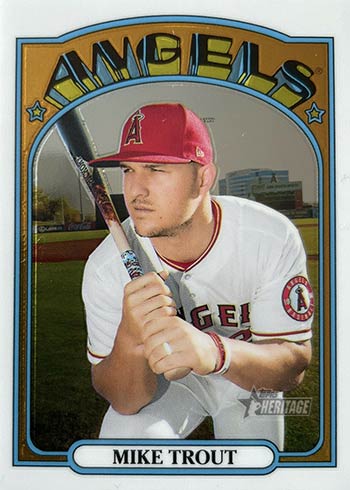 Chrome parallels include Refractors (/572), Black (/72), hobby-only Gold (/5) and Superfractors (1/1).
Purple Hot Box Refractors are randomly inserted in hobby boxes and blaster-style value boxes.
2021 Topps Heritage Baseball Autographs and Memorabilia Cards
Signatures might not be in every box of Topps Heritage, but those that exist tend to be among the more popular of the year given the combination of nostalgia, varied checklists that lean on the past and on-card ink.
Real One Autographs are where the bulk of these are found. As usual, these are hard-signed and take on the same general design as the base set (and inspiration year). Special Edition versions (/72) have red ink.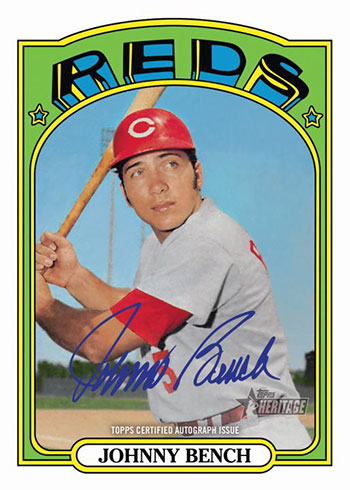 Dual (/25 or less) and Triple (/5) Autographs are also on the checklist, although as hobby exclusives.
The Rangers Inaugural Season Autographs checklist consists of players from the 1972 team, the franchise's first in Texas. These have no more than 100 copies each.
Clubhouse Collection Relics are where the majority of memorabilia cards reside. Basic versions have Gold (/99 or less) and Patch (1/1) parallels. There are also Dual (/72), Triple (/25) and Quad Relics (/10) that also have one-of-one Patch versions.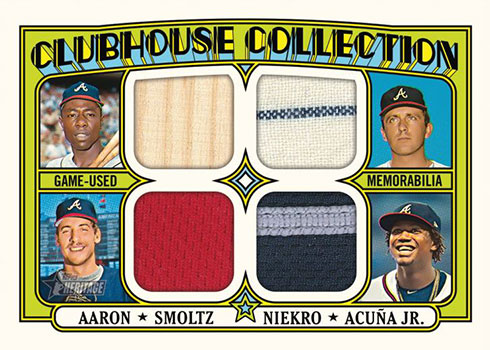 On-card signatures are part of Clubhouse Collection Autographed Relics (/25 or less) and hobby-exclusive Dual Autographed Relics (/10 or less) that have a pair of players. Patch (1/1) parallels also exist for these.
Flashback Autographed Relics include players from 1972.
The only autographs in 2021 Topps Heritage that wouldn't be considered "on-card" are Cut Signatures. Whether it's a baseball or celebrity cut, all are one-of-ones.
Coins are the main feature in 1972 Mint. Versions include Nickel (/15), Dime (/10), Quarter (/5) and Half Dollar (1/1). All of the coins embedded in these cards are from 1972.
Taking a similar approach are 1972 U.S. Postage Stamp Relics (/50).
Inserts
The majority of the regular insert themes in 2021 Topps Heritage Baseball are carryovers from past years.
New Age Performers showcase 25 current players working their way up the all-time ranks. Then and Now pair a superstar from 1972 with someone from today with similar stats.
Taking it back to 1972 are Baseball Flashbacks and News Flashbacks. These look at the events that shaped the year both on the diamond and in the headlines.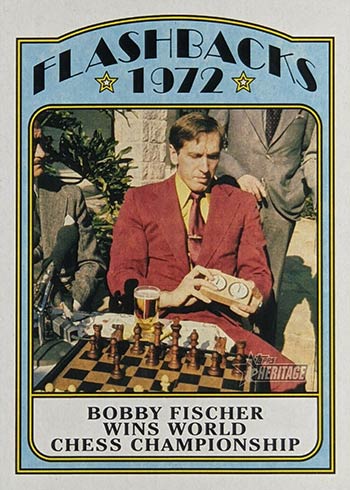 Roberto Clemente is the focus of The Great One, a 21-card set that spotlights not just his career but his life outside the game as well. The Great One Buybacks are original Clemente Topps baseball cards that have a special stamp noting the release.
Topps Venezuela Stamps are a retail-exclusive. Limited to 200 copies each, these are inspired by the tough 1972 release.
Box Toppers
2021 Topps Heritage Baseball hobby boxes come with a bonus box topper once again. These come from a few different themes.
Oversized 1972 Topps baseball blow up 50 cards from the base set. Each has 1,000 copies. Some of these also have autograph versions that have print runs no higher than 25 copies.
Inspired by the similar 1972 set are 1972 Topps Baseball Posters. According to Topps, these are 1:2 boxes.
Finally, there's 1972 Topps Baseball Originals. These are original 1972 Topps cards with a special foil stamp.
2021 Topps Heritage Baseball cards at a glance:
Cards per pack: Hobby – 9, Retail – 9, Blaster – 9, Value Packs – 20, Hanger Boxes – 64
Packs per box: Hobby – 24, Retail – 24, Blaster – 8, Value Packs – 108, Hanger Boxes – 1
Boxes per case: Hobby – 12, Retail – 8, Blaster – 40, Value Packs – 1, Hanger Boxes – 64
Set size: 500 cards
Release date: March 26, 2021
Shop for 2021 Topps Heritage Baseball boxes on eBay:
What to expect in a 2021 Topps Heritage Baseball hobby box:
Autographs or Memorabilia Cards – 1 Total
2021 Topps Heritage Baseball Checklist
You can also download a customizable spreadsheet copy of the checklist:
Please note that, unless noted, print runs for cards without serial numbers have not been announced.