2022-23 SP Authentic Hockey Details
When you click on links to various merchants on this site, like eBay, and make a purchase, this can result in this site earning a commission.
2022-23 SP Authentic Hockey marks the return of the perennial favorite. Headlined by its cornerstone Future Watch autographs, the checklist includes lots of other signatures, inserts and parallels. There's also a new Bounty chase that can lead to exclusives not available in packs.
Hobby boxes continue to deliver a pair of autographs, at least one of which falls under the Future Watch banner.
2022-23 SP Authentic Hockey Checklist Overview
The main set has 200 total cards split evenly between a veteran shell set and Future Watch Rookie Cards.
While most Future Watch cards are autographed, not all are. In both instances, base versions come numbered to 999 — even the top players. This is part of the reason why SP Authentic has been so popular with set builders for such a long time. For those that are signed, the first 50 copies will also include an inscription with their debut date.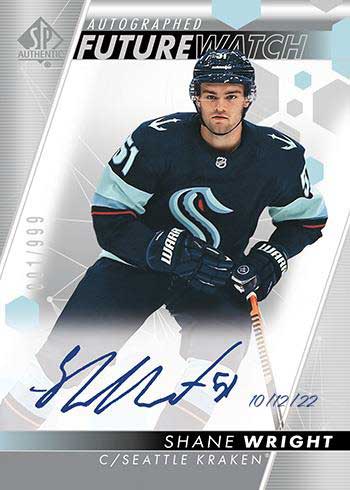 Limited parallels come in a handful of levels:
Red – 1:3 packs
Blue – /399
Green (Future Watch only) – /199
Gold – /99
Black – 1/1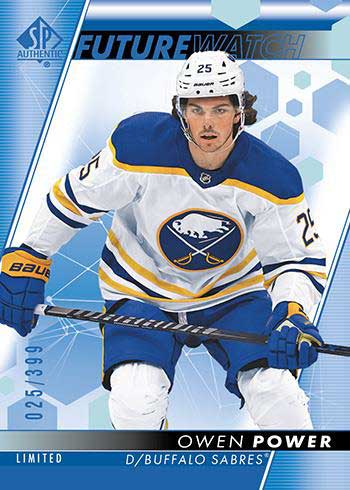 Standard Future Watch parallels do not have autographs.
Select cards do have hit-based upgrades as well.
Limited Autographs covering the veterans are 1:60 packs while Limited Auto Material cards are numbered to 100 or less. Future Watch Auto Patch cards have 100 copies each plus a one-of-one Mystery Black copy.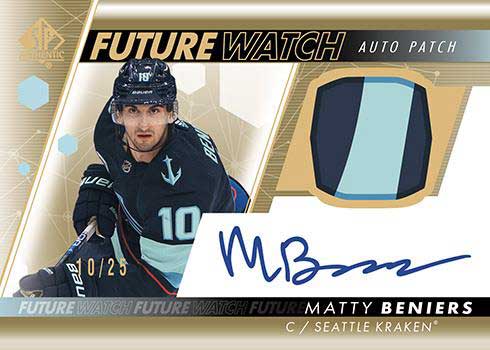 Throwback Content
Like most Upper Deck products, 2022-23 SP Authentic Hockey has some throwback elements that use designs from past sets. Here, it's 2002-03 Retro Autographed Future Watch (/399 or /99), 2002-03 Retro Sign of the Times (1:120 packs), 2012-13 Retro Autographed Future Watch (/699 or /199), and 2012-13 Retro Future Watch Auto Patch (/100, /50 or /25).
Retro Acetate Future Watch cards recreate RCs from the past, this time on the plastic stock.
Additional Autographs and Inserts
Chirography (1:160 packs) and Sign of the Times (1:32 packs), both of which have roots dating back to the brand's early days in the 1990s, are back. For Sign of the Times, there are also versions with two (/25), three (/15), four (/10), six (/5) and eight (/5) signers.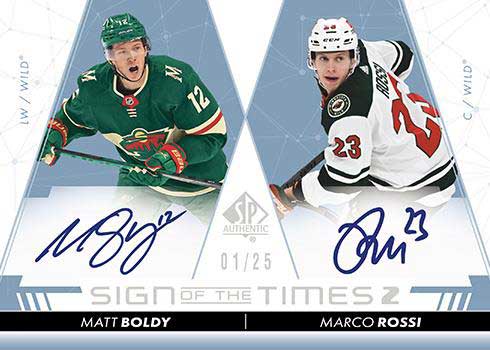 UD Authentics has both standard Autographs (1:70 packs) and Auto Patch (/49 or /25) versions.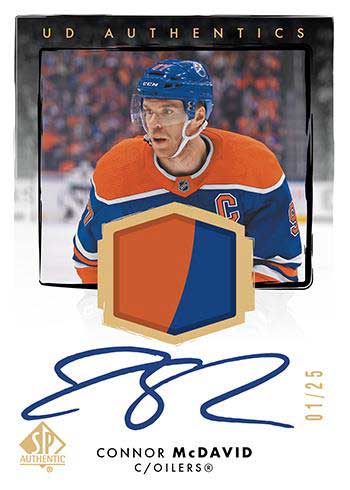 Other autograph themes in 2022-23 SP Authentic Hockey include Immortal Ink (/10), Marks of Distinction (/25), Curated Signatures and Telemetry Autographs (1:480 packs). Curated Signatures and Telemetry Autographs are both making their debuts.
Among the other standard inserts are Future Icons (/399), Holofoils (1:160 packs), Collaborations (1:5 packs, Blue 1:24 packs, Green 1:120 packs), Pageantry (1:2 packs, Red 1:10 packs), and Top Rookies (1:3 packs, Blue 1:12 packs).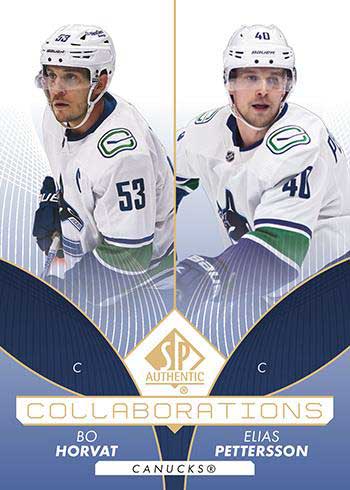 2022-23 SP Authentic Hockey Bounty
There is a Bounty chase in 2022-23 SP Authentic. To qualify, collectors must build a full set of 91 Spectrum FX cards. These come in four tiers of rarity:
Veterans – 1:10 packs
Future Watch Level 1 – 1:20 packs
FW Level 2 – 1:42 packs
FW Level 3 – 1:160 packs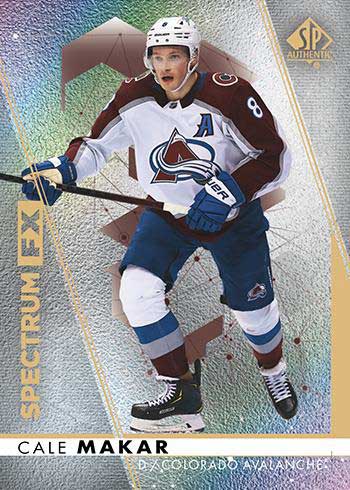 The first 50 collectors to complete the set and register it through the Upper Deck Bounty website receive a 100-card Gold Spectrum FX set plus a mystery bonus. Everyone else who finishes the Bounty get a nine-card Spectrum FX Bounty set.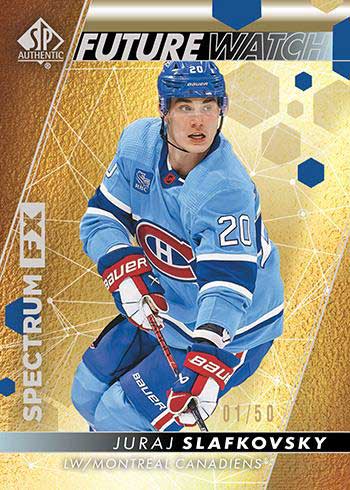 2022-23 SP Authentic Hockey cards at a glance:
Cards per pack: Hobby – 9
Packs per box: Hobby – 10
Boxes per case: Hobby – 16
Set size: 200 cards
Release date (subject to change): September 20, 2023
What to expect in a hobby box:
Future Watch Autographs – 1
Additional Autographs – 1
Collaborations, Top Rookies or True Leaders – 10 Total
Pageantry – 6
Pageantry Red – 1
Spectrum FX Bounty Card – 1
Numbered or "Tech" Inserts – 1 Total
Limited Red Parallels – 8
Recent SP Authentic Hockey releases:
The full 2022-23 SP Authentic Hockey checklist and team set lists will be up as soon as they're available, likely shortly before the product's release.