2021-22 SP Authentic Hockey Details
2021-22 SP Authentic Hockey carries on one of the longest-running legacies for the sport. Autographs are a cornerstone once again including the always popular Future Watch Rookie Cards. For those looking for a rewarding challenge, there's another Bounty program to chase. But there are some new elements on the checklist as well.
Across a 2021-22 SP Authentic Hockey hobby box, collectors can expect a pair of autographs (including one Future Watch RC), either a premium insert or a serial-numbered card, one Bounty card, seven inserts and eight more parallels.
2021-22 SP Authentic Hockey Checklist Overview
The base set consists of 200 total cards, 100 veterans and 100 Future Watch rookies that are numbered to 999.
While not all of the RCs have autographs, the vast majority typically do. They're on-card as well. For those that are signed, the first 50 copies come with debut date inscriptions. Select cards also have Future Watch Autograph Patch cards, which have 100 copies each.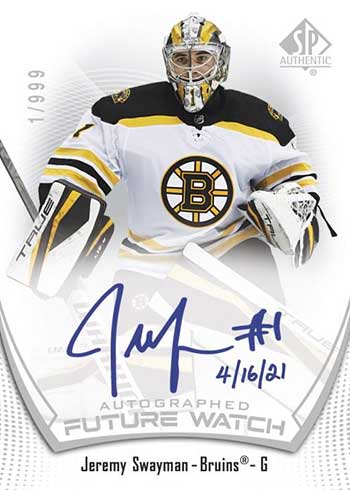 Some veteran base cards have Limited Autograph versions. These land 1:60 packs.
All 200 cards have three levels of standard, unsigned parallels as well: Limited Red (1:3 packs), Limited Gold (/99) and Limited Black (1/1).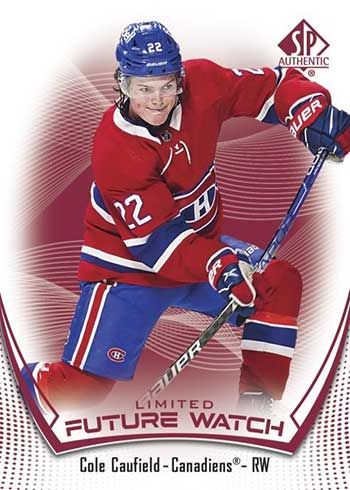 Additional Autographs
The on-card autographs carry over into several of SP Authentic's inserts.
Sign of the Times, a staple for the brand since its early days, is back. Single-signed cards are 1:30 packs. Cards with ink from two (/25), three (/15), four (/10), six (/6) and eight (/5) player can also be found. Keeping with the Sign of the Times theme are Decades 1990s, 2000s and 2010s cards (1:400 packs) as well as SOTT Rookies (1:864 packs).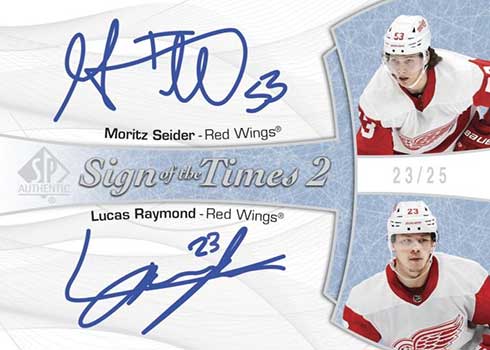 A pair of past SP Authentic Hockey sets act as the inspiration for some Retro-themed sets. 2001-02 has Autographed Future Watch (/90), Autographed Future Watch SP Limited parallels (/9), numbered Base Autographs and Sign of the Times (1:120 packs).
Jumping ahead a decade are 2011-12 Retro Autographed Future Watch cards. Depending on the player, these have 499 or 99 copies each.
When it comes to signature memorabilia cards, there's Limited Auto Material. Available in four levels of rarity, cards are numbered to either 100, 50, 25 or 10. There's also UD Authentics Auto Patch (/49 or /25). Non-memorabilia UD Authentics Autographs fall 1:80 packs.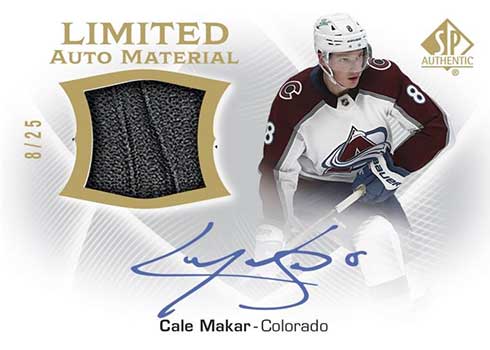 More returning autograph themes include Immortal Ink (/10) and Marks of Distinction (/25).
Only SOTT cards signed by three or more players use stickers. Everything else in 2021-22 SP Authentic Hockey is on-card.
Additional Inserts
2021-22 SP Authentic has a handful of new standard insert themes. Among them is Pageantry, which highlights top past, present and future stars. Select cards in this set also have autographs (1:67 packs) and one-of-one autographed Black parallels.
Also new are SP Top Rookies (1:3 packs). These have Blue (1:12) and Green (1:60) versions.
Both True Leaders (1:5 packs) and the debuting SP Die-Cuts (1:5 packs) also get the Blue (1:24) and Green (1:120) treatment.
For those looking for a tough chase, there are new SP Holofoils. Landing 1:160 packs, these cast players against a hologram backdrop.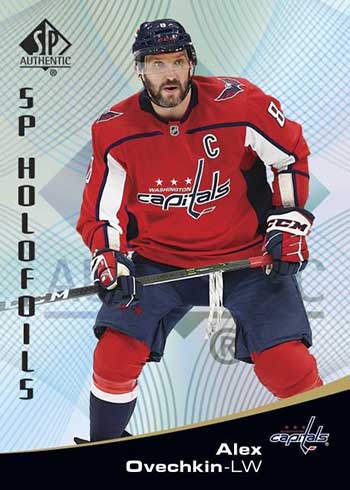 2021-22 SP Authentic Hockey Bounty Program
Once again, SP Authentic's Bounty program revolves around Spectrum FX inserts. Those that complete the full 99-card set can redeem them for an exclusive card #100 that isn't in packs.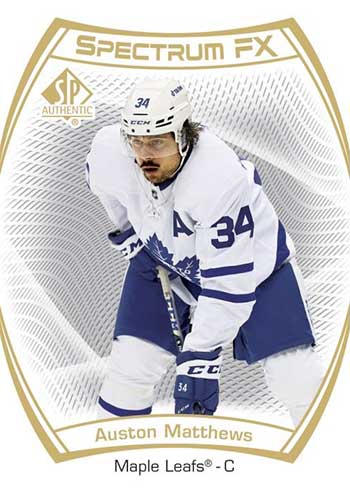 Like past years, the checklist is split into multiple levels of rarity:
Veterans – 1:10 packs
Future Watch Level 1 – 1:20 packs
FW Level 2 – 1:42 packs
FW Level 3 – 1:160 packs
The first 50 people to complete the quest also receive a set of 100 Gold parallels plus a pair of surprise cards.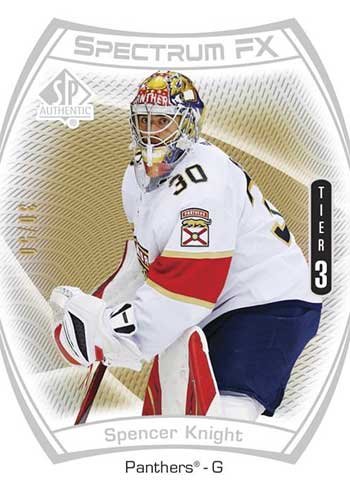 2021-22 SP Authentic Hockey cards at a glance:
Cards per pack: Hobby – 9
Packs per box: Hobby – 10
Boxes per case: Hobby – 16
Set size: 200 cards
Release date (subject to change): December, 2022
What to expect in a hobby box:
Future Watch Autographs – 1
Additional Autographs – 1
Numbered Base Cards, Parallels or Premium Inserts – 1
Spectrum FX Bounty Cards – 1
Limited Red Parallels – 8
Recent SP Authentic Hockey releases and checklists:
The full 2021-22 SP Authentic Hockey checklist and team set lists will be up as soon as they're available, likely shortly before the product's release.