2019-20 SP Authentic Hockey follows in the footsteps of the long-running line with some familiar elements as well as some new ones. It has a lot of the staples that have been part of SP Authentic for years, like autographs being a focal point. But the brand continues to evolve with some new twists and angles.
Hobby boxes have a pair of autograph cards, at least one of which comes from the Future Watch subset. Additional short prints, inserts and parallels also make regular appearances.
2019-20 SP Authentic Hockey Base Set Basics
The checklist starts with 100 cards. It's not large, limiting itself to key stars. All have Red parallels, which are 1:6 packs. Select cards also have Limited Autographs (1:90 packs). Limited Auto Materials versions come in four levels of rarity. Tier 1, the most plentiful, have 100 copies each. The toughest, Tier 4, are numbered to 10.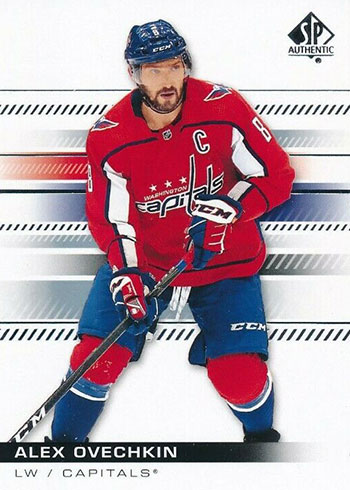 But the base set delves much deeper with three distinct short print subsets.
Future Watch (/999) leads the way. Outside of Upper Deck Hockey's Young Guns, these are traditionally among the most popular Rookie Cards each year. Future Watch Autographs land one per hobby box. All signatures on these are on-card. That said, not all players have autographs. Future Watch Auto Patch cards (/100) return. These offer a variation spin.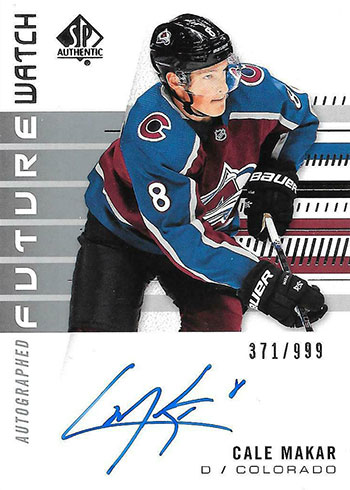 Authentic Moments return with cards highlights from big NHL moments. Autograph parallels for these exist, but they're tough at 1:1,200 packs.
New in 2019-20 SP Authentic Hockey is Future Icons (/199). All 31 NHL teams get a card, each featuring a pair of their young standouts.
Autographs
Sign of the Times has a history that dates dates back almost 25 years. The autographs have an extensive place on the checklist including a variety of themes. New Sign of the Times Draft (25 cards, 1:540) picture players shortly after they were first taken.
Sign of the Time Decades highlight players from the 1980s (1:864), 1990s (1:864) and 2000s (1:648). Like SOTT Decades cards from last year, each era gets its own design.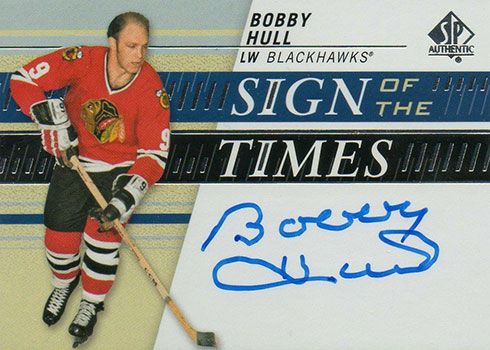 1999-00 (1:720) and 2009-10 Retro Sign of the Times (1:36) offer a throwback to past designs with new players.
Multi-signature Sign of the Time cards return with ink from two (/25), three (/15), four (/10), six (/6) and eight (/5) different players.
Another part of the checklist that takes things back is 2009-10 Retro Future Watch Autographs (/399) as well as Auto Patch parallels (/50). 2009-10 Retro Rookie Review Auto Patch cards are numbered to 25.
Immortal Ink (/10) has 15 different Hall of Famers or future inductees including the late Gordie Howe. Marks of Distinction are also back. Although, with just 25 copies each, finding one may be a challenge.
Additional Inserts
Not all of the inserts in 2019-20 SP Authentic Hockey are autographs. 1999-00 Retro Future Watch (/249) and 1999-00 SP Essentials (1:8) are a pair of places that also double as more elements with familiar designs.
Authentic Winners inserts are 1:30 packs.
2019-20 SP Authentic Bounty Program
Every hobby box has at least one Spectrum FX card that can be used for the set's Upper Deck Bounty program. Those that complete a full run of all 99 pack-inserted cards can redeem them online for an exclusive card #100 that's not in packs.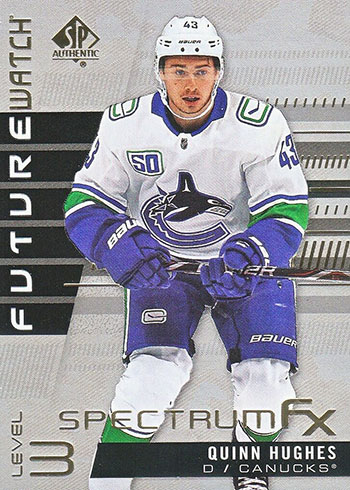 As an added incentive to finish the set as fast as possible, the first 50 people to qualify also receive a full set of Gold parallels.
Spectrum FX cards come in four different levels of rarity. Veterans are 1:18 packs. Future Watch cards break down to the following levels: 1 – 1:36 packs, 2 – 1:90 packs, and 3 – 1:360 packs.
2019-20 Upper Deck Update
2019-20 Upper Deck Hockey didn't end with Series 2. Some final updates are available here, landing 1:8 packs. All-Star Highlights are 1:13 while some late-debuting rookies get their Young Guns cards (1:15). Among the Young Guns? David Ayres, the emergency back-up goaltender who helped lead the Hurricanes to a win over Toronto.
Similar to the main releases, Updates also have Exclusives (/100) and High Gloss (/10) parallels.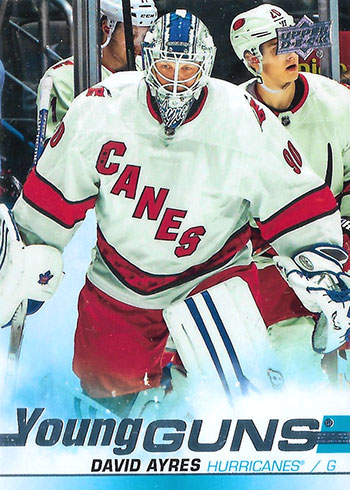 2019-20 SP Authentic Hockey cards at a glance:
Cards per pack: 5
Packs per box: 18
Boxes per case: 16 (two 8-box inner cases)
Set size: 251 cards
Release date: June 3, 2020
What to expect in a hobby box:
Future Watch Autographs – 1
Additional Autographs – 1
2019-20 Upper Deck Updates – 5
Sprectrum F/X – 1
Authentic Moments, Authentic Winners or SP Essentials – 6 Total
Red Parallels – 3
2019-20 SP Authentic Hockey Checklist
Base
Parallels
Autographs
Inserts
UD Update
SPA Updates
Team Sets