2020-21 SP Authentic Hockey Has Ample Ink and a Bountiful Chase
2020-21 SP Authentic Hockey continues to build on the brand's legacy. Autographs remain a major focus but there's also the more recent development of the UD Bounty program, which continues with a new challenge.
Both of these elements are present in every hobby box with the promise of two autographs and one Spectrum FX insert that doubles as a piece of the bounty.

2020-21 SP Authentic Hockey Checklist Overview
Those chasing all components of the main set have 232 cards to track down. It's not a round number but there are several pieces that bring it all together.
For starters, the base shell set has 100 cards. This is where the vets reside. Limited Red parallels are 1:6 hobby packs, or three per box. Select cards also have Limited Autograph versions that land 1:144 packs.
Celebrated Moments (#101-116) is the first of three subsets, falling 1:7 packs. While autographs exist for some of these as well, they're a tough 1:1,800 packs.
Future Icons (#117-147) highlights a pair of young players that are considered to be cornerstones of their respective franchises. Numbered to 199, these are the rarest cards in the base set.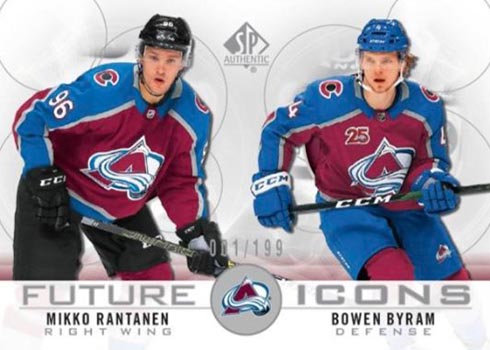 And what would an SP Authentic Hockey set be without the Future Watch Rookie Cards? They're back in a big way covering #148-232. Keeping with tradition, most of these come with autographs. Base versions continue to have 999 copies. For those with signatures, the first 50 copies also have an inscription from the player. Future Watch cards also have Mystery Black parallels.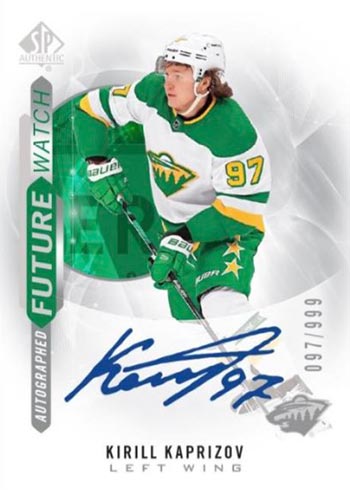 There's also Future Watch Auto Patch variants, which come numbered to 100. Mystery Black parallels for these are one-of-ones.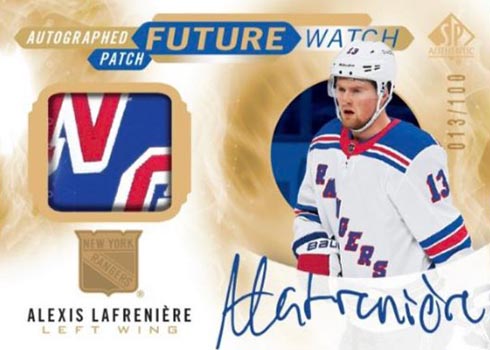 Autographs
The signature lineup in 2020-21 SP Authentic Hockey goes far beyond the base set's rookies. That said, the Future Watch theme returns for a couple of throwback-style autograph inserts.
2010-11 Retro Future Watch Autographs reach back a decade for its design. These come in three tiers with numbering to 399, 99 or 50. Auto Patch versions have 99, 49 or 25 copies each.
Heading back further in time are 2000-01 Retro Future Watch Variant Autographs. Print runs on these vary by player.
On the design front, there are a couple more nostalgia-driven inserts: 2000-01 Retro Sign of the Times (1:255 packs) and serial-numbered 2000-01 SP Authentic Retro Base Variant Autographs.
Sign of the Times, an SP anchor since the 1990s, keeps its place on the checklist. Regular versions are 1:42 packs, making them some of the most readily available signatures in the product not named Future Watch. Black parallels come with varied numbering.
Decade-specific Sign of the Times cards return, spotlighting not only players from that era but with designs that would fit in during the timeframe. This year, decades include:
1980s – 1:1,728 packs
1990s – 1:1,728 packs
2000s – 1:1,728 packs
2010s – 1:864 packs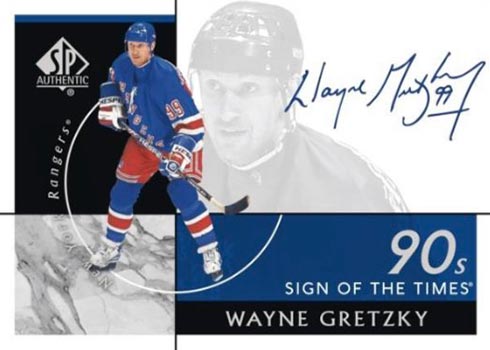 And then there are the multi-signature Sign of the Times cards that have two (/25), three (/15), four (/10), six (/6) or eight (/5) autographs.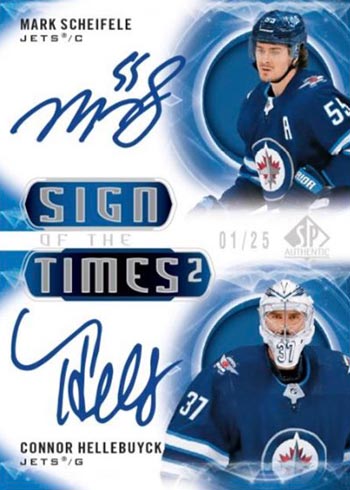 Limited Auto Material cards have on-card signatures and game-used memorabilia. These have four levels of rarity, numbered to 100, 50, 25 or 10.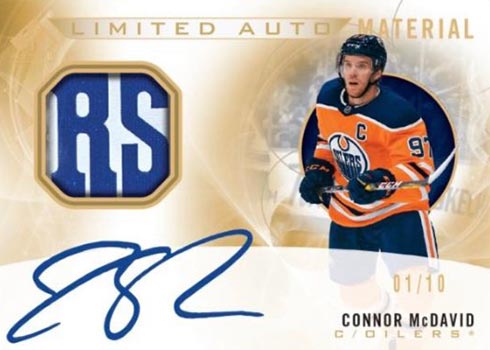 Other autograph inserts include UD Authentics (1:360), UD Authentics Auto Patch (/49 or /25), SP Chirography (1:1,728), Marks of Distinction (/25), Immortal Ink (/25) and Immortal Ink Duals (/10).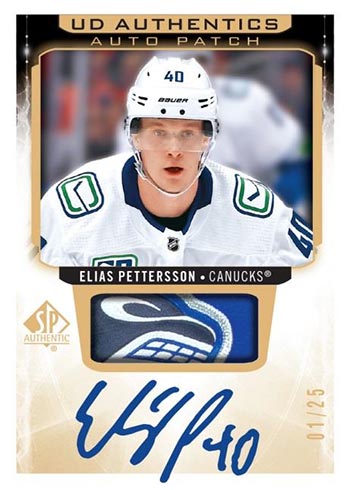 Additional Inserts
True Leaders (1:8) and SP Top Performers (1:30) are two regular insert sets in 2020-21 SP Authentic Hockey. Certain cards for both have autographed versions as well.
2000-01 SP Authentic is the theme for two additional insert sets. Retro Future Watch cards have 500 copies each. There's also Retro Base Variants (1:4 packs) and their respective Spectrum (/100) parallels.
Bounty Cards
Spectrum FX cards, which are approximately one per hobby box, are where collectors are going to want to look for the 2020-21 SP Authentic Hockey Bounty chase.
A total of 99 cards are in the set. Those that build and register it get an exclusive card #100 that's not in packs.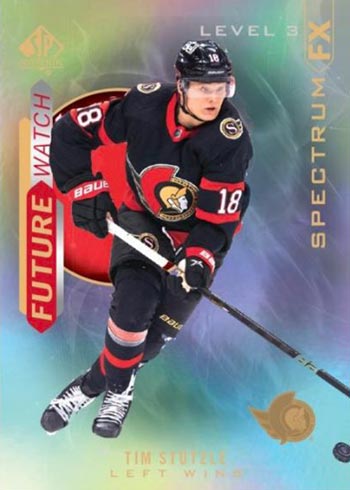 The first 50 to accomplish the task also receive a special Gold parallel set of all 100 cards.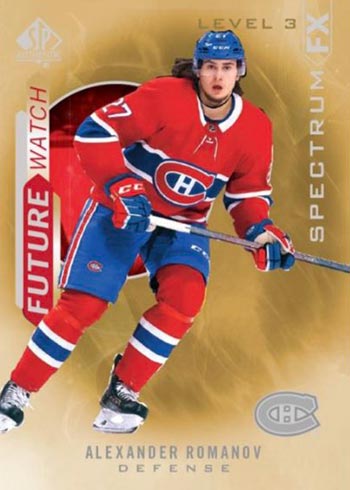 Putting the set would be tough enough if all cards were available in similar quantities. But they're not. Veterans are 1:18 packs. Spectrum FX Future Watch cards come in three tiers, landing 1:36, 1:90 and 1:360 packs.
2020-21 SP Authentic Hockey cards at a glance:
Release date (subject to change): September 1, 2021
Cards per pack: Hobby – 5
Packs per box: Hobby – 18
Boxes per case: Hobby – 16 (two 8-box inner cases)
Set size: 232 cards
What to expect in a hobby box:
Future Watch or Retro Future Watch Autographs – 1
Additional Autographs – 1
Spectrum FX Bounty Cards – 1
Limited Red Parallels – 3
Short Prints or Inserts – 6
Recent SP Authentic Hockey releases:
The full 2020-21 SP Authentic Hockey checklist and team set lists will be up as soon as they're available, likely shortly before the set comes out.