2021 Topps Holiday Baseball Checklist, Team Set Lists and Details
It's that time of year again. 2021 Topps Holiday Baseball cards are making their way to Walmart stores, offering their festive take on the year's main set. That means snowflakes, Santa hats and lots of variations.
Sold in a mega box format, each comes with ten packs of ten cards. Once again, boxes do promise either an autograph or a relic (usually the latter).
2021 Topps Holiday Baseball Checklist Overview
The base set has a total of 220 cards and draws from Series 1, Series 2 and Update Series. There are even a few players involved in late-season trades like Kris Bryant, Trea Turner and Max Scherzer who are with their new teams that weren't in Update.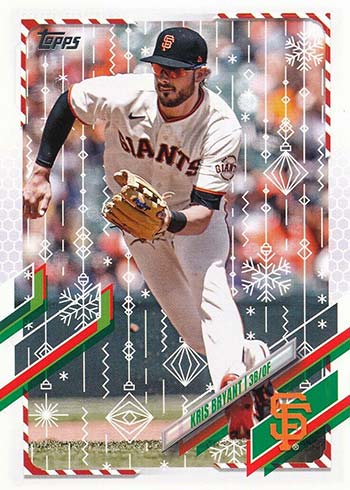 The general flagship layout remains, but there's no mistaking Topps Holiday. From green and red accents in the nameplate to candy cane edges around the inner frame, there should be no confusion. Oh, yeah, there are all sorts of addition white holiday patterns running through the backgrounds. Subtle, these are not.
Parallels add some familiar glitter. Every other pack has a Metallic Holiday card. The key to spotting these is looking at the background pattern. Parallels have a dusting of glitter that base cards don't. One-of-one Gold Metallic Holiday versions can also be found.
Over the past couple of years, Topps Holiday Baseball has carved out a niche with its variations. Instead of using different photos, players get various Christmas- or winter-themed additions. Be on the lookout for things like random Christmas lights, candy cane bats and Santa hats. Most of these are really obvious once you notice them, but some can be a little tricky.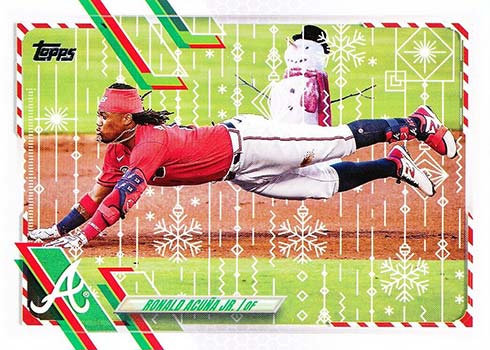 Variations come in three tiers: Short Print, Rare and Super Rare.
Autographs, Memorabilia Cards and Ornaments
Memorabilia cards come in three varieties. Relics (1:11 packs) keep things festive (and a little weird) by integrating the circular swatch window into the body of a snowman.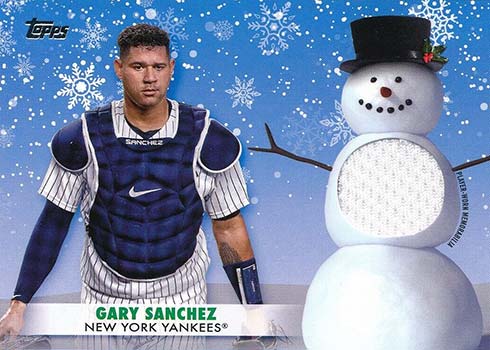 There are also tough Holiday Relics (1:538 packs) that use pieces of Santa hats worn by players.
Select cards for both of these sets have autograph versions as well.
Holiday Faux Relics (1:16,205 packs) don't have pieces of actual memorabilia. Rather, they showcase seasonal characters and add a "swatch" to go with it. Santa, Mrs. Claus and elves have all been featured on these in the past.
Rounding out the 2021 Topps Holiday hits are Autographs (1:412 packs). These have Red Metallic (1:1,978 packs), Silver Metallic (1:4,940 packs) and Gold Metallic (1:49,928 packs) parallels.
Rounding out the inserts are Ornaments cards that are ready to be hung from Christmas trees, rearview windows or anywhere else that pesky Elf on the Shelf wants to hide it.
2021 Topps Holiday Baseball cards at a glance:
Cards per pack: 10
Packs per mega box: 10
Set size: 220 cards
Release date: November, 2021
Shop for 2021 Topps Holiday Baseball boxes on eBay
What to expect in a mega box:
Autographs or Memorabilia Cards – 1 Total
Variations – 1
Metallic Holiday Parallels – 5
2021 Topps Holiday Baseball Checklist
You can also download a customizable spreadsheet version of the checklist:
Please note that print runs for cards without serial numbers have not been announced.