2021 Rittenhouse Women of Star Trek Art and Images Details
It's time for the ladies to take the spotlight in 2021 Rittenhouse Women of Star Trek Art and Images. The base set, inserts, autographs and everywhere in between, they're the focus of the entire product.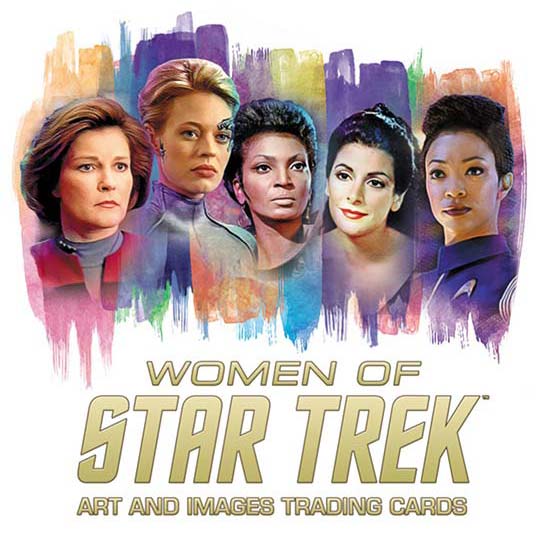 Typical for Rittenhouse products, there are lots of different card styles on the checklist. Autographs will be the central chase for many. These land three per box.
2021 Rittenhouse Women of Star Trek Art and Images Checklist Overview
The base set consists of 72 total cards and covers the entire franchise. From the Original Series to Picard, it covers a lot of ground. Rittenhouse has done a few female-focused Star Trek sets before but new shows have continued to expand the universe they inhabit.
Autographs and Inserts
The expansive approach carries over to the product's autographs. Among the headliners signing are Nichelle Nichols (Uhara – The Original Series), Whoopi Goldberg (Guinan – The Next Generation), Ashley Judd (Robin Lefler – The Next Generation), Zoe Saldana (Uhara – reboot films), Sonequa Martin-Green (Burnham – Discovery) and Michelle Yeoh (Georgiou – Discovery).
There's also Majel Barrett who played Nurse Chapel in the Original Series. According to Rittenhouse, these are some of the final Barrett autographs they have. The actress passed away in 2008. The card maker is known for having autographs signed in advance so they can work them into future products. In this case, it's more than than a decade later.
Dual Autographs are also available.
Sketch cards appear, although they're tough, landing approximately every other case.
Enterprise's T'Pol has a relic card as well.
Starfleet's Finest Painted Portraits are metal cards with art by Kevin Graham. Each of the set's ten cards are numbered to 50.
A dozen Women of Star Trek Archive Collection cards also have serial numbers, this time to 99.
Other insert sets include Artists' Renditions Triple Art (24 cards), Quotable Women of Star Trek Expansion (18 cards) and Vector Art (16 cards).
Incentives
For those ordering by the case, there are some additional bonus cards not available in packs.
Every case has one of two different Rendered Art Metal cards featuring either Captain Janeway or Seven of Nine from Voyager.
The six-case incentive is a Legends of Star Trek Autograph of Nana Visitor who played Kira Nerys in Deep Space Nine.
Andy Price returns to Rittenhouse with sketch cards that will be used as nine-case incentives. Besides contributing to numerous Rittenhouse sets in the past, Price has worked on numerous comics including My Little Pony: Friendship Is Magic.
Finally, there's a special Archive Box for those purchasing 18 cases. Among the exclusives in these are Printing Plates.
2021 Rittenhouse Women of Star Trek Art and Images at a glance:
Release date (subject to change): August 11, 2021
Cards per pack: 5
Packs per box: 24
Boxes per case: 12
Set size: 72 cards
What to expect in a hobby box:
2021 Rittenhouse Women of Star Trek Art and Images Checklist
Autographs
The following is a list of confirmed signers. More will be added and the list is subject to change.
Original Series
Majel Barrett as Nurse Chapel
Nichelle Nichols as Uhura
Louise Sorel as Rayna Kapec
April Tatro as Isis
The Next Generation
Whoopi Goldberg as Guinan
Ashley Judd as Robin Lefler
Deep Space Nine
Tracy Scoggins as Gilora Rejal
Enterprise
Linda Park as Hoshi Sato
Discovery
Sonequa Martin-Green as Burnham
Tig Notaro as Jett Reno
Mary Wiseman as Tilly
Michelle Yeoh as Georgiou
Picard
Peyton List as Narissa
Films
Zoe Saldana as Uhura
The full 2021 Rittenhouse Women of Star Trek Art and Images checklist will be added as soon as it's available, likely shortly before the set's release. Check the archives for more Star Trek trading cards info and checklists.