The Return of New York Comic Con
The wait was finally over as New York Comic Con welcomed fans once again to the greatest geek event on earth. While going purely digital last year due to COVID, NYCC was back in action October 7-10 with celebrities, cosplayers, artists, and vendors of every stripe all convening to make this beloved show fun for all who attended.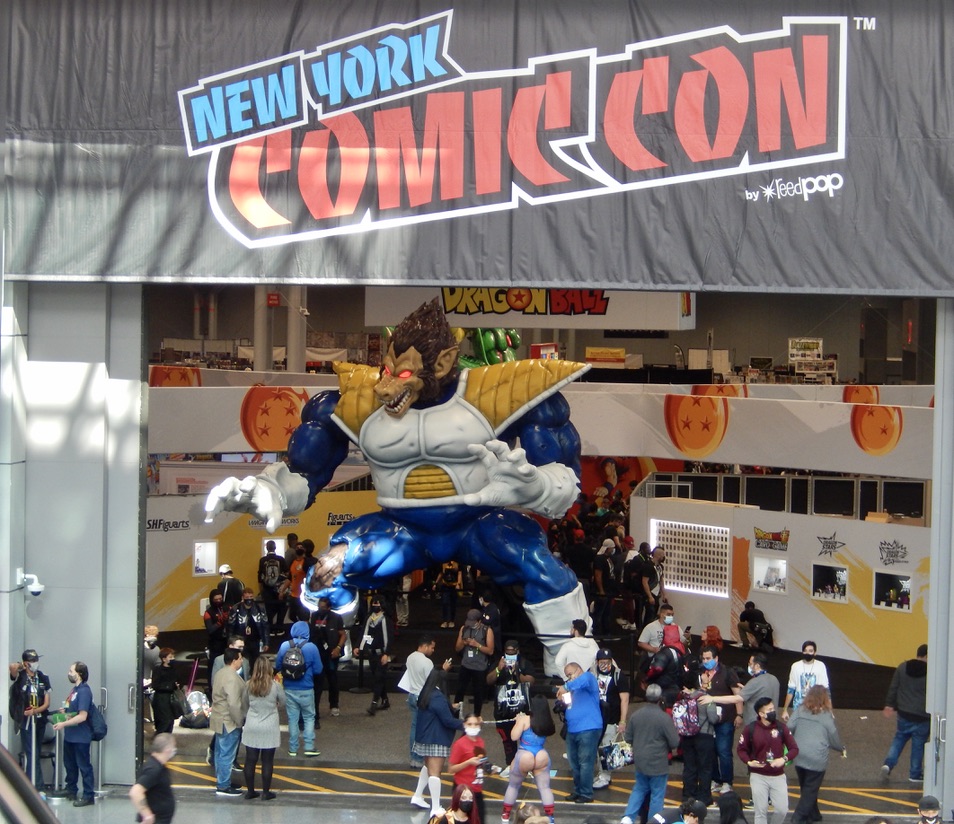 Some of the many notable stars available for in-person photos and autographs were William Shatner, George Takei, David Harbour, Hayden Christensen, John Cena, Eric Vale, June Smollett, and Kate Mulgrew.
Panels this time were a mix of virtual and live sessions. These included a wide range of topics, like Garbage Pail Kids: Gross-out Books and Stop-motion Video Adventures, Kubert School Portfoilo Reviews, Marvel Multiverse Madness, The World According to Jeff Goldblum, The Badass Women of The Walking Dead Universe, Ghostbusters: Afterlife, and BattleStar Retrospective with Edward James Olmos and Mary McDonnell.
Sketch card and comics illustrators have always been a major component of the convention and this year was no exception, with artists like Brian Kong, Josef Rubinstein, Tom Richmond, Dopepope, and Julianne Doodles all eagerly displaying (and selling) their wares.
Vendors offered a limitless variety of wearables and collectables, all designed to ignite the passions of every attendee. Vintage comics, as the show name implies, remains as the key element of the NYCC experience.
Magna and Anime occupied a large section of the show floor, with interactive displays and many sellable products. Of course, NYCC 21 souvenirs were sold in abundance through an official NYCC booth.
Although not a main focus of the show, diligent non-sport collectors could find cards at various locations throughout the floor. Stalwart non-sport supporter, Topps, provided an awesome display, offering convention exclusive cards and other new product designed to satiate rabid collectors. A different NYCC 21 promo card was available for free for each day of the show. Cryptozoic Entertainment was also on hand but this time their emphasis was on collectables other than cards. Sites like Goldin and Heritage displayed items from upcoming online auctions. Funko Pops! could be found in many locations and at least two 2021 Funko New York Comic Con Exclusives figures, Pizza Rat and Paulie Pigeon, were in high demand.
Attendance appeared to be down somewhat this year likely due to the strict COVID-19 vaccination and mask requirements. This, however, proved to be beneficial for those in attendance as easy movement through the normally congested aisles made for a pleasurable experience.
NYCC 22 is scheduled for October 6-9 next year.