2021 Panini Absolute Football Checklist, Team Set Lists and Details
2021 Panini Absolute Football provides collectors with a lot of familiar elements connected to the brand. It's adding some new ones as well, including one that's Explosive.
The hits-heavy release has five total autographs and memorabilia cards per hobby box. Three are autographs including at least one of the line's cornerstone Rookie Premiere Materials Autographs.
2021 Panini Absolute Football Checklist Overview
The 2021 Absolute base set has 200 total cards split evenly between veterans and rookies.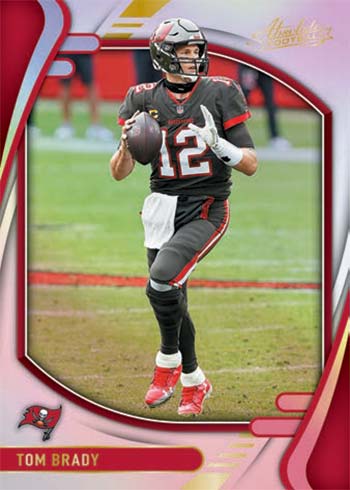 Spectrum-themed parallels land two per hobby box. These include Red (/100), Orange (/75), Blue (/50), Gold (/10) and Black (1/1).
Of the product's hits, Rookie Premiere Material Autographs are among the most recognizable. Not only do these have several swatches and memorabilia pieces, they come from different types of gear. Rookie Premier Material Jumbo Autographs are the exception. They have just one relic but it's oversized. One-of-one NFL Shields are among the parallels for these.
Historic Duals makes it debut in the set. These autographs have signatures from two teammates. Parallels for these come in Gold (/10 or less), Holo Silver (/5 or less) and Platinum (1/1).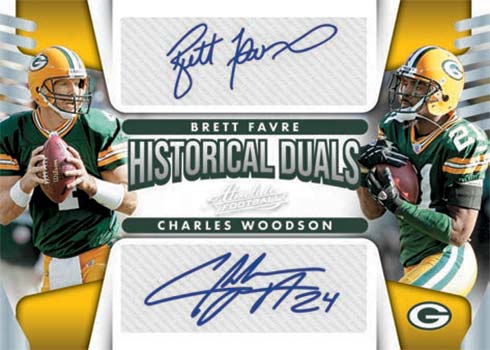 Each 2021 Absolute Football hobby box has one insert that isn't signed or featuring memorabilia.
Leading the way is Kaboom!, one of the most popular chase sets in the entire hobby. Once again a tough pull, these bring back the player illustrations and patterned foil stock.
Explosive is a new SSP insert that's only available in hobby packs.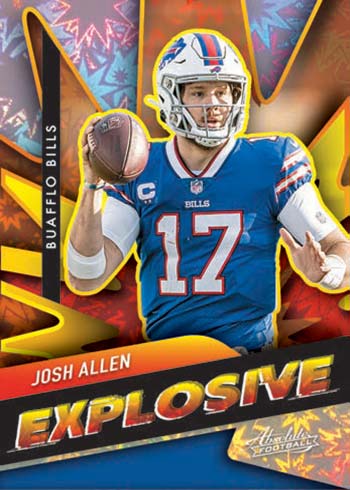 According to Panini, Kaboom! and Explosive combine to fall one per case. Both have Gold (/10) and Green (1/1) parallels as well.
Other inserts include Red Zone and the debuting By Storm, which spotlights rookies ready to take the NFL by storm. These chase sets have a parallel lineup that's similar to the base set with Red (/100), Orange (/75), Blue (/50), Green (/25), Purple (/5) and Black (1/1) versions.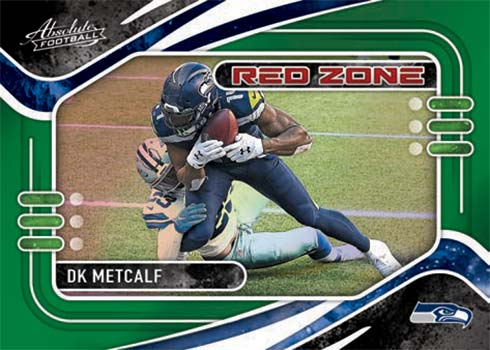 Star Gazing and Unsung Heroes are other inserts on the checklist.
2021 Panini Absolute Football cards at a glance:
Cards per pack: Hobby – 5
Packs per box: Hobby – 3
Boxes per case: Hobby – 12
Set size: 242 cards
Release date (subject to change): October 27, 2021
Shop for 2021 Absolute Football boxes on eBay:
What to expect in a hobby box:
Rookie Premiere Materials Autographs – 1
Additional Autographs – 2
Memorabilia Cards – 2
Inserts – 1
Parallels – 2
2021 Panini Absolute Football Checklist
You can also download a customizable spreadsheet copy of the checklist:
Please note that print runs for cards without serial numbers have not been announced.
Recent Absolute Football releases: