2021 Onyx Vintage Football Checklist and Details
2021 Onyx Vintage Football marks a new focus for Onyx Authenticated. While they've been doing prospect-driven baseball products — both cards and memorabilia — for years, this marks their first set of football cards.
Carrying a similar configuration as 2020 Onyx Vintage Baseball, hobby boxes have four cards. Two are autographs.

2021 Onyx Vintage Football Checklist Overview
This is a draft-driven product. The vast majority of the players are slated for the 2021 NFL Draft that takes place at the end of April. Among those confirmed on the checklist are DeVonta Smith, Justin Fields and Travis Etienne.
A sprinkling of past and present quarterbacks is also in Onyx Vintage. Justin Herbert and Eli Manning both have cards in the set alongside the incoming rookies.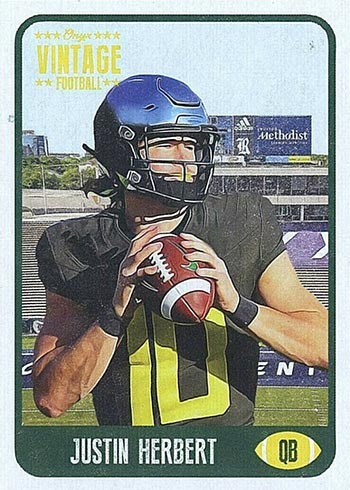 One name not on the initial list is projected first overall pick, Trevor Lawrence, at least not directly.
A special memorabilia redemption for the 2021 #1 pick is randomly inserted.
Autographs come in four levels:
Blue – 400 copies or less
Green – 50 copies or less
Red – 25 copies or less
Black – five copies each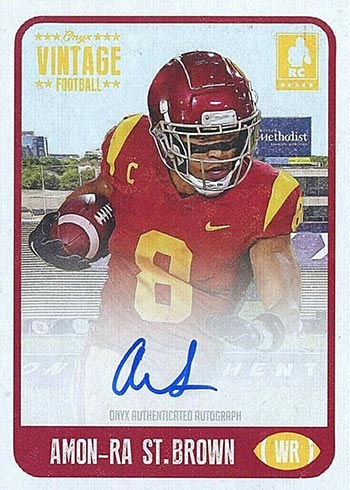 All autographs in the product are on-card.
2021 Onyx Vintage Football cards at a glance:
Release date: May 5, 2021
Cards per pack: 4
Packs per box: 1
Boxes per case: 24
Shop for 2021 Onyx Vintage Football boxes on eBay:
What to expect in a hobby box:
2021 Onyx Vintage Football Checklist
Base
Base Set
79 cards.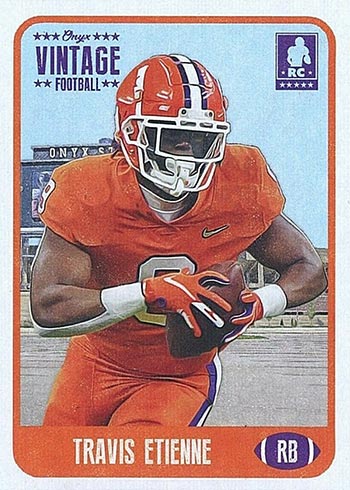 VFAE Adrian Ealy
VFAH Anthony Hines
VFAM Amen Ogbongbeniga
VFAO Adetokunbo Ogundeji
VFAR Amari Rodgers
VFAS Amon-Ra St. Brown
VFAV Alijah Vera-Tucker
VFAW Ar'Darius Washington
VFBJ Brevin Jordan
VFBR Brandon Smith
VFBS Ben Skowronek
VFCH Chuba Hubbard
VFCJ Cade Johnson
VFCR Curtis Robinson
VFCS Cameron Sample
VFCV Cole Van Lanen
VFCW Connor Wedington
VFDB Dyami Brown
VFDC Damonte Coxie
VFDE Dwayne Eskridge
VFDF Demetric Felton
VFDL Deommodore Lenoir
VFDM Dylan Moses
VFDS DeVonta Smith
VFEI Eli Manning
VFEL Elijah Moore
VFEM Elijah Molden
VFGN Greg Newsome II
VFGW Garret Wallow
VFHE Justin Herbert
VFHL Hunter Long
VFHN Hamsah Nasirildeen
VFIS Ihmir Smith-Marsette
VFJA Jaycee Horn
VFJF Justin Fields
VFJG Jared Goldwire
VFJJ Jermar Jefferson
VFJM Jalen Mayfield
VFJN Jamie Newman
VFJO Jeremiah Owusu Koramoah
VFJP Jaelan Philips
VFJW Javonte Williams
VFJW Jaylen Waddle
VFKH Kylin Hill
VFKP Kyle Pitts
VFKT Kadarius Toney
VFKW Kwity Paye
VFLE Liam Eichenberg
VFLO Levi Onwuzurike
VFMA Terrace Marshall
VFMI Elijah Mitchell
VFMJ Mac Jones
VFMP Micah Parsons
VFMT Marlon Tuipulotu
VFMW Marco Wilson
VFNB Nick Bolton
VFNH Najee Harris
VFOA Otis Anderson Jr.
VFPA Patrick Jones
VFPF Pat Freiermuth
VFPJ Patrick Johnson
VFPS Penei Sewell
VFRA Racey McMath
VFRB Rashod Bateman
VFRH Robert Hainsey
VFRM Rondale Moore
VFRS Rashawn Slater
VFSE Sam Ehlinger
VFSS Sage Surratt
VFSU Patrick Surtain II
VFTE Travis Etienne
VFTG Thomas Graham
VFTH Trey Hill
VFTL Trey Lance
VFTM Trevon Moehrig
VFTS Trey Smith
VFTW Tylan Wallace
VFZC Zaven Collins
VFZW Zach Wilson
Checklist Top
Autographs
Signatures Checklist
79 cards.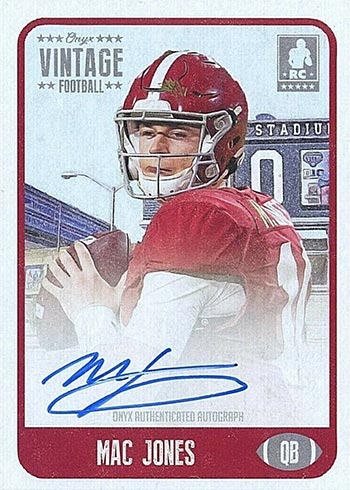 Versions:
Blue Ink – 400 copies
Green Ink – 50 copies
Red Ink – 25 copies
Black Ink – 5 copies
FAAE Adrian Ealy
FAAH Anthony Hines
FAAM Amen Ogbongbeniga
FAAO Adetokunbo Ogundeji
FAAR Amari Rodgers
FAAS Amon-Ra St. Brown
FAAV Alijah Vera-Tucker
FAAW Ar'Darius Washington
FABJ Brevin Jordan – Redemption
FABR Brandon Smith
FABS Ben Skowronek
FACH Chuba Hubbard
FACJ Cade Johnson
FACR Curtis Robinson
FACS Cameron Sample
FACV Cole Van Lanen
FACW Connor Wedington
FADB Dyami Brown
FADC Damonte Coxie
FADE Dwayne Eskridge
FADF Demetric Felton
FADL Deommodore Lenoir
FADM Dylan Moses
FADS DeVonta Smith
FAEI Eli Manning
FAEL Elijah Moore
FAEM Elijah Molden
FAGN Greg Newsome II
FAGW Garret Wallow
FAHE Justin Herbert
FAHL Hunter Long
FAHN Hamsah Nasirildeen
FAIS Ihmir Smith-Marsette
FAJA Jaycee Horn
FAJF Justin Fields
FAJG Jared Goldwire
FAJJ Jermar Jefferson
FAJM Jalen Mayfield
FAJN Jamie Newman
FAJO Jeremiah Owusu-Koramoah – Redemption
FAJP Jaelan Philips
FAJW Javonte Williams
FAJW Jaylen Waddle
FAKH Kylin Hill
FAKP Kyle Pitts EXCH
FAKT Kadarius Toney
FAKW Kwity Paye
FALE Liam Eichenberg
FALO Levi Onwuzurike
FAMA Terrace Marshall
FAMI Elijah Mitchell
FAMJ Mac Jones
FAMP Micah Parsons
FAMT Marlon Tuipulotu
FAMW Marco Wilson
FANB Nick Bolton
FANH Najee Harris
FAOA Otis Anderson Jr.
FAPA Patrick Jones
FAPF Pat Freiermuth
FAPJ Patrick Johnson
FAPS Penei Sewell
FARA Racey McMath
FARB Rashod Bateman
FARH Robert Hainsey
FARM Rondale Moore
FARS Rashawn Slater
FASE Sam Ehlinger
FASS Sage Surratt
FASU Patrick Surtain II
FATE Travis Etienne
FATG Thomas Graham
FATH Trey Hill
FATL Trey Lance
FATM Trevon Moehrig
FATS Trey Smith
FATW Tylan Wallace
FAZC Zaven Collins
FAZW Zach Wilson
Checklist Top