Darth Vader is one of the greatest characters — not just villain — in the history of film. David Prowse and James Earl Jones helped bring him to life in the original trilogy. In the decades since, there have been hundreds of different Darth Vader cards.
With a focus on the original trilogy version of the character, here are 10 of the best and coolect Darth Vader cards.
Top 10 Darth Vader Cards
10. 1993 Topps Star Wars Galaxy Factory Set Hologram #1
Buy on:
Holograms might not be around much today, but they're still some of the coolest cards out there. You're not going to find Vader's hologram in packs, though. It's a bonus card exclusive to the 1993 Topps Star Wars Galaxy factory set.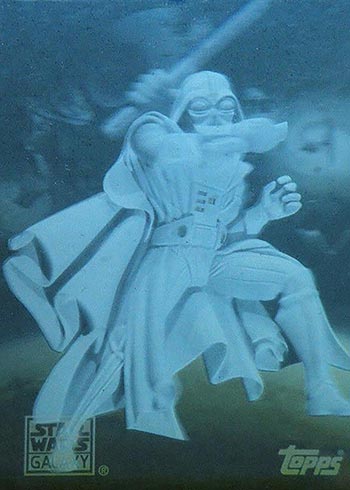 9. 1995 Topps Star Wars Widevision #8
Buy on:
That's how you make an entrance. 1995 Topps Star Wars Widevision blew things up, offering cards that showed what was on the big screen. This might not be a big card on the secondary market, but it shows Vader's larger-than-life debut.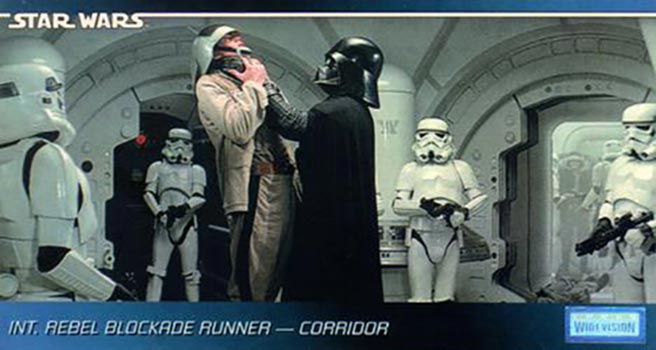 8. 1993 Star Wars Galaxy #4
Buy on:
Even with multiple starts and stops, the Star Wars Galaxy line has had an extensive run. It all started with the landmark 1993 set that helped restart the franchise's trading card presence. Right there near the very top of the checklist is a series of iconic character portraits from Joe Smith.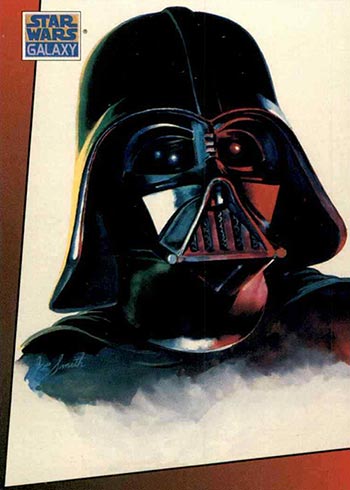 7. 1977 Topps Star Wars Stickers #7
Buy on:
The original Star Wars insert, stickers were one per pack. Each of the five series for the original film had its own assortment. However, like the cards, it's Series 1 that's the most memorable, not only for their design but because most highlight a single character so iconically.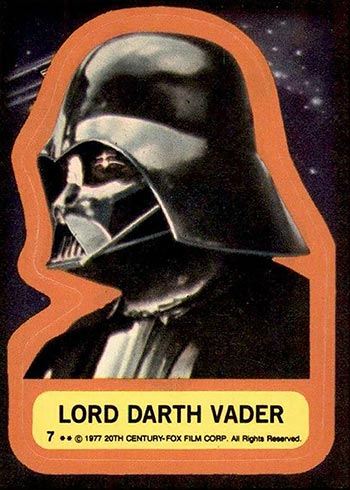 6. 2019 Topps Star Wars Stellar Signatures Sketch Card Reproductions #10
Buy on:
2019 Topps Star Wars Stellar Signatures isn't just luxury-level autographs. Each of the 100 boxes has a 5″ by 7″ sketch card from Dan Bergren plus a framed reproduction set of every piece.
Vader appears on a few of these. And while all beautiful, this one has the throat hug salute and crimson background befitting of a classic villain.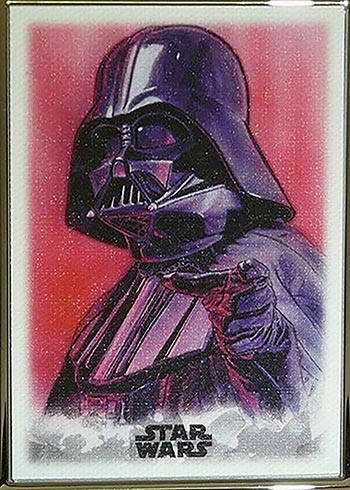 5. Topps Star Wars Living Set #1
Buy on:
Topps' online-exclusive Star Wars Living Set has been delivering two new cards each week for a while now, each with intricate art from Kris Penix. It was Darth Vader who kicked off the unique set, making for a memorable card — even if The Mandalorian and The Child have surpassed him in number of copies sold. Still, a run of 3,909 cards is strong for a print-on-demand release such as this.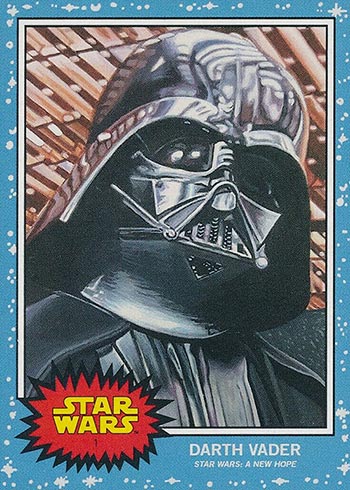 4. 1980 Topps The Empire Strikes Back #106
Buy on:
As the original trilogy's lead villain, Darth Vader played a central role in many unforgettable moments that are engrained in the memories of multiple generations. Perhaps none are bigger than the showdown between him and Luke Skywalker in The Empire Strikes Back. The epic action, gorgeous cinematography and jaw-dropping revelation that comes from it is one of the biggest moments ever in a film. The scene has multiple cards across the three series of 1980 Topps The Empire Strikes Back this one sets the stage beautifully.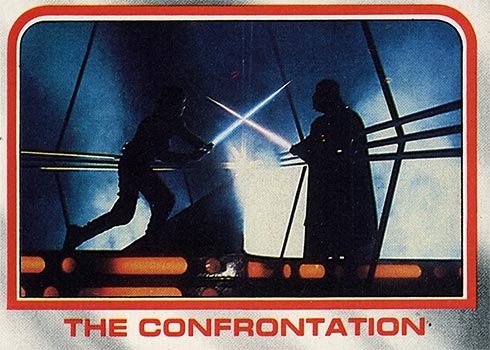 3. 1977 Wonder Bread Star Wars #5
Buy on:
When it comes to early Star Wars trading cards, Topps' run is the most recognizable. And deservedly so. But the oddball Wonder Bread set isn't too shabby, either. Packaged with loaves of bread, the set gave incentive for feasting on bologna sandwiches.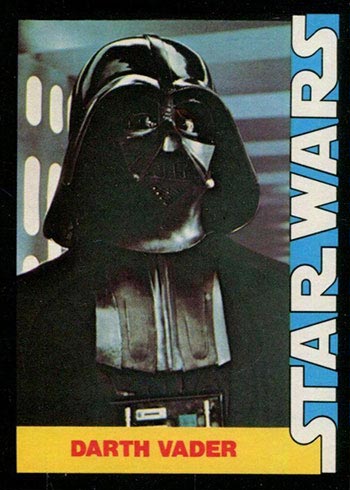 2. 1977 Topps Star Wars #7
Buy on:
Non-sport cards don't have Rookie Cards like you find on the sports side of the hobby. Still, there's something about Darth Vader's first appearance on a mainstream trading card in 1977 Topps Star Wars. There have been hundreds more in the decades since but the combination of the blue starfield border and low checklist number makes it one of the most important cards of the Sith lord.
If you want to take a slight detour, there are international versions like O-Pee-Chee and Laboratorios y Agencias Unidas.
1a. 2007 Topps Star Wars 30th Anniversary Autographs David Prowse
Buy on:
Including parallels, Prowse's signature has graced more than 60 different trading cards. Not all are Star Wars-related, but the most popular ones are. 2007 Topps Star Wars 30th Anniversary was the first to feature the Prowse as the legendary villain. It's one of many major autographs in the loaded lineup.
For those who prefer on-card signatures, 2015 Topps Star Wars Chrome Perspectives is another strong option.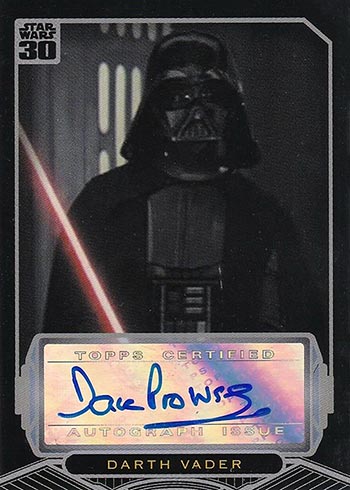 1b. 2001 Topps Star Wars Evolution Autographs Jame Earl Jones
Buy on:
So, we're cheating here a little. But with two actors coming together to create Darth Vader in the early films, work with us here as we showcase the "first autographs" for both.
Jones' voice is unmistakable. Whether it's making familial revelations, introducing a cable news network or talking about how circles and life work together, the deep tones are engrained on generations.
He's had dozens of autographs over the years, both for Star Wars and beyond, however, 2001 Topps Star Wars Evolution has the first. He's actually one of the most plentiful signatures in the product. However, that would have been most noticeable years ago before they found their way into personal collections.
Another strong early choice for a James Earl Jones autograph is 2004 Topps Star Wars Heritage.