2021 Bowman Chrome Mega Box Baseball Checklist, Team Set Lists and Full Details
First came the Bowman Mega Box. Now it's the 2021 Bowman Chrome Mega Box, a retail configuration that starts with basic packs before adding a couple more that have exclusive cards.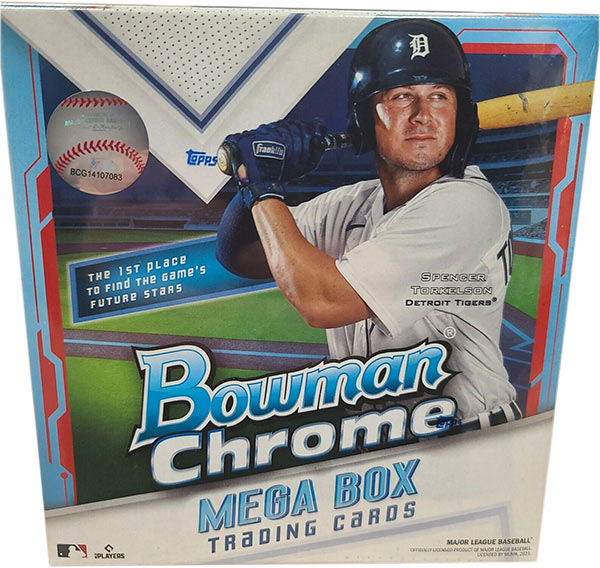 Each Mega Box has seven packs, five with cards from 2021 Bowman Chrome Baseball and two with the patterned cards not found in regular packs. Like previous years, these exclusives are distinct for their patterned background, often referred to as "Mojo."
The Mega Box portion of the product is fairly simple. Base cards port over 100 Prospects from the 2021 Bowman Chrome Baseball checklist. Each has eight levels of serial-numbered parallels: Purple, Pink, Blue, Green, Gold, Orange, Red, and Rose Gold.
A handful of cards also have Image Variations with different photos. These are fairly tough, landing 1:156 Mega Box packs.
Two insert sets from Bowman Chrome get the Mojo treatment, Dawn of Glory (1:2) and Bowman Ascension, which are designed by Tyson Beck. Like the regular release, Ascension cards are tough. Here they're 1:80 packs.
Mega Box Autographs, which are like base cards, are 1:10 packs, which works out to about every fifth box. Green, Orange and Rose Gold parallels are also available. Autographs in the earlier Bowman Megas have a BMA- prefix for the card number. Here, it's BCMA-.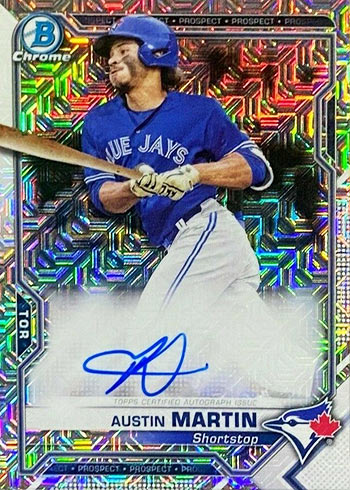 Select Dawn of Glory and Image Variations also have signed versions.
In the past, Bowman Mega Boxes have been exclusive to Target. However, more recent editions have had expanded distribution at places like Walmart and Barnes & Noble so it's possible this one might be available elsewhere.
2021 Bowman Chrome Mega Box Baseball cards at a glance:
Cards per pack: Bowman Chrome – 5, Bowman Chrome Mega Packs – 5
Packs per box: 7 – 5 Bowman Chrome, 2 Bowman Chrome Mega Packs
Set size: 100 cards
Release date: October, 2021
2021 Bowman Chrome Mega Box Baseball Checklist
You can also download a customizable spreadsheet version of the checklist:
Please note that print runs have not been announced for cards without serial numbers.