2021 Bowman Mega Box Checklist, Team Set Lists and Details
The 2021 Bowman Mega Box offers some regular cards as well as the usual exclusive Bowman Chrome Mojo parallels. Once again, Target appears to be the only place to find them outside of the secondary market.
Each Mega Box has a couple of components. The first is four packs of 2021 Bowman Baseball. Cards in these can all be found elsewhere.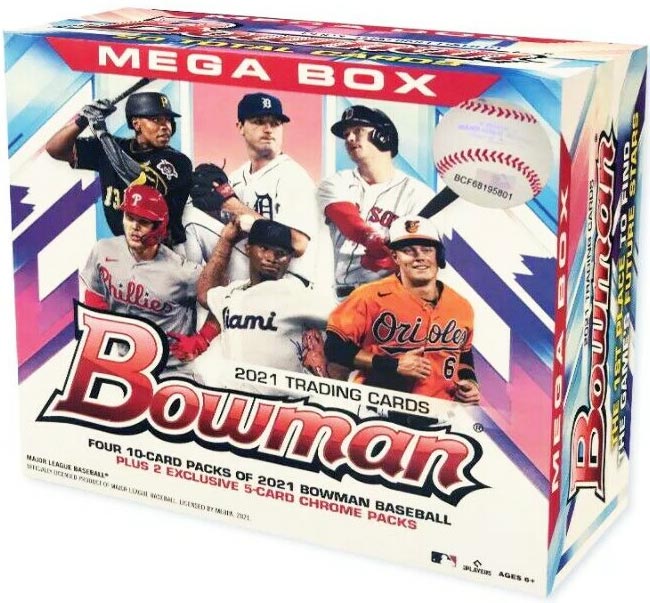 It's the two additional exclusive packs that have, historically, generated the buzz. The cards in these are all done as patterned Mojo Refractors and aren't available outside the Mega Boxes.
The 100-card base set is a partial parallel of the Bowman Chrome Prospects found in 2021 Bowman Baseball. Instead of the usual flat metallic finish, there's a repeating geometric pattern typical with other Mojo Refractors.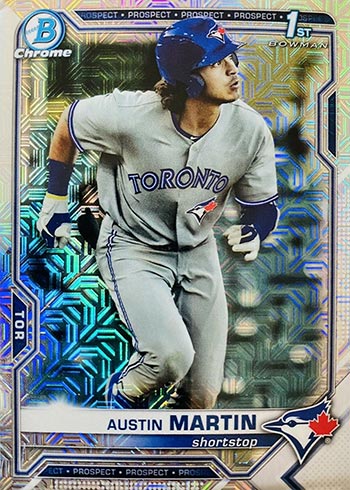 Additional parallels include:
Purple – (1:28 packs)
Aqua – (1:32 packs)
Pink – (1:36 packs)
Blue – (1:47 packs)
Green – (1:71 packs)
Yellow – (1:94 packs)
Gold – (1:140 packs)
Orange – (1:279 packs)
Red – (1:1,398 packs)
Black – (1:7,019 packs)
Select cards also have Image Variations (1:310 packs) that have different photos.
Autographs and Inserts
Chrome Mega Box packs also have the potential for other inserts.
Mega Box Chrome Autographs are 1:15 packs for the base versions (about 1:7-8 boxes). Parallels for these are limited to Blue (1:139 packs), Green (1:210 packs), Orange (1:829 packs) and Black (1:20,836 packs).
A pair of 2021 Bowman Baseball inserts get the Mojo treatment to round out the checklist: Futurists (1:4 packs) and Rookie of the Year Favorites (1:2 packs). For both, there are Purple (1:140 packs), Pink (1:176 packs), Blue (1:233 packs), Green (1:353 packs), Orange (1:1,398 packs), Red (1:7,019 packs) and Black (1:36,090 packs) parallels. Futurists Autographs can also be found at a rate of 1:1,380 packs.
2021 Bowman Mega Box Baseball at a glance:
Release date: May, 2021
Cards per pack: Bowman – 10, Mega Box Chrome – 5
Packs per box: Bowman – 4, Mega Box Chrome – 2
Set size: 100 cards.
2021 Bowman Mega Box Chrome Baseball Checklist
You can also download a customizable spreadsheet version of the checklist:
Please note that print runs have not been announced for cards without serial numbers.