2020-21 Upper Deck Stature Hockey Details
2020-21 Upper Deck Stature Hockey is a home to on-card autographs. Lots of them. That's one of the keys to the high-end release. But it's not the only one. A color-filled base set and parallels, variations and additional inserts join in as well at a variety of levels.
2020-21 Upper Deck Stature Hockey Checklist Overview
The base set has a total of 200 cards. The first half are a mix of vets and legends. These combine to land two per pack. A total of 100 rookies, each numbered to 399 and falling one per pack, are also included.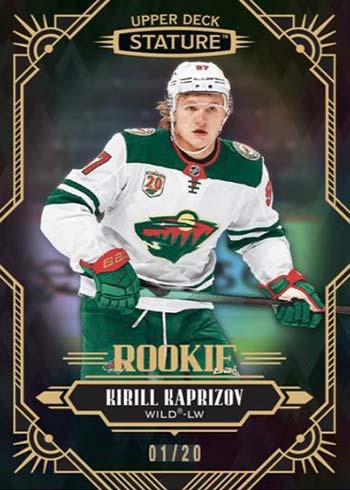 All 200 cards have a handful of parallels:
Green – /175
Red – /85
Blue – /45
Black – /20
Every card also has a Portrait Variation (/99) along with additional Red (/25) and Purple (1/1) versions.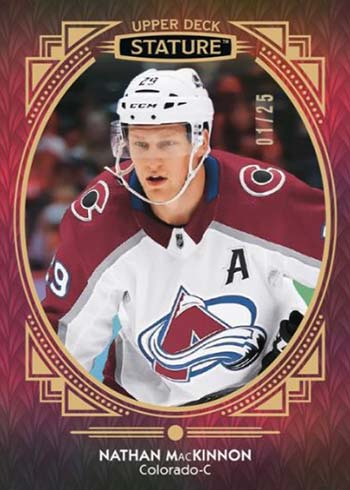 Signatures start with Base Autographs. Veterans and legends are 1:4 packs. Green (/65 or /25), Red (/35 or /10), Blue (/10 or /5) and Black (1/1). Rookie Base Autographs come numbered to 199 and have their own Green (/85), Red (/45), Blue (/15) and Black (1/1) versions.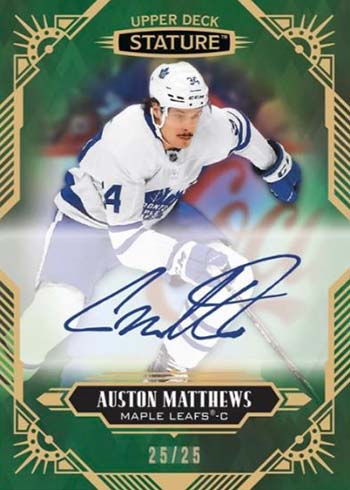 Portrait Variations have signed versions as well, although here they're in the form of autographed patch cards. Print runs vary for veterans and legends for both the base and Red versions. Purple Patch Autographs are one-of-ones. Rookie Portrait Variations Patch Autographs have 33 copies each. There are also Red (/9) and Purple (1/1) parallels.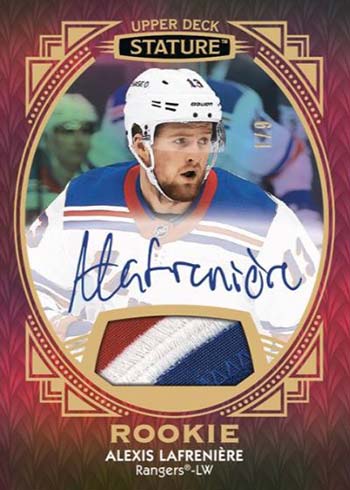 Additional Inserts and Autographs
Protégés (1:2 packs) is new to 2020-21 Upper Deck Stature Hockey, offering another look at the season's rookie class.
Focusing on veteran superstars, Gravitas (1:4 packs) is another insert set that wasn't in 2019-20 Stature.
Century Momentous (1:4 packs) highlights a top moment or achievement from an all-time great.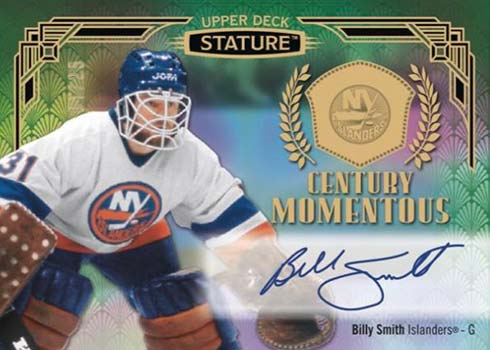 For all three insert sets, additional versions include Green (/149), Red (/75), Blue (/25) and Black (1/1). Select cards also have autographs with parallels the same colors as well as numbered Autograph Patch cards.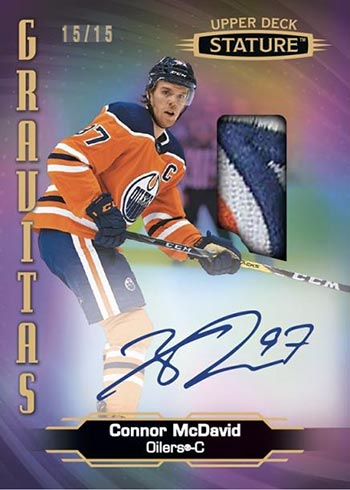 2020-21 Upper Deck Stature Hockey cards at a glance:
Cards per pack: 8
Packs per box: 1
Boxes per case: 16 (two 8-box inner cases)
Set size: 200 cards
Release date (subject to change): November 17, 2021
What to expect in a hobby box:
Autographs – 1
Inserts – 1
Parallels – 2
Base Veteran or Legends – 2 Total
Base Rookies – 1
Additional Autographs, Rookies or Parallels – 1 Total
The full 2020-21 Upper Deck Stature Hockey checklist and team set lists will be up as soon as they're available, likely shortly before the product's release.