2019-20 Upper Deck Stature Hockey Checklist, Team Set Lists and Details
2019-20 Upper Deck Stature Hockey marks another brand debut for the season. This time around, rainbow foil is the anchor, providing a colorful backdrop for inserts, autographs, parallels all corners of the checklist.
Hobby boxes are single-pack affairs. Each has eight cards. While one autograph is promised, there's also the possibility for a second.
2019-20 Upper Deck Stature Hockey Base Set Basics
The main set arrives with 200 total cards. The first half is veterans (75 cards) and retired greats (25 cards). The checklist also has 100 rookies, each numbered to 399.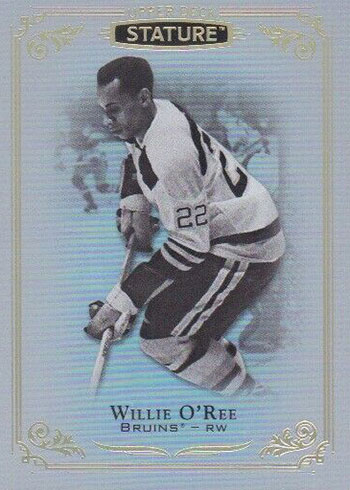 Veterans and legends combine to land two per box. Rookies are one per box, sometimes two.
Parallels, which are at least two per box, are a mix of colors, autographs and autograph patches.
Additional Inserts and Autographs
2019-20 Upper Deck Stature Hockey has three additional insert sets. And like that base set, parallels play a role in the checklist's expansion.
Rookie Reliance are the most common, falling every other pack. A total of 50 first-year players appear. The veteran-focused Esteemed and retired-only Century Momentous each have 25 cards and land 1:4 packs.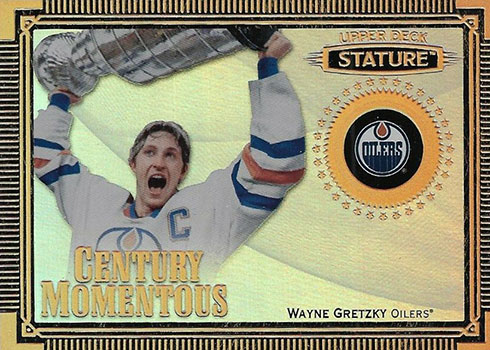 For all three insert sets, the parallel structure is the same: Green (/125), Red (/65), Blue (/25) and Black (/10).
Select cards in each also have signature versions. Rookie Reliance Autographs are the most common at 1:6 packs. Century Momentous (1:50) and Esteemed (1:60) are both tough hits. Additional autograph parallels in all three can be found in Green, Red, Blue, Black, and Patch Autographs. All parallel autographs are numbered to 49 or less.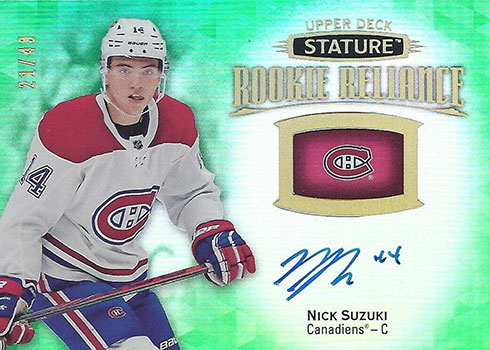 2019-20 Upper Deck Stature Hockey cards at a glance:
Cards per pack: 8
Packs per box: 1
Boxes per case: 24 (two 12-box inner cases)
Set size: 200 cards
Release date: July 15, 2020
Shop for 2019-20 Upper Deck Stature Hockey boxes on eBay:
What to expect in a hobby box:
Autographs – 1
Inserts – 1
Parallels – 2
Base Rookies – 1
Base Veteran or Legends – 2
Additional Autographs, Rookies, Parallels or Inserts – 1
2019-20 Upper Deck Stature Hockey Checklist
Download the 2019-20 Upper Deck Stature Hockey checklist:
Base
Autographs
Inserts
Team Sets