2019 Panini Contenders Football isn't all about the tickets, but it's close. The signature theme returns in a variety of forms, including the cornerstone Rookie Ticket Autographs.
Hobby boxes have five signatures, at least one of which is on-card. There's also an insert in every pack, on average, plus a parallel per box.

2019 Panini Contenders Football Rookie Ticket Autographs
With "tickets" acting as a foundation, there are plenty of places on the checklist to find them. For many, it starts with the rookies. Contenders has a long history of being a set with broad appeal for Rookie Card fans, autograph collectors and set builders. So even though boxes aren't the most expensive (though, they're not cheap, either), there's historically significant demand for key Rookie Ticket Autographs.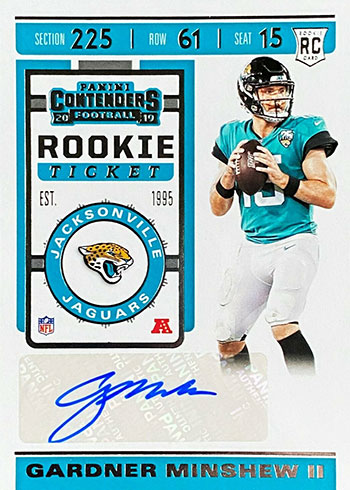 Numbered as part of the base set, collectors can look forward to a deep roster of players including standouts and dark horses that might take some time and patience. Often, some of the less desirable names can turn out to be coveted due to short prints that present a challenge for set builders.
Rookie Ticket RPS cards come with on-card signatures and feature some of the year's top first-year players.
In addition to the base versions, there are parallels that are numbered: Playoff Ticket (/99 or less), Championship Ticket (/49 or less), Cracked Ice (/23), Printing Plates (1/1) and Super Bowl Ticket (1/1). Die-cut Ticket Stub (/99 or less) and acetate Clear Ticket (/10) versions are back after making their debut in 2018 Contenders Football.
Addition variations use different photos from the main versions.
Additional Autographs and Inserts
The rookie, ticket and autograph trinity doesn't end with the base set. The 1998 and 1999 designs get the homage treatment for additional on-card signatures. They're not easy pulls, though. Base versions have no more than 20 copies each. Gold (/10 or less) and Platinum (1/1) are the lone parallels.
Veteran Ticket Autographs bring non-rookie signatures. Patrick Mahomes, Ben Roethlisberger and Ezekiel Elliott are among those included in the set. Parallels come in Playoff Ticket (/99 or less), Ticket Stub (/99 or less), Championship Ticket (/49 or less), Cracked Ice (/23), Printing Plates (1/1) and Super Bowl Ticket (1/1).
Contenders to Canton Autographs (/20 or less) are something of a time capsule. Limited to Hall of Famers, cards highlight a player's first Contenders card alongside a shot from their induction.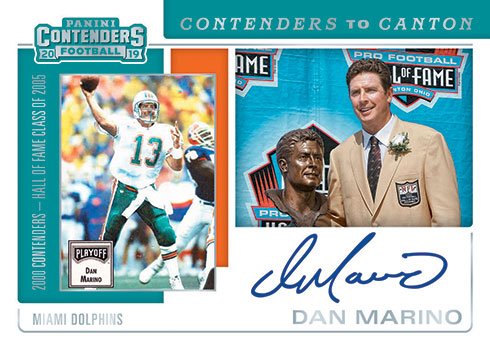 One-of-one Golden Tickets and Silver Tickets (/2) return, but only in hobby packs. Golden Tickets use 14k gold as their foundation.
Other regular inserts include several familiar names like MVP Contenders, Rookie of the Year Contenders, Legendary Contenders, Winning Ticket and dual-player Round Numbers. Select cards also have autograph versions.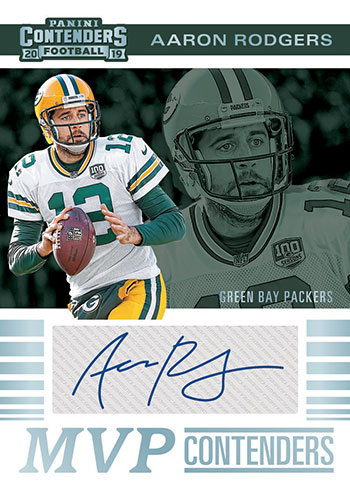 Retail Highlights
2019 Panini Contenders Football is also available at retail. Blasters, which have five packs, promise either an autograph or memorabilia card.
Fat packs have 22 cards each. Autographs are available, but not in every pack or box.
2019 Panini Contenders Football cards at a glance:
Cards per pack: Hobby – 6, Blaster – 8, Fat Packs – 22
Packs per box: Hobby – 18, Blaster – 5, Fat Packs – 12
Boxes per case: Hobby – 12
Set size: 275 cards
Release date: January 3, 2020
Shop for 2019 Panini Contenders Football boxes on eBay:
What to expect in a hobby box:
On-Card Autographs – 1
Additional Autographs – 4
Inserts – 18
Parallels – 1
2019 Panini Contenders Football Checklist
Base
Variations
Autographs
Memorabilia
Inserts
Team Sets