1977 O-Pee-Chee Star Wars Checklist and Details
1977 O-Pee-Chee Star Wars trading cards have a familiarity about them. In many ways, the set is extremely close to Topps' offering. In some ways, it's quite different.
This was the case with plenty of sets for decades in hockey, baseball and other areas of sports and entertainment. The Canadian company sub-licensed products through Topps. Basically, Topps did the design work and much of the heavy lifting then O-Pee-Chee made minor tweaks and distributed their products across Canada.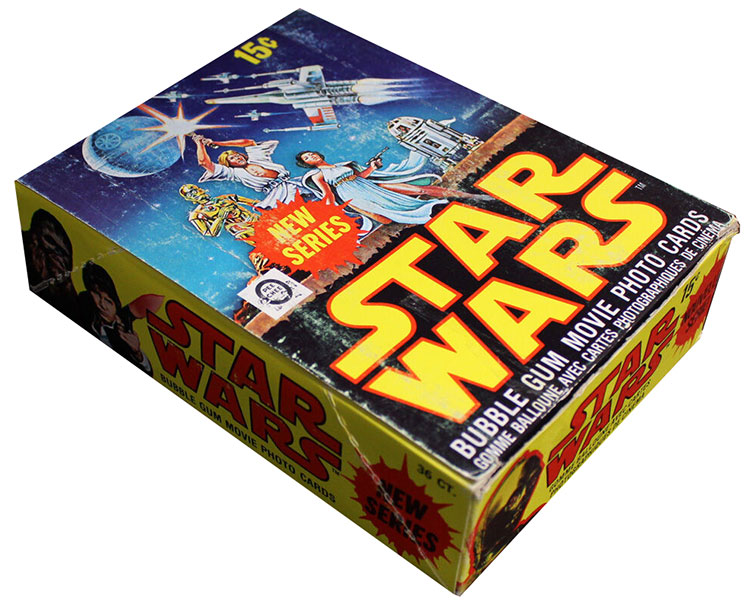 1977 O-Pee-Chee Star Wars Trading Cards Overview
1977 O-Pee-Chee Star Wars trading cards maintain the same general design as their Topps counterparts. That starts with the 66-card Series 1 and its iconic blue starfield borders. Ensuing series change up the border color.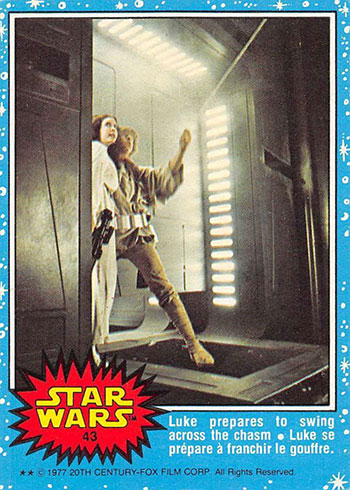 Card backs stick with what Topps used. This means a mix of puzzle pieces and text-based themes like Movie Facts and Story Summary.
The biggest difference with the O-Pee-Chee cards is the text. Because the cards were intended for a Canadian audience, they're bilingual with both English and French.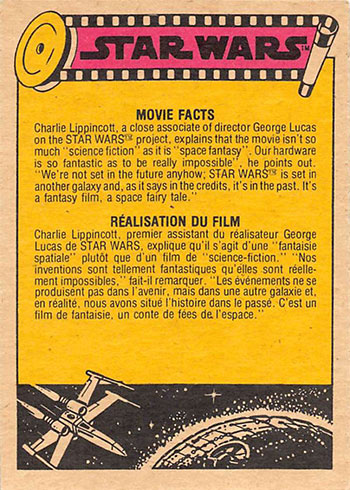 O-Pee-Chee cards also notorious for having rough edges and poor centering.
The 1977 O-Pee-Chee Star Wars checklist has 264 total cards spread across three series. This is significantly smaller than Topps' five releases totaling 330 cards. The first two match up the same. But then things change. Series 3 for O-Pee-Chee is a double-sized combination of Topps' Series 4 and 5 sets. That means Canadians got none of Topps Series 3 sets. 1977 O-Pee-Chee Star Wars Series 3 uses the orange border from Topps' final set.
And for those that are curious, the O-Pee-Chee version of the infamous C-3PO card is not the obscene one. Rather, it's the "corrected" version.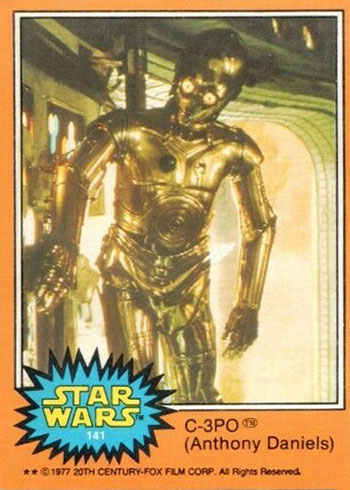 1977 O-Pee-Chee Star Wars does have stickers. There doesn't appear to be any discernible difference from the Topps versions, though. There is a gap in the checklist where Topps Series 3 would have been, so there are no #23-33 for the O-Pee-Chee stickers.
As far as rarity goes, production numbers aren't known. However, O-Pee-Chee Star Wars cards are definitely more scarce than Topps.
1977 O-Pee-Chee Star Wars Overview
Shop for 1977 O-Pee-Chee Star Wars cards on:
Complete Set: 264 cards, 44 stickers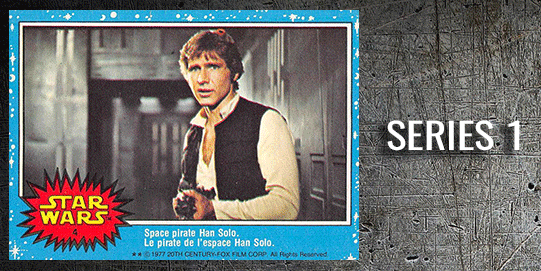 Series 1
Border Color: Blue
Card Numbers: 1-66
Sticker Numbers: 1-11
Series 2
Border Color: Red
Card Numbers: 67-132
Sticker Numbers: 12-22
Series 3
Border Color: Orange
Card Numbers: 133-264
Sticker Numbers: 34-55
1977 O-Pee-Chee Star Wars Checklist
Base Set
Base Set
264 cards.
Series 1 – Blue Border
Set Size: 66 cards (#1-66)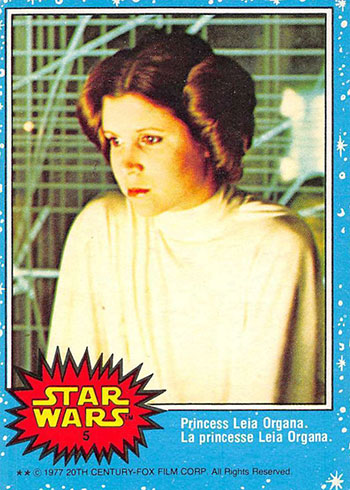 1 Luke Skywalker
2 See-Threepio and Artoo-Detoo
3 The little droid, Artoo-Detoo
4 Space pirate Han Solo
5 Princess Leia Organa
6 Ben (Obi-Wan) Kenobi
7 The villainous Darth Vader
8 Grand Moff Tarkin
9 Rebels defend their starship!
10 Princess Leia – captured!
11 Artoo is imprisoned by the Jawas
12 The droids are reunited!
13 A sale on droids!
14 Luke checks out his new droid
15 Artoo-Detoo is left behind!
16 Jawas of Tatooine
17 Lord Vader threatens Princess Leia!
18 Artoo-Detoo is missing!
19 Searching for the little droid
20 Hunted by the Sandpeople!
21 The Tusken Raiders
22 Rescued by Ben Kenobi
23 See-Threepio is injured!
24 Stormtroopers seek the droids!
25 Luke rushes to save his loved ones
26 A horrified Luke sees his family killed
27 Some repairs for See-Threepio
28 Luke agrees to join Ben Kenobi
29 Stopped by stormtroopers
30 Han in the Millennium Falcon
31 Sighting the Death Star
32 Lord Vader's Guards
33 The droids in the Control Room
34 See-Threepio diverts the guards
35 Luke and Han as stormtroopers
36 Blast of the laser rifle!
37 Cornered in the labyrinth
38 Luke and Han in the refuse room
39 Steel walls close in on our heroes!
40 Droids rescue their masters!
41 Facing the deadly chasm
42 Stormtroopers attack!
43 Luke prepares to swing across the chasm
44 Han and Chewie shoot it out!
45 The light sabre
46 A desperate moment for Ben
47 Luke prepares for the battle
48 Artoo-Detoo is loaded aboard
49 The rebels monitor the raid
50 Rebel leaders wonder about their fate!
51 See-Threepio and Princess Leia
52 Who will win the final Star War?
53 Battle in outer space!
54 The victors receive their reward
55 Han, Chewie and Luke
56 A day of rejoicing!
57 Mark Hamill as Luke Skywalker
58 Harrison Ford as Han Solo
59 Alec Guinness as Ben Kenobi
60 Peter Cushing as Grand Moff Tarkin
61 Mark Hamill in Control Room
62 Lord Vader's stormtroopers
63 May the Force be with you!
64 Governor of Imperial Outlands
65 Carrie Fisher and Mark Hamill
66 Amazing robot See-Threepio!
Series 2 – Red Border
Set Size: 66 cards (#67-132)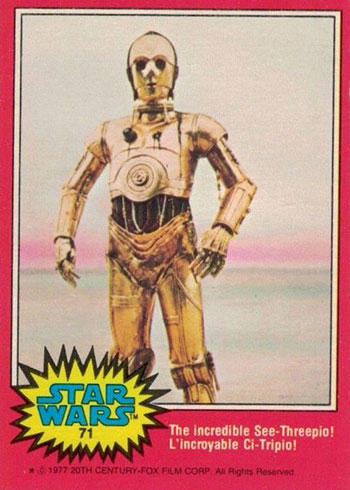 67 See-Threepio and Luke
68 The Millennium Falcon
69 Threepio's desert trek!
70 Special mission for Artoo-Detoo!
71 The incredible See-Threepio!
72 Ben Kenobi rescues Luke!
73 The droids wait for Luke
74 Luke Skywalker on Tatooine
75 Darth Vader strangles a rebel!
76 Artoo-Detoo on the rebel starship!
77 Waiting in the control room
78 Droids to the rescue!
79 Preparing to board Solo's spaceship!
80 "Where has R2-D2 gone?"
81 Weapons of the Death Star!
82 A daring rescue!
83 Aboard the Millennium Falcon
84 Rebel pilot prepares for the raid!
85 Luke on the sand planet
86 A mighty explosion!
87 The droids try to rescue Luke!
88 Stormtroopers guard Solo's ship
89 The imprisoned Princess Leia
90 Honoring the victors!
91 Solo and Chewie prepare to leave Luke
92 Advance of the Tusken Raider
93 Stormtroopers blast the rebels!
94 Interrogated by stormtroopers!
95 Sighting Artoo-Detoo!
96 The droids on Tatooine
97 Meeting at the cantina
98 See-Threepio
99 Ben with the light sabre!
100 Our heroes at the spaceport
101 The Wookiee Chewbacca
102 Rebels prepare for the big fight!
103 Stormtroopers attack our heroes!
104 Luke's uncle and aunt
105 Imperial soldiers burn through the starship!
106 A message from Princess Leia!
107 The Tusken Raider
108 Princess Leia observes the battle!
109 Ben turns off the Tractor beam
110 Threepio fools the guards!
111 Chewie and Han Solo!
112 Threatened by Sandpeople!
113 Ben hides from Imperial stormtroopers!
114 Planning to escape!
115 Hiding in the Millennium Falcon!
116 Honored for their heroism!
117 Chewbacca poses as a prisoner!
118 R2-D2 and C-3PO
119 Threepio, Ben and Luke!
120 Luke destroys an Imperial ship!
121 Han Solo and Chewbacca
122 The Millennium Falcon speeds through space!
123 Solo blasts a stormtrooper!
124 Threepio searches for R2-D2
125 Luke in disguise!
126 A quizzical Threepio!
127 The Rebel Fleet
128 Roar of the Wookiee!
129 "May The Force be with you!"
130 Pursued by the Jawas!
131 Spectacular battle!
132 Lord Vader and a soldier
Series 3 – Orange Border
Set Size: 132 cards (#133-264)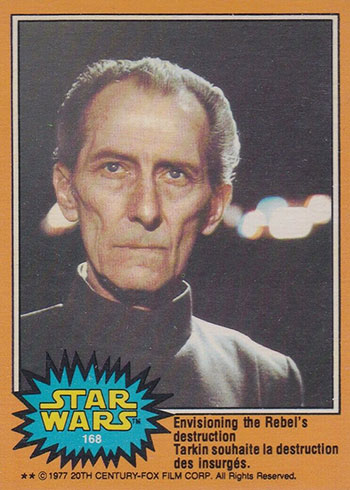 133 The star warriors aim for action!
134 C-3PO searches for his counterpart
135 Raid at Mos Eisley!
136 Inquiring about Obi-Wan Kenobi
137 A band of Jawas
138 Stalking the corridors of Death Star
139 Desperate moments for our heroes!
140 Searching for the missing droid
141 C-3PO (Anthony Daniels)
142 Luke Skywalker on the desert planet
143 The Rebel Troops
144 Princess Leia blasts the enemy
145 A proud moment for Han and Luke
146 A stormtrooper is blasted!
147 Monitoring the battle
148 Luke and Leia shortly before the raid
149 Han bows out of the battle
150 Han and Leia quarrel about the escape plan
151 The Dark Lord of the Sith
152 Luke Skywalker's home…destroyed!
153 The swing to freedom!
154 "I'm going to regret this!"
155 Princess Leia (Carrie Fisher)
156 "Evacuate? In our moment of triumph?"
157 Han Solo covers his friends
158 Luke's secret yen for action!
159 Aunt Beru Lars (Shelagh Fraser)
160 Portrait of a princess
161 Instructing the Rebel pilots
162 R2-D2 is inspected by the Jawas
163 Grand Moff Tarkin (Peter Cushing)
164 Guarding the Millennium Falcon
165 Discussing the Death Star's future
166 The Empire strikes back!
167 Raiding the Rebel starship
168 Envisioning the Rebel's destruction
169 Luke Skywalker (Mark Hamill)
170 Readying the Rebel fleet
171 The deadly grip of Darth Vader!
172 Uncle Owen Lars (Phil Brown)
173 The young star warrior
174 Artoo's desperate mission!
175 The Rebel fighter ships
176 Death Star shootout!
177 Rebels in the trench!
178 Waiting at Mos Eisley
179 Member of the evil Empire
180 Stormtrooper, tool of the Empire
181 Soldier of evil!
182 Luke suspects the worst about his family
183 Ben Kenobi UER (spelled "Ken")
184 Luke and Ben on Tatooine
185 An overjoyed Han Solo!
186 The honored heroes!
187 R2-D2 (Kenny Baker)
188 Darth Vader (David Prowse)
189 Luke poses with his weapon
190 The marvelous droid See-Threepio!
191 A pair of Jawas
192 Fighting impossible odds!
193 Challenging the evil Empire!
194 Han Solo (Harrison Ford)
195 Fury of the Tusken Raider
196 Creature of Tatooine
197 The courage of Luke Skywalker
198 Star pilot Luke Skywalker!
199 Anxious moments for the Rebels
200 Threepio and Leia monitor the battle
201 No-nonsense privateer Han Solo!
202 Ben prepares to turn off the tractor beam
203 Droids on the run!
204 Luke Skywalker: farmboy turned warrior!
205 "Do you think they'll melt us down, Artoo?"
206 Corridors of the Death Star
207 "This is all your fault, Artoo!"
208 Droids trick the stormtroopers!
209 Guarding the Millennium Falcon
210 It's not wise to upset a Wookiee!
211 Bizarre inhabitants of the cantina!
212 A narrow escape!
213 Awaiting the Imperial attack
214 "Remember Luke, The Force will be with you"
215 A monstrous thirst!
216 "Hurry up Luke – we're gonna have company!"
217 The Cantina musicians
218 Distracted by Solo's assault
219 Spiffed-up for the Awards Ceremony!
220 Cantina denizens!
221 Han and Chewie ready for action!
222 Blasting the enemy!
223 The Rebel Fighters take off!
224 Chewie aims for danger!
225 Lord Vader senses The Force
226 The stormtroopers assemble
227 A friendly chat among alien friends!
228 Droids make their way to the Escape Pod
229 Han and the Rebel Pilots
230 Artoo-Detoo is abducted by Jawas!
231 Inside the Sandcrawler
232 Chewie gets riled!
233 Leia wishes Luke good luck!
234 A critical moment for Luke Skywalker
235 Luke, the Star Warrior!
236 Threepio and Artoo
237 Various droids collected by the Jawas
238 The Jawas ready their new merchandise
239 Director George Lucas and Greedo
240 Technicians ready C-3PO for the cameras
241 A touch-up for Chewbacca!
242 Directing the Cantina creatures
243 The birthday celebration for Sir Alec Guinnes
244 Filming the Awards Ceremony
245 The model builders proudly display their work
246 Using the "blue screen" process for X-wings
247 The birth of a droid
248 Shooting in Tunisia
249 Inside the Millennium Falcon
250 Photographing the miniature explosions
251 Filming explosions on the Death Star
252 "Make-up" for the Bantha
253 Dave Prowse and Alec Guinness rehearse
254 Flight of the Falcon
255 George Lucas directs his counterpart "Luke"
256 Constructing the Star Destroyer
257 Aboard the Millennium Falcon
258 Chewie takes a breather between scenes
259 The princess gets the brush!
260 Animating the "chessboard" creatures
261 Filming the Sandcrawler
262 X-wings positioned for the cameras
263 Sir Alec Guinness and George Lucas
264 Filming Luke and Threepio in Tunisia
Stickers
1977 O-Pee-Chee Star Wars Stickers Checklist
44 cards.
Inserted one per pack.
Series 1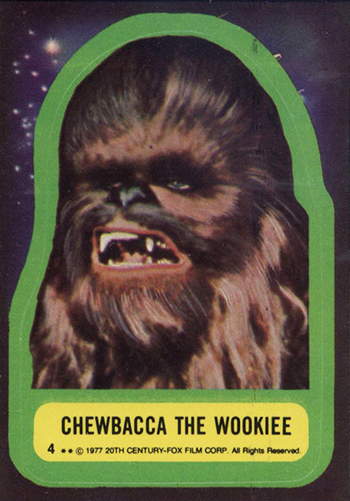 1 Luke Skywalker
2 Princess Leia Organa
3 Han Solo
4 Chewbacca the Wookiee
5 See-Threepio
6 Artoo-Detoo
7 Lord Darth Vader
8 Grand Moff Tarkin
9 Ben (Obi-Wan) Kenobi
10 Tusken Raider
11 Battle in outer space!
Series 2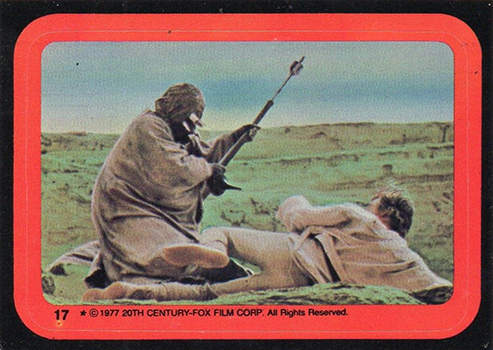 12 Han and Chewbacca
13 Alec Guiness as Ben
14 The Tusken Raider
15 See-Threepio
16 Chewbacca
17 Threatened by Sandpeople!
18 R2-D2 and C-3PO
19 The Wookiee Chewbacca
20 R2-D2 and C-3PO
21 The Millennium Falcon speeds through space
22 Spectacular battle!
Series 3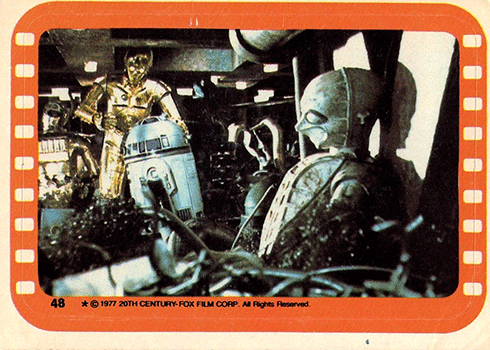 34 The star warriors aim for action!
35 Han Solo
36 Star pilot Luke Skywalker!
37 The marvelous droid See-Threepio!
38 R2-D2
39 Creature of Tatooine
40 Darth Vader
41 A pair of Jawas
42 Luke poses with his weapon
43 Stormtrooper — tool of the Empire
44 Monitoring the battle
45 A critical moment for Luke Skywalker
46 Chewie gets riled!
47 Threepio and Artoo
48 Various droids collected by the Jawas
49 Luke, the Star Warrior!
50 Director George Lucas and Greedo
51 Technicians ready C-3PO for the cameras
52 The Jawas ready their new merchandise
53 Directing the Cantina creatures
54 Leia wishes Luke good luck!
55 A birthday celebration for Sir Alec Guinness