2020-21 Panini Contenders Draft Picks Basketball Checklist and Details
2020-21 Panini Contenders Draft Picks Basketball offers the first deep dive into the year's rookie class. The autograph-heavy checklist also puts a collegiate spin on the popular brand.
With just six packs, hobby boxes don't have a lot in that regard. However in each pack is plenty of content including one autograph. That means six signed cards per box.

2020-21 Panini Contenders Draft Picks Basketball Checklist Overview
Things start with a 50-card base set that includes players headed for the NBA draft. Names are drawn from both the NCAA ranks and the international scene. On top of traditional parallels, which fall six per hobby box, variations are also plentiful with five in each pack.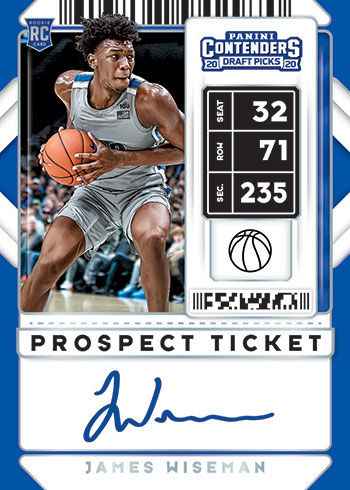 Like any set under the Contenders name, ticket-themed autographs are going to be the big draw for many. And while the design is similar throughout, there are a few different themes. Many top players heading into the draft have on-card signatures under the RPS banner. Like the shell set, variations are also on the checklist for these.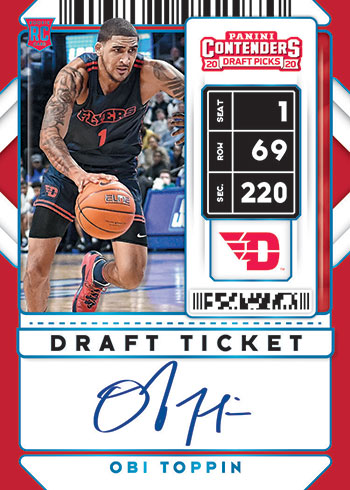 Cracked Ice returns as one of the key autograph parallels.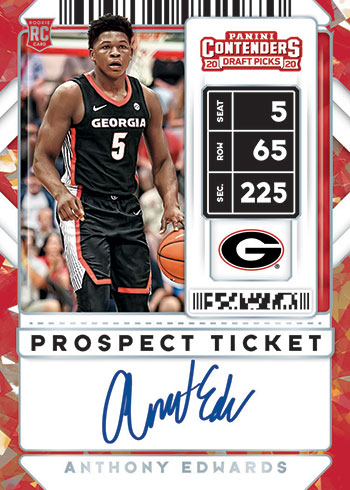 Exclusive to 1st Off the Line boxes are Blue Shimmer parallels. These are one per box for the online configuration. Green Shimmer Autographs are only found in retail blasters.
It's not just rookies with signatures in 2020-21 Panini Contenders Draft Picks. Some current NBA stars have ink in Legacy Ticket Autographs, which use photos from their time in college.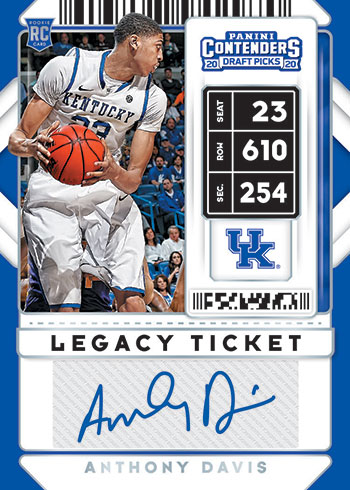 School Colors and Campus Legends are among the other inserts on the checklist. Both of these are only in hobby packs.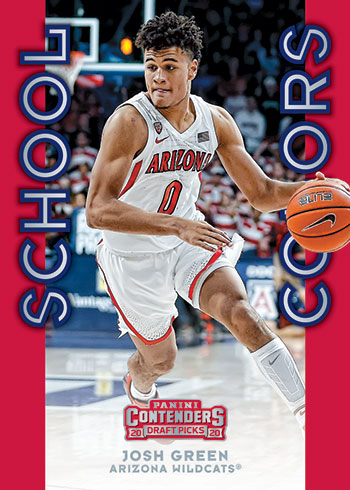 Campus ID is another hobby-exclusives. These are also short print inserts so they're tough pulls.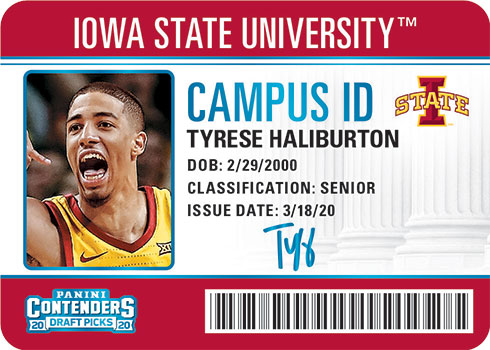 2020-21 Panini Contenders Draft Picks Basketball cards at a glance:
Cards per pack: Hobby – 18, 1st Off the Line – 18, Blaster – 6
Packs per box: Hobby – 6, 1st Off the Line – 6, Blaster – 7
Boxes per case: Hobby – 12, 1st Off the Line – 12, Blaster – 20
Set size: 139 cards
Release date: October 21, 2020
Shop for 2020-21 Contenders Draft Picks Basketball boxes on eBay:
What to expect in a hobby box:
Autographs – 6
Parallels – 6
Variation Parallels – 6
Variations – 30
What to expect in a 1st Off the Line box:
Shimmer Autographs – 1
Additional Autographs – 5
Parallels – 6
Variation Parallels – 6
Variations – 30
What to expect in a retail blaster box:
Autographs – 1
Inserts – 11
Parallels – 2
Variations – 14
2020-21 Panini Contenders Draft Picks Basketball Checklist
You can also download a spreadsheet version of the checklist that includes full college team info as well:
Base
Variations
Autographs
Inserts