2019-20 Upper Deck Ultimate Collection Hockey Checklist, Team Set Lists and Details
"Ultimate" is a strong word to live up to. It sets some big expectations that require follow-through. 2019-20 Upper Deck Ultimate Collection Hockey aims to do so with a checklist that has lots of high-end elements. This means a heavy emphasis towards on-card signatures and high-end memorabilia.

Three out of every four cards in a hobby box are either autographs, memorabilia or autographed relic. This includes one rookie autograph or a rookie memorabilia autograph card.
2019-20 Upper Deck Ultimate Collection Hockey Base Set Basics
The main set has a few different sections that encompass the NHL's present, past and future. Veterans are numbered to 149 while Legends have just 99. Onyx Black parallels are have just ten and five copies, respectively. On top of these, select cards also have autograph (Veterans – 1:10 packs, Legends – 1:30 packs) versions. Veteran Auto Shield Patch and Shield Patch cards are all one-of-ones.
Rookie Cards fall under the Ultimate Rookies banner. These have multiple levels with print runs of either 299 or 99 copies.
Ultimate Rookies Autographs all have on-card signatures. Similar to unsigned cards, these are limited to 299 or 99 copies, depending on the player.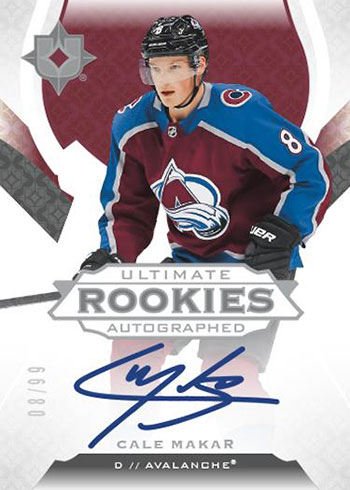 Autograph Patch parallels bring those numbers down to 99 and 49 copies. One-of-one Autograph Shield Patch versions are exclusive to hobby packs and won't make their way to Upper Deck's e-Pack platform.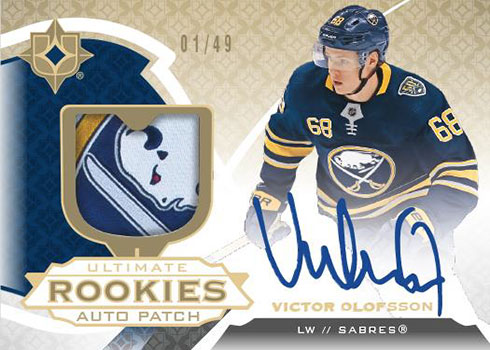 Ultimate Rookies Jerseys (/399) can also be found.
Autographs and Memorabilia Cards
Rookie Accents is a new addition for 2019-20 Upper Deck Ultimate Collection Hockey. As the name suggests, it's all about first-year players. Cards combine an action photo with a large signing space for the hard signature.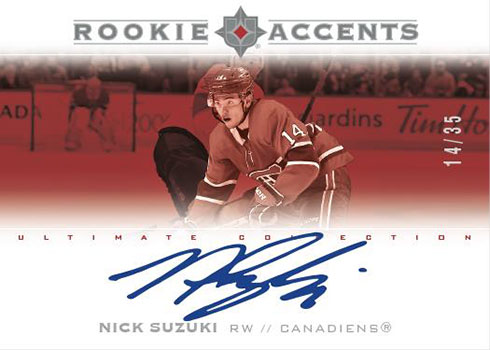 Retro Rookie Autographs have three levels of rarity: Tier 1 – /225, Tier 2 – /125, and Tier 3 – /49. Auto Patch versions are limited to 49 copies.
Back for another season are Debut Threads Auto Patch cards. None have more than 99 copies.
Pro Threads has a similar layout as Debut Threads, including on-card signatures, but the checklist here goes beyond rookies. These have either 49, 25 or 10 copies.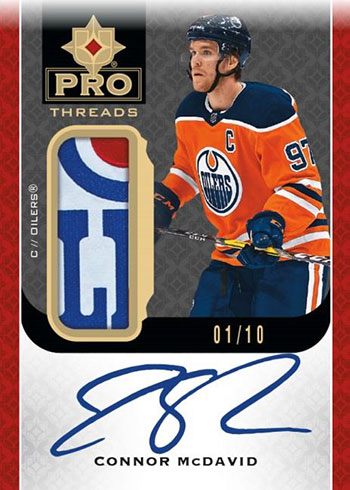 Another insert theme covering a variety of levels of signatures and relics is Ultimate Access. These start with Jersey versions that are either 1:12 packs (Tier 1) or 1:72 (Tier 2). Copper Patch parallels are numbered to 10 or less while Gold Patch cards have just three copies. Ink comes into play with Jersey Autographs, Copper Patch Autographs (/25), and Gold Patch Autographs (/6).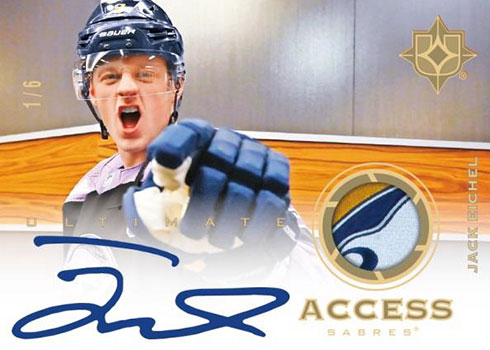 Ultimate Icons take a similar approach with a scaled lineup of jersey, patch and autograph memorabilia versions.
Other autograph inserts include Ultimate Signatures (1:12), Signature Masterpieces (1:24), Ultimate Material Signatures, Signature Material Laureates, and All-Star Skills Auto Shield Patch (1/1).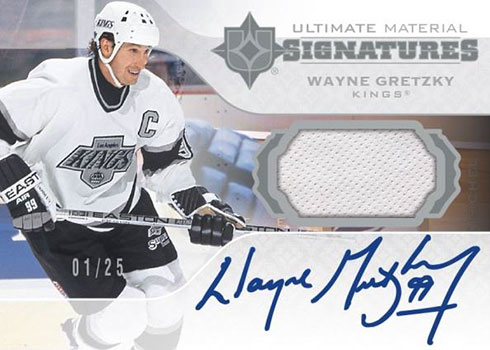 An Ultimate Inscriptions redemption card has just ten copies.
Those hunting for multi-swatch memorabilia cards can find them in Ultimate Quad Materials (/99 or /49). There's also the extremely rare Rookie Tandem Shield Patches (/2) and All-Star Tandem Shield Patches (1/1).
Ultimate Introductions
Ultimate Introduction is a large 90-card insert set centered on the season's rookie class. In addition to base versions that are approximately 1:4 packs, parallels include Showcase (1:120), Onyx Black (/25), Onyx Black Showcase (/15), Purple (/9), and Showcase Purple (1/1).
Some cards also have signed versions: Gold Auto (1:4), Showcase Gold Auto (1:136), Onyx Black Auto (/10), and Showcase Onyx Black Auto (/5).
2019-20 Upper Deck Ultimate Collection Hockey cards at a glance:
Cards per pack: 4
Packs per box: 1
Boxes per case: 16 (two 8-box inner cases)
Set size: 200 cards
Release date: August 19, 2020
What to expect in a hobby box:
Rookie Autographs – 1
Additional Autographs and Memorabilia Cards – 2 Total
Base, Parallels or Ultimate Introductions – 1
2019-20 Upper Deck Ultimate Collection Hockey Checklist
You can also download a spreadsheet copy of the checklist:
Base
Autographs
Memorabilia
Inserts
Updates
Team Sets