2021-22 Upper Deck Ultimate Collection Hockey Details
2021-22 Upper Deck Ultimate Collection Hockey is all about the high-end. Autographs and memorabilia cards are the start with much of the checklist bringing low serial-numbered print runs as well. It's not just the number of hits, either. Many come with premium elements like on-card signatures, jumbo swatches or patches.
Hobby boxes include four cards. Of those, three are autographs, memorabilia or autographed memorabilia cards.
2021-22 Upper Deck Ultimate Collection Hockey Checklist Details
The base set consists of 200 total cards. However, it breaks down into three distinct sections. Veterans (#1-75) and Legends (#76-100) make up the first half of the set. Standard cards for both of these have 149 copies each. Ultimate Rookies Autographs fill out the checklist. Most are numbered to 299 although a dozen key players are short prints with just 99.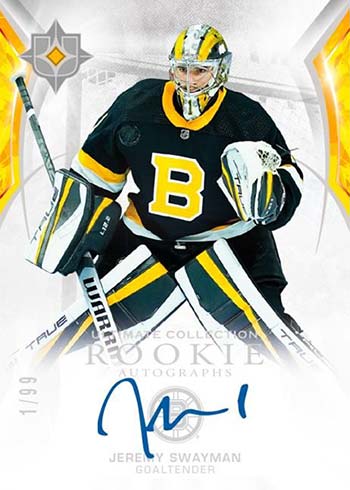 Parallels for Veterans and Legends start with Gold (/35), Purple (/15) and Black (/5).
Additional versions add signatures and swatches.
Premium Veteran parallels include Autographs (1:9 packs), Gold Autographs, Purple Autographs (/5), Jumbo Patch (/3), Jumbo Patch Autographs (/3), Black Autographs (1/1), Shield Patch (1/1) and Shield Patch Autographs (1/1).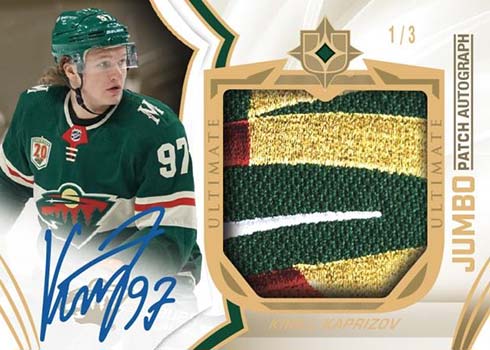 For Legends, there aren't quite as many options: Autographs (1:50 packs), Gold Autographs, Purple Autographs (/5), Black Autographs (1/1), and Jumbo Auto Patch (1/1).
Ultimate Rookies parallels start with Jersey versions (/699 or /499), which don't have autographs and are actually more plentiful than their base counterparts. Collectors can also find Auto Patch (/99 or /49), Jumbo Auto Patch (/15) and Auto Shield Patch (1/1) cards.
Ultimate Debuts
Ultimate Displays is new. These draw inspiration from memorabilia displays that typically have a large photo and a couple of other elements matted in. Versions include Jersey (1:8), numbered Autograph Jersey, Patch (/25), numbered Auto Patch, Tag (/5), and Auto Tag (/6 or /3).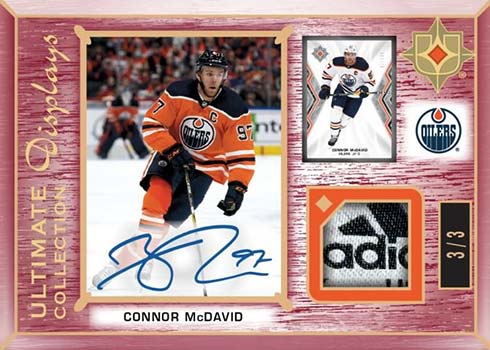 Ultimate Emblems, an autograph insert, is another debut. Vets and legends are 1:7 packs while rookies are 1:5. Parallels include Gold (/49 or /25) and Platinum (/10 or /5). The idea behind these is the inclusion of the product's branding on a metal strip that has been added to the card.
2021-22 Upper Deck Ultimate Collection Hockey has two additional memorabilia insert sets making their debut.
Ulti-Mates Jersey (1:10 packs) has swatches from two teammates. Patch (/35) and Tag (/3) parallels also also available.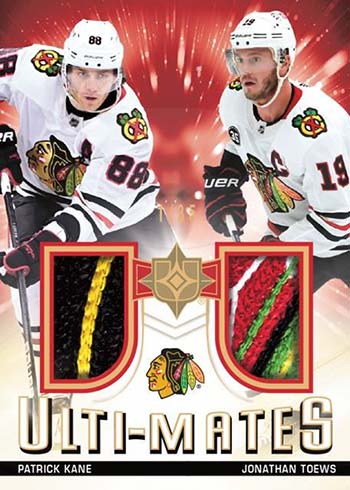 Stick With Me highlights game-used sticks. Base versions have 35 copies each while Gold parallels are limited to 5.
Shields
Ultimate has long been a place to make one-of-one NHL Shield cards a central chase. For 2021-22 Ultimate Collection Hockey, they're not limited to base parallels. Ultimate Shield Patches and Ultimate Shield Patch Autos give collectors additional chances, albeit slim, for a league logo.
Rookie Tandem Shield Patches (/2) have two of them, one from an NHL freshman and another from a veteran who is shown with a rookie-year photo.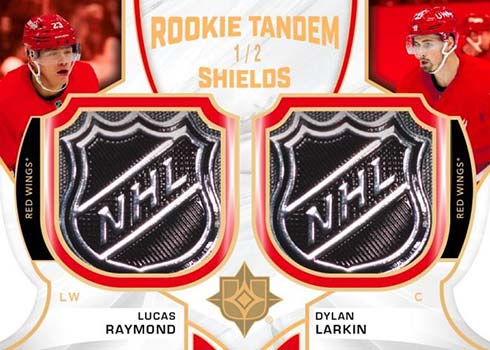 Additional Autographs and Memorabilia Cards
The 2021-22 Upper Deck Ultimate Collection Hockey checklist has several other places to find player ink and swatches.
Pro Threads (/49 or less) and Debut Threads (/99 or less) both return, combining signatures and swatches.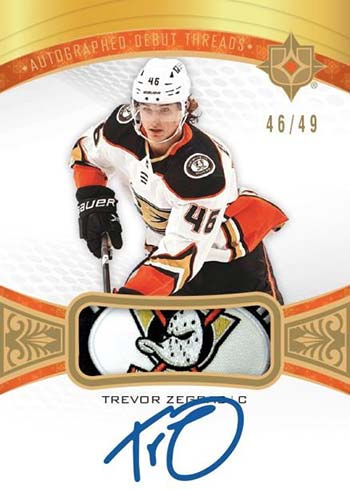 Ultimate Signatures (1:8 packs) and Ultimate Signatures Rookies (1:6 packs) bring more autographs to the checklist. Veterans have additional Gold (/10), Material and Premium Material versions. Rookie Signature Premium Materials can also be found.
2000-01 Ultimate Signatures Retros (1:56 packs) and Rookie Retros (1:32) both go back two decades for their design inspiration. Gold parallels have 10 copies each.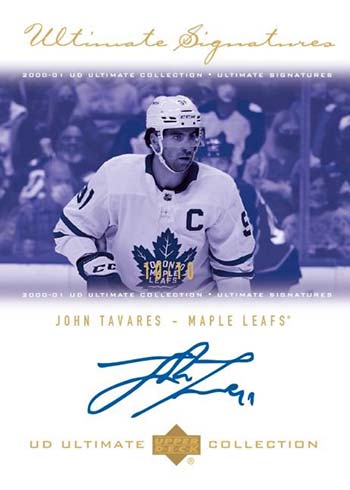 Other autograph themes in 2021-22 Ultimate Collection Hockey include Rookie Accents, Signature Masterpieces (1:16 packs) and Signature Material Laureates. There's also a redemption for an Ultimate Inscriptions card.
On the memorabilia-only side, there are Ultimate Patches and Ultimate Premium Material. Ultimate Quad Material Jersey (/99 or less) use four pieces of gear. These come with Patch (/25 or less) and Tag (1/1) parallels.
Ultimate Introductions
Ultimate Introductions is an insert set revolving around rookies. Standard cards land 1:3 packs while Showcase short prints are 1:100. Gold (/49), Black (/25) and Purple (/5) parallels are available as well.
Autographs also appear for select cards at a rate of 1:5 packs or 1:200 for Showcase players. These have further Gold, Black (/10, Showcase /5) and Purple (1/1) versions.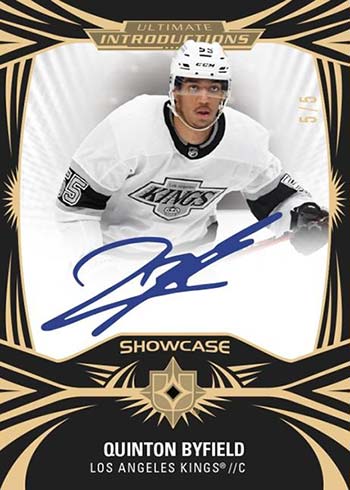 2021-22 Upper Deck Ultimate Collection Hockey cards at a glance:
Cards per pack: Hobby – 4
Packs per box: Hobby – 1
Boxes per case: Hobby – 16 (two 8-box inner cases)
Set size: 200 cards
Release date (subject to change): October 26, 2022
What to expect in a hobby box:
Autographed Memorabilia, Premium Autographs or Premium Memorabilia Cards – 1 Total
Autographs – 1
Memorabilia Cards – 1
Base Cards or Inserts – 1 Total
Recent Upper Deck Ultimate Collection releases:
The full 2021-22 Upper Deck Ultimate Collection Hockey checklist and team set lists will be up as soon as they're available, likely shortly before the product's release.