Panini's Signing with the (Future) Stars
By Mike Payne
With the final week of spring training as the backdrop, the fifth annual Panini Spring Training Road Trip rolled through Phoenix Monday night for the first of three days of top MLB prospects signing autographs for the card manufacturer.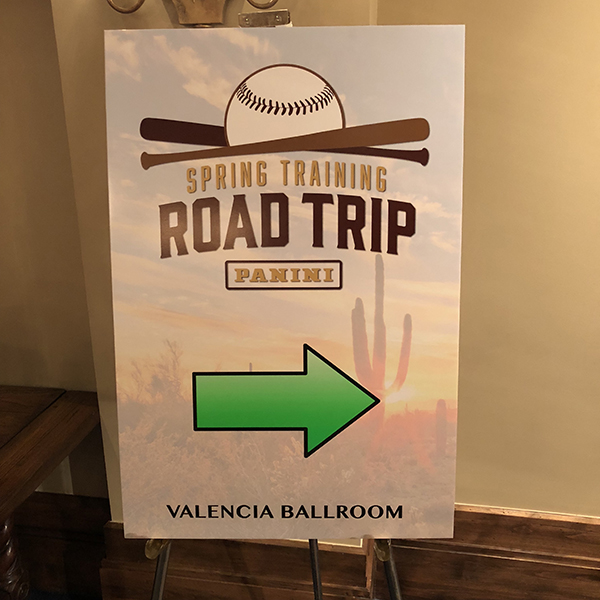 Nearly 25 prospects gathered in the Valencia Ballroom at the Omni Scottsdale Resort & Spa at Monteluci, signing anywhere from 500 autographs each to as many as 2,000. Players signed on-card autographs for Donruss Optic, Immaculate and National Treasures. Those not signing cards signed stickers for future Panini sets.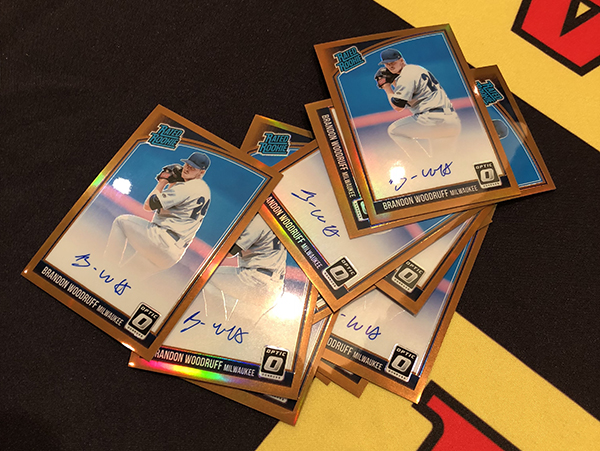 One of those signing 2,000 cards was Milwaukee Brewers RHP Brandon Woodruff. "Just trying to stay consistent," he said of his signature about halfway through his stack of cards. "Never signed this many at one time."
Across the room, White Sox outfielder Nick Delmonico said he had participated in a similar signing session while with USA Baseball. Monday night he was rolling through his stack of cards, and talking about collecting cards when he was a kid.
"Oh yeah," said Delmonico, the son of former University of Tennessee coach Rod Delmonico, when asked if he was a collector. "I used to collect my dad's team's sets because I could get the guys to sign them."
And his favorite player growing up?
"Derek Jeter," he said. "I've still got a couple Jeter cards."
The Arizona portion of the Spring Training Road Trip followed the Florida leg last week.
"One of the great things about this is that players can come in and be themselves," Panini's Tracy Hackler said. "It's laid back, relaxed, and most understand this is part of the business."
Besides their signing responsibilities, the players were photographed in a mini photo studio, watched the live streaming case breaks that were going on during the event and soaked up the time with other players. A few players took a turn talking baseball and collecting with The Fat Packs hosts Eric Norton and Paul Wirth on Beckett Radio. Nick Margevicius, a lefthander selected by the San Diego Padres in the seventh round of the 2017 draft, talked with the Packs about collecting cards, what is in his collection and his experience in his first big-league spring training.
Panini was bringing in other players Tuesday and Wednesday. Among the players scheduled for Tuesday's event: Shohei Ohtani.