7 Underrated Pre-War Hall of Fame Baseball Cards for 2022
The term ʻpre-war' can evoke all sorts of emotions in the minds of collectors. Some instantly think of iconic issues, such as T206 or Goudey. But others are more fearful, worrying that those cards will undoubtedly exceed their budgets. The great thing about pre-war cards is there is such a wide variety that can accommodate most wallets. And while it's true that many of the most valuable baseball cards are found in that era, even in today's market, there are still some hidden gems.
Cards of big-name players have certainly risen dramatically in the past two years. But here are seven that are a bit under the radar.
1911 T201 Mecca Double Folders Christy Mathewson
Long hailed as the most affordable mainstream American tobacco issue, prices for the 1911 T201 Mecca Double Folders set have been on the move. However, the set remains significantly less expensive than the more popular T205 and T206 issues. The case can be made that many of the two-sided cards offer bargains – particularly those that feature two Hall of Famers. But a card that continues to stand out is the one featuring the legendary Christy Mathewson, who is paired with teammate Al Bridwell. Bridwell's name does little to help the value of this card but collectors seeking a Mathewson should pay close attention to this one.
While Matty's T205 and T206 cards typically start in the $600-$800 range for a low-grade example, a more respectable T201 can be had for roughly half that price. Mathewson, fortunately, is also pictured on the ʻfull side' of the card, meaning collectors get a full-body image as opposed to the half-body picture of players on the other side (i.e. Cobb). Given this is a tobacco card of one of the most popular pre-war players, for the price, it's a solid bargain.
Buy on: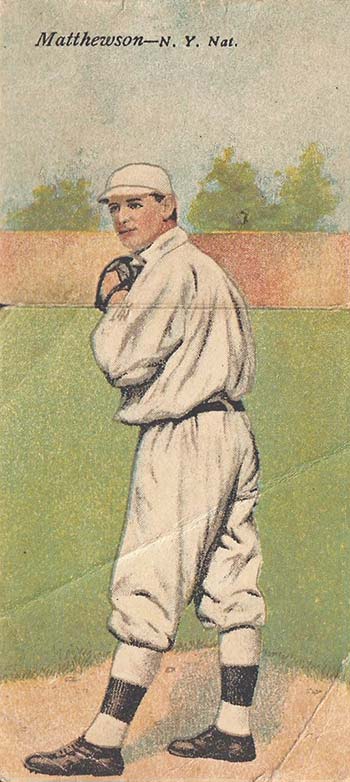 1912 T207 Walter Johnson
Those familiar with the T207 card of Hall of Fame pitcher Walter Johnson know that it is not a particularly attractive one. But given the circumstances, I think it's still fair to label this card as underrated.
While not the most valuable card in the quirky set, Johnson's is arguably the biggest name as the release does not include the likes of Ty Cobb, Christy Mathewson, Honus Wagner, or many other greats of the era. And if you're looking for a Johnson tobacco card, this one is also more affordable than his T205 or T206 issues. While you can expect to pay starting prices of roughly $700-$1,000 for low-grade cards from those two issues, Johnson's T207 can be found for considerably less. Given the ugly nature of the card and the lack of set appeal to collectors, that might make sense. But the card is also much rarer and probably deserves to be on par with the others. I think it's a terrific value given the difficulty of the cards in general.
Buy on: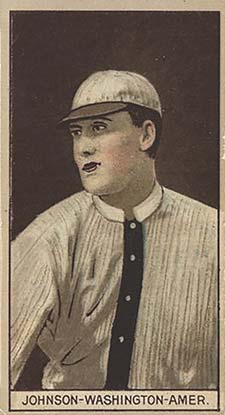 1921 W551 Strip Card Ty Cobb
The overwhelming affordability of strip cards is essentially no more. Sure, these cards are still generally less expensive than tobacco or candy issues. But gone are the days of buying low-grade strips of Babe Ruth or Ty Cobb for $100 or $200.
One of Cobb's least expensive strip cards is in the W512 multi-sport release, featuring other athletes along with some non-athletes. But a better card can be had for roughly the same amount of money, even if it is a little tougher to find. While the W512 card features an ugly cartoon portrait of the legend, his 1921 W551 strip card has a cleaner image and is a card that was released several years earlier. It's also a rarer card and is often roughly the same price, with low-grade issues commanding around $500-$600, give or take. And compared to the high cost of Cobb tobacco and candy issues, it doesn't get much more inexpensive than that.
Buy on: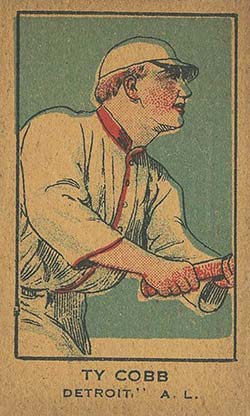 1929 Shonen Club Postcard Babe Ruth
It's getting more difficult these days to find sub-$1,000 "playing days" cards of the iconic Babe Ruth. While somewhat plentiful, Ruth's 1933 Goudey cards have soared beyond the reach of many collectors. Don't let that get you down, though. The Babe still has some affordable cards up for grabs.
A personal favorite is one that is seemingly a bit underpriced – Ruth's 1929 Shonen Club postcard. Issued in a magazine out of Japan, the somewhat rare card features a great image of Ruth at the plate alongside Japanese text that describes the image. The card has gotten a little more valuable but is still very reasonable. If you've got the cash, mid-grade cards are often excellent bargains. Low-grade issues start around $500 but the escalation for better graded cards is not always terribly steep. You can often find mid-grade cards for well under $2,000 – a fraction of what you'd pay for a far more common Goudey in the same condition.
Buy on: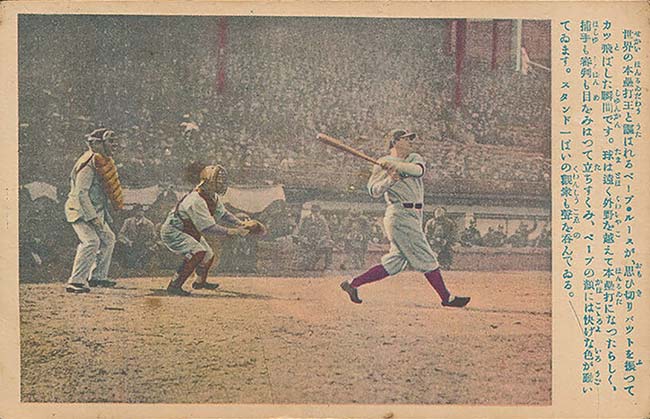 1936 S and S Game Mel Ott
The 1936 S and S Game cards remain some of the most affordable baseball cards of the 1930s. These game cards feature real black and white images of players with rounded corners. As is often the case with other game issues, it's those corners that have avoided damage and subsequently led to a large number of high-grade cards in the market-place. Graded 8s are not particularly rare for this series and even 9s and 10s are seen on occasion.
The set is missing some of the key young stars in the game at the time, including Joe DiMaggio and Bob Feller. One of the biggest names in the set is Mel Ott and his cards are usually downright affordable. Raw Ott cards in decent condition can sometimes be plucked for as little as $25 -$35. Even high-grade cards are not terribly pricey. This set continues to offer great bargains to collectors and with the rising prices of pre-war Hall of Famers, Ott's card provides unquestionable value.
Buy on: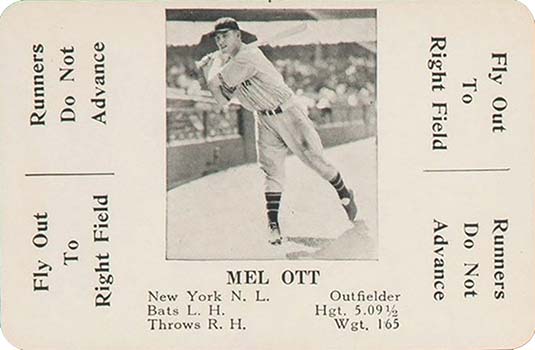 1939-46 Salutations Exhibit Ted Williams
Like the 1941 Double Play card, this one is sort of on the edge as a true pre-war card. But if you're looking for one of Ted Williams' biggest bargain cards, you'll find it in this set.
These Exhibits were issued over many years, starting in 1939 and ending in 1946. They are termed as ʻSalutations' Exhibits because a special greeting (i.e. Best Wishes, Sincerely) accompanied a player's name. These blank-backed cards were sold in machines as standalone issues. They used to be terribly inexpensive but like everything else, have risen a bit in value. Still, they present tremendous value and that's particularly true of the biggest names in the set.
It isn't uncommon to snag some Hall of Famers for as little as $15-$30 but I think some real value lies in the Williams card. Note that Williams does have a pricier variation – one that shows the No. 9 on his jersey. But the more common pose variation of Williams in mid-swing can be had for as little as $40-$50. Given what early Williams' cards typically sell for, it remains a fantastic buy for collectors on a budget.
Buy on: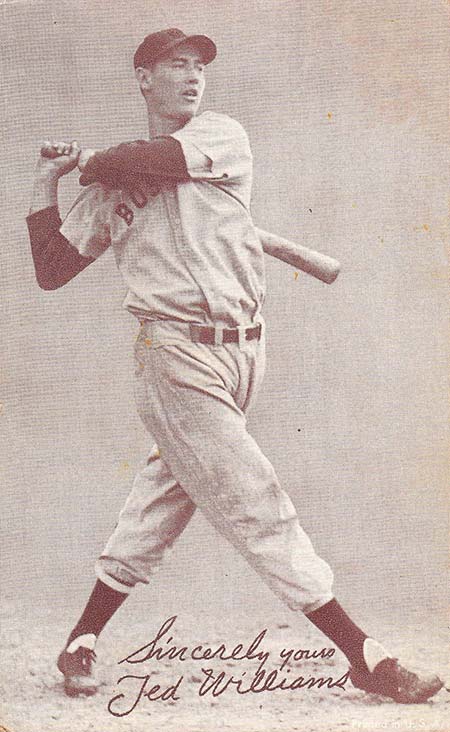 1941 Double Play Joe DiMaggio/Charlie Keller
Prices on Joe DiMaggio cards have skyrocketed over the past couple of years. One that is slipping out of reach for many is his popular high number card in the 1941 Play Ball set. With prices for even low-grade cards usually topping $1,000, it might be time to consider some other options.
One of those is DiMaggio's 1941 Double Play card where he is featured with teammate Charlie Keller (spelled as ʻCharley' on his card). There are a couple of reasons why I like this card in particular. First, while he is featured with another player, Keller was at least a legitimate star, being named to five All-Star teams. And in addition to being a fairly early card of DiMaggio with a clean portrait image, it's extremely affordable compared to that Play Ball issue. Decent lower-end Double Play cards start around $300-$400.
Buy on: