2019 Topps Now Future Baseball cards take a predictor approach, offering prizes for on-field achievements. The line kicks off with a 90-card set where you're looking for players to become World Series winners.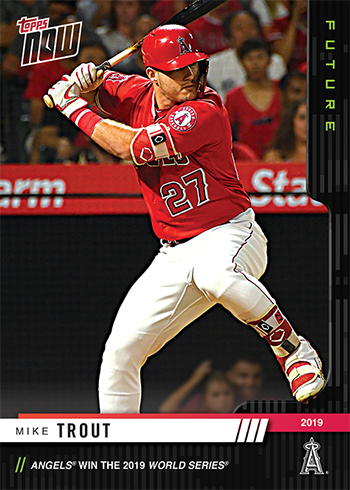 Available for two weeks on the Topps website starting on March 25, 2019 Topps Now Now World Series Champion packs cost $12 each and come with three cards. Each MLB team is represented by three players.
Card backs have a couple of things. The first the prize you're going for. The other is a scratch-off code similar to a redemption card. Should the team represented on the card win the 2019 World Series, you can enter the code and win the specified prize.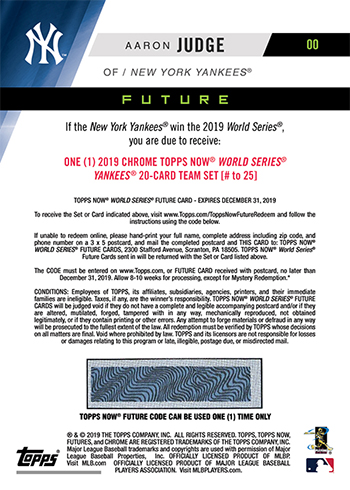 Prizes fall under a couple of categories. The first is an exclusive set of 2019 Topps Now Chrome World Series Champions cards. This comes in the form of a 20-card team set. Base versions have 199 copies while parallels are /99, /49, /25, /10, /5 and 1/1. These are the first Topps Chrome cards for the Now program.
2019 Topps Now Future World Series Champions also has a mystery autograph. This has an on-card signature and the base version is numbered to 50. Additional parallels go as low as 1/1.
2019 Topps Now Future Baseball cards at a glance:
Cards per pack: 3
Set size: 90 cards
Release date: March 25, 2019
2019 Topps Now Future World Series Champions Checklist
90 cards.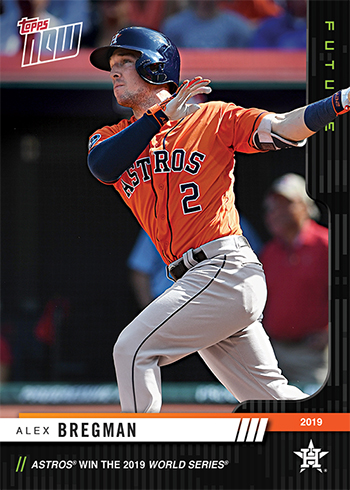 1 Zack Greinke, Arizona Diamondbacks
2 Nick Ahmed, Arizona Diamondbacks
3 David Peralta, Arizona Diamondbacks
4 Freddie Freeman, Atlanta Braves
5 Ozzie Albies, Atlanta Braves
6 Ronald Acuna Jr., Atlanta Braves
7 Mark Trumbo, Baltimore Orioles
8 Chance Sisco, Baltimore Orioles
9 Chris Davis, Baltimore Orioles
10 Mookie Betts, Boston Red Sox
11 Chris Sale, Boston Red Sox
12 Andrew Benintendi, Boston Red Sox
13 Kris Bryant, Chicago Cubs
14 Javier Baez, Chicago Cubs
15 Anthony Rizzo, Chicago Cubs
16 Yoan Moncada, Chicago White Sox
17 Michael Kopech, Chicago White Sox
18 Jose Abreu, Chicago White Sox
19 Joey Votto, Cincinnati Reds
20 Yasiel Puig, Cincinnati Reds
21 Scooter Gennett, Cincinnati Reds
22 Francisco Lindor, Cleveland Indians
23 Jose Ramirez, Cleveland Indians
24 Corey Kluber, Cleveland Indians
25 Nolan Arenado, Colorado Rockies
26 Charlie Blackmon, Colorado Rockies
27 Trevor Story, Colorado Rockies
28 Miguel Cabrera, Detroit Tigers
29 Michael Fulmer, Detroit Tigers
30 Nicholas Castellanos, Detroit Tigers
31 Jose Altuve, Houston Astros
32 Alex Bregman, Houston Astros
33 Justin Verlander, Houston Astros
34 Whit Merrifield, Kansas City Royals
35 Ryan O'Hearn, Kansas City Royals
36 Salvador Perez, Kansas City Royals
37 Shohei Ohtani, Los Angeles Angels
38 Albert Pujols, Los Angeles Angels
39 Mike Trout, Los Angeles Angels
40 Clayton Kershaw, Los Angeles Dodgers
41 Cody Bellinger, Los Angeles Dodgers
42 Justin Turner, Los Angeles Dodgers
43 Lewis Brinson, Miami Marlins
44 Brian Anderson, Miami Marlins
45 Starlin Castro, Miami Marlins
46 Ryan Braun, Milwaukee Brewers
47 Christian Yelich, Milwaukee Brewers
48 Jesus Aguilar, Milwaukee Brewers
49 Nelson Cruz, Minnesota Twins
50 Byron Buxton, Minnesota Twins
51 C.J. Cron, Minnesota Twins
52 Jacob deGrom, New York Mets
53 Noah Syndergaard, New York Mets
54 Michael Conforto, New York Mets
55 Aaron Judge, New York Yankees
56 Giancarlo Stanton, New York Yankees
57 Miguel Andujar, New York Yankees
58 Khris Davis, Oakland Athletics
59 Matt Olson, Oakland Athletics
60 Matt Chapman, Oakland Athletics
61 Bryce Harper, Philadelphia Phillies
62 JT Realmuto, Philadelphia Phillies
63 Aaron Nola, Philadelphia Phillies
64 Josh Bell, Pittsburgh Pirates
65 Francisco Cervelli, Pittsburgh Pirates
66 Chris Archer, Pittsburgh Pirates
67 Manny Machado, San Diego Padres
68 Wil Myers, San Diego Padres
69 Luis Urias, San Diego Padres
70 Evan Longoria, San Francisco Giants
71 Buster Posey, San Francisco Giants
72 Brandon Crawford, San Francisco Giants
73 Edwin Encarnacion, Seattle Mariners
74 Dee Gordon, Seattle Mariners
75 Yusel Kikuchi, Seattle Mariners
76 Yadier Molina, St. Louis Cardinals
77 Mile Mikolas, St. Louis Cardinals
78 Matt Carpenter, St. Louis Cardinals
79 Willy Adames, Tampa Bay Rays
80 Blake Snell, Tampa Bay Rays
81 Ryan Yarbrough, Tampa Bay Rays
82 Shin-Soo Choo, Texas Rangers
83 Rougned Odor, Texas Rangers
84 Elvis Andrus, Texas Rangers
85 Kendrys Morales, Toronto Blue Jays
86 Kevin Pillar, Toronto Blue Jays
87 Marcus Stroman, Toronto Blue Jays
88 Juan Soto, Washington Nationals
89 Max Scherzer, Washington Nationals
90 Patrick Corbin, Washington Nationals