1991 Topps Desert Shield Baseball Set Tops $100,000
Coming out at a time when card sets were, by and large, mass produced to numbers that are still hard to fathom today, 1991 Topps Desert Shield Baseball is an exception. It's rare, it has a unique history behind it and cards are tough to find in top condition.
With a checklist of 792 cards, putting a set together is a major challenge in any condition. To put one together where virtually every card is graded Gem Mint, it's a massive accomplishment.
The top-ranked 1991 Topps Desert Shield Baseball set in PSA's registry sold on March 22 through a Mile High Card Company auction. And the six-figure price it fetched reflects what a rarity it is.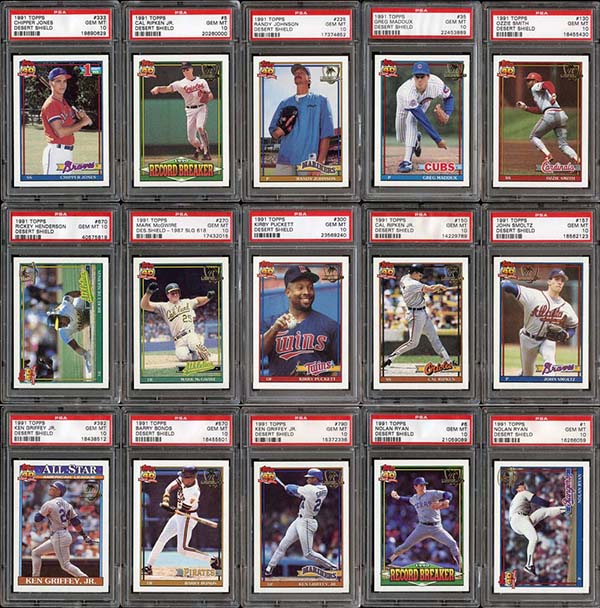 $106,475.78 was the final price for the 1991 Topps Desert Shield set when bidding closed. This includes the buyer's premium.
Dubbed the Carolina Collection, 759 out of the 792 cards in the set are graded PSA 10. This includes the 1991 Topps Desert Shield Chipper Jones as well as other key superstars like Ken Griffey Jr., Nolan Ryan, Kirby Puckett, Cal Ripken Jr. and Greg Maddux. Many are among the only PSA 10 copies of that particular card.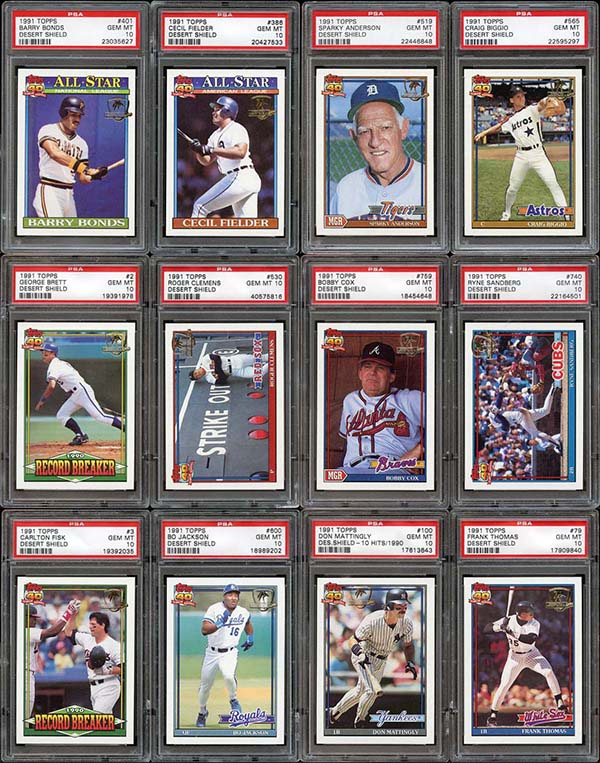 1991 Topps Desert Shield Baseball is popular for a few reasons today. The biggest is its history and story. Topps produced a special run of their 1991 Topps Baseball set for members of the military who were part of the Gulf War.
The cards are essentially the same as the main set only with the addition of a gold foil Desert Shield logo on the front.
Understandably, many of these cards didn't make it back to the United States. And those that did were likely handled, tossed in pockets and bags rather than custom card boxes and top loaders. Already rare to begin with, it's this condition sensitivity that makes top-end cards so scarce.
Comments? Questions? Contact Ryan Cracknell on Twitter @tradercracks or by email.