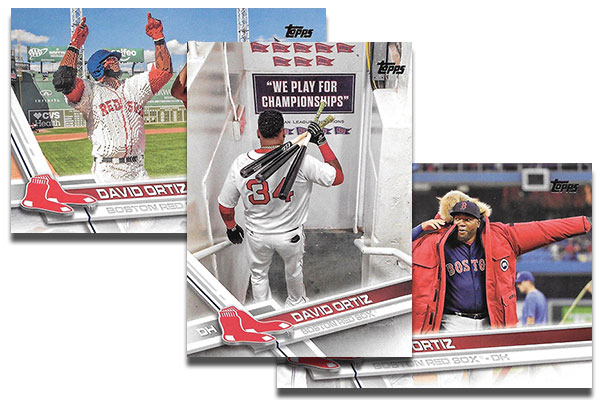 By Ryan Cracknell | Hobby Editor
2017 Topps Series 1 Baseball variation short prints are likely going to keep you looking and taking second glances. This has become a tradition over the past several years.
Want to know what you should be looking for?
Once again, Topps is opting for different photos on the variations. As far as spotting them goes, it's much easier and distinct than patterns from the past like Sparkles, which last appeared in 2015 Topps Baseball.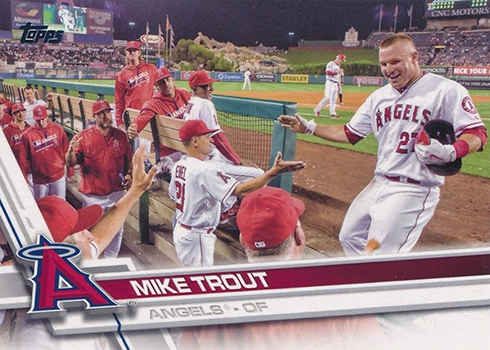 David Ortiz Variations
Fresh off his final season, David Ortiz gets a lot attention among the variations. He's featured on several cards. Just how many remains to be seen.
Most seem to revolve around his retirement tour, with final stops and tributes in several stadiums.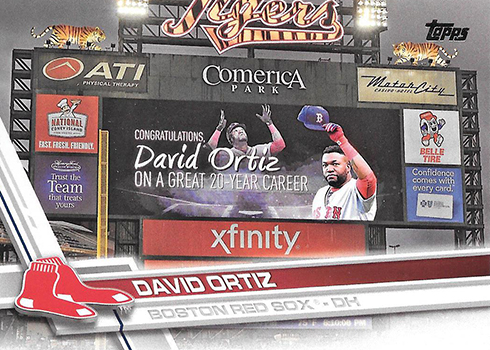 Finding 2017 Topps Series 1 Variations in Packs
Variations are not exclusive to any particular 2017 Topps Series 1 Baseball pack type. Both retail and hobby packs have them. As far as odds go, based on what's printed on wrappers, it looks as though things have been streamlined somewhat. Rather than having one set of short prints and another group of even tougher super short prints, there's just one group and it's the latter.
Variations are inserted 1:678 hobby packs and 1:126 hobby jumbo packs. That puts them in line with SSP cards from other years. But the easier group of short print, often about one per box, appear to be gone.
Confirming SSP Variations with Codes on the Back
In addition to the different images, you can once again double-check with the codes on the back in the fine print. Base cards end in 1730. Codes for variations end with 1786. This isn't what the codes are meant for, but it works.
Below is a list of the confirmed 2017 Topps Series 1 Baseball variation short prints (obviously, we're just getting started). After that is a gallery to make things even easier.
2017 Topps Series 1 Baseball Variations Checklist
Here's the full list of all 50 of the 2017 Topps Series 1 Variations.
Looking to add 2017 Topps Series 1 Baseball variations to your collection? Here's what's currently listed on eBay. You can also click on the individual links in the checklist to check for specific cards.
2017 Topps Series 1 Baseball Variations Gallery
1 Kris Bryant, Chicago Cubs
5 Corey Seager, Los Angeles Dodgers
8 Jose Berrios, Minnesota Twins
9 Chris Sale, Chicago White Sox
20 Mike Trout, Los Angeles Angels
25 Giancarlo Stanton, Miami Marlins
34 Bryce Harper, Washington Nationals
38 Stephen Strasburg, Washington Nationals
44 Paul Goldschmidt, Arizona Diamondbacks
50 Clayton Kershaw, Los Angeles Dodgers
60 Jose Bautista, Toronto Blue Jays
65 Madison Bumgarner, San Francisco Giants
75 Carlos Correa, Houston Astros
87 Dansby Swanson, Atlanta Braves
91 Troy Tulowitzki, Toronto Blue Jays
109 Nelson Cruz, Seattle Mariners
119 Francisco Lindor, Cleveland Indians
126 Miguel Sano, Minnesota Twins
130 Dustin Pedroia, Boston Red Sox
150 Miguel Cabrera, Detroit Tigers
155 Jacob deGrom, New York Mets
161 Mookie Betts, Boston Red Sox
177 Sonny Gray, Oakland Athletics
199 Johnny Cueto, San Francisco Giants
207 Justin Upton, Detroit Tigers
208 Masahiro Tanaka, New York Yankees
210 Yoan Moncada, Boston Red Sox
220 Ryan Braun, Milwaukee Brewers
227 Byron Buxton, Minnesota Twins
243 Felix Hernandez, Seattle Mariners
244 Freddie Freeman, Atlanta Braves
260 Stephen Piscotty, St. Louis Cardinals
263 Addison Russell, Chicago Cubs
265 Charlie Blackmon, Colorado Rockies
283 Andrew Benintendi, Boston Red Sox
287 Aaron Judge, New York Yankees
288 Joey Votto, Cincinnati Reds
299 Yulieski Gurriel, Houston Astros
340 Aaron Nola, Philadelphia Phillies
341 Alex Bregman, Houston Astros
350 David Ortiz, Boston Red Sox
Ortiz has several variations.
Comments? Questions? Contact Ryan Cracknell on Twitter @tradercracks.