2017 Topps Series 2 Baseball Box Busters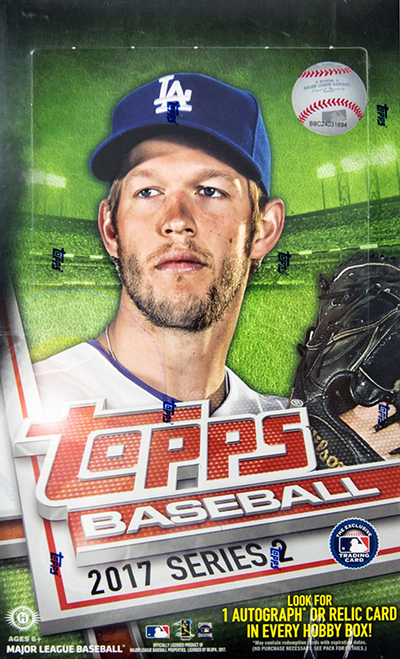 Join Beckett Baseball's Dave Sliepka and Brian Fleischer as they open some 2017 Topps Series 2 Baseball.
What will they find? Watch and find out.
2017 Topps Series 2 Baseball Box Breakdown
Here's a look at the box and what we pulled.
Packs per box: 36
Cards per pack: 10
Cards per box: 360
Box 1
Base Set Completion (304/350): 87%
Duplicates: 0
Parallels: 11
Black (/66): 1
Brad Brach
Black & White Negative: 1
Adam Ottavino
Gold (/2017): 5
Jarrett Parker
Yonder Alonso
Starlin Castro
Gavin Cecchini
Trea Turner
Rainbow Foil: 4
Dee Gordon
Luis Valbuena
Andrew McCutchen
Mike Napoli
Autographs: 0
Memorabilia Cards: 1
Major League Materials: 1
Manny Machado
Inserts: 37
'87 Topps: 9
Corey Seager
Omar Vizquel
Andrew Toles
Robinson Cano
Nolan Arenado
Frank Thomas
Johnny Damon
Dan Vogelbach
Fernando Valenzuela
First Pitch: 4
Isaiah Mustafa
Josh Duhamel
Anthony Rapp
Alex Curry
Major League Milestones: 5
Corey Seager
Miguel Cabrera
Max Scherzer
Felix Hernandez
David Ortiz
Memorable Moments: 9
Roger Clemens
Ozzie Smith
Nolan Ryan
Mike Piazza
Carl Yaztrzemski
Ted Williams
Babe Ruth
Hank Aaron
Cal Ripken Jr.
MLB Network: 1
Eric Byrnes
Topps Salute: 9
Addison Russell
Eddie Mathews
Matt Strahm
Gary Carter
Maikel Franco
Stephen Piscotty
Tyler Glasnow
Manny Machado
Andrew Benintendi
Rediscover Topps Buybacks: 6
Bronze: 3
Rafael Belliard ('93 Topps Gold)
Livan Hernandez ('06 Topps)
Johan Santana ('06 Topps)
Silver: 2
Ivan Rodriguez ('05 Topps)
Jason Lane ('06 Topps)
Gold: 1
Phil Lombardi ('88 Topps)
Topps Now Code Card: 1
MLB The Show Code Card: 3
Box 2
Base Set Completion (305/350): 87%
Duplicates: 0
Parallels: 10
Black (/66): 1
Drew Storen
Gold (/2017): 4
Ryan Schimpf
Dee Gordon
Michael Taylor
Luis Valuena
Rainbow Foil: 4
Michael Conforto
Jeff Samardzija
James Loney
J.A. Happ
Vintage Stock (/99): 1
Rob Zastryzny
Autographs: 0
Memorabilia Cards: 1
Major League Materials: 1
Michael Wacha
Inserts: 37
1987 Topps: 9
Ken Griffey Jr.
Matt Carpenter
Dansby Swanson
Hank Aaron
Eric Hosmer
Alex Reyes
Seth Lugo
Mookie Betts
JaCoby Jones
First Pitch: 4
Ben Higgins
Diplo
Brian Shaw
Steve Bowen
Major League Milestones: 5
Jose Bautista
Alex Rodriguez
Ichiro
Justin Verlander
Kris Bryant
Memorable Moments: 9
Steve Carlton
Ted Williams
Derek Jeter
Nolan Ryan
Miguel Cabrera
Ty Cobb
Fernando Valenzuela
Reggie Jackson
Ichiro
MLB Network: 1
Intentional Talk
Topps Salute: 9
Aledmys Diaz
David Ortiz
Fergie Jenkins
Tyler Austin
Alex Bregman
Harmon Killebrew
Willie McCovey
Mookie Betts
Randal Grichuk
Rediscover Topps Buybacks: 6
Bronze: 3
Tom Pagnozzi ('89 Topps)
Luis Salazar ('90 Topps)
Joe Carter ('91 Topps)
Silver: 2
Fred Manrique ('88 Topps)
Alex Trevino ('89 Topps)
Gold: 1
Gary Roenicke ('84 Topps)
Topps Now Code Card: 1
MLB The Show Code Card: 3