2015 Topps Star Wars High Tek Variation Short Prints Gallery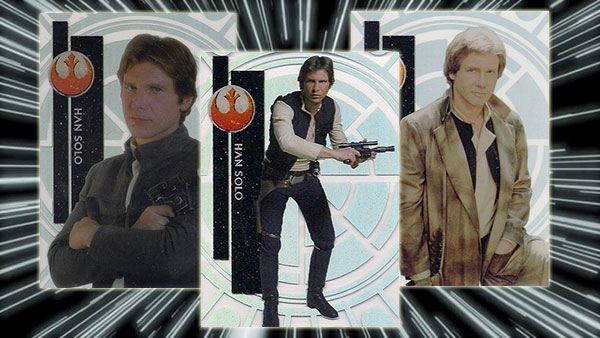 By Ryan Cracknell | Hobby Editor
In case the patterns weren't enough to keep you busy, there are a handful of 2015 Topps Star Wars High Tek variation short prints to chase as well. Ten characters have cards with alternate photos that are much tougher to find. Of those, five have two different variations bringing the total number up to 15.
Although the 2015 Topps Star Wars High Tek variations are somewhat subtle if you're only going by the fronts, there are a couple of other easy ways to spot them. The first is the numbers. Variations have an 'A' or 'B' added to them.
Some also have altered names. For example, Princess Leia becomes Princess Leia Organa for her two variations. The Emperor is shown as Sheev Palpatine and Darth Sidious.
Finally, there's the description on the back under the character's name. No matter if it's a base card or variation short print, these all change. They match the point in which the photo comes from, marking their transformation. In this regard, it's not a bad transition into 2016 Topps Star Wars Evolution, which is slated to arrive in a few months.
2015 Topps Star Wars High Tek variations are inserted 1:24 boxes. They appear to only have the one background pattern and it doesn't look like they have any parallels.
A full gallery of all the variations (and their base card counterparts) is below.
2015 Topps Star Wars High Tek Variation Short Prints Gallery
In addition to the images, we've noted the descriptions (when known) from the card backs.
1 Luke Skywalker
1 Tatooine Moisture Farmer and Bush Pilot
1A Hero of the Rebel Alliance
1B Jedi Knight
2 Princess Leia
2 Senator from Alderaan and Rebel Leader
2A Rebel Leader
2B
3 Han Solo
3 Corellian Smuggler and Hot-Shot Star Pilot
3A
3B Rebel General
5 The Emperor
5 The Galactic Overlord
5A Sheev Palpatine
5B Darth Sidious – Evil Sith Master
7 C-3PO
7 Protocal Droid Owned by Luke Skywalker
7A
10 Lando Calrissian
10 Smuggler, Gambler and Reformed Scoundrel
36 Anakin Skywalker
36 Jedi and Hero of the Republic
36A
37 Obi-Wan Kenobi
37 Jedi and Hero of the Republic
37A Jedi Padawan
37B
40 Padmé Amidala
40 Senator and Former Queen of Naboo
40A
44 Boba Fett
44 Notorious Bounty Hunter
44A