2017 Topps Star Wars Journey to The Last Jedi Trading Cards Checklist and Details
2017 Topps Star Wars Journey to The Last Jedi trading cards set the stage for the eighth film in the saga's main timeline. While collectors can expect some early elements from The Last Jedi, the focus is more on putting together the puzzle of the many characters and events influencing the story.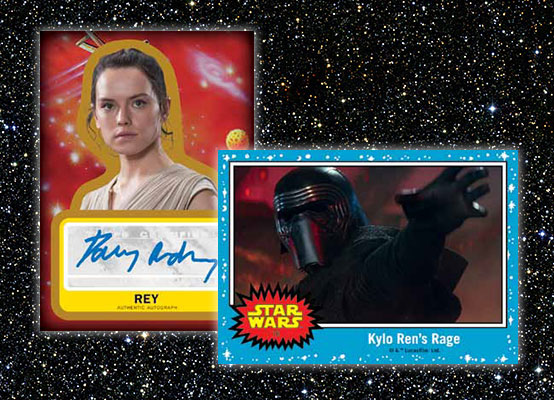 Each hobby box promises at least one autograph plus one additional premium insert such as sketch cards and new Plastic Emblem cards.
Base Set
The characters aren't the only thing that bring a sense of familiarity of 2017 Topps Star Wars Journey to The Last Jedi. Like 2015's Journey to The Force Awakens release, the base set draws from the original 1977 Topps Star Wars set and its blue starfield border. Cards are also printed on thick, vintage-style stock like the kind that's used in a lot of Topps Heritage products.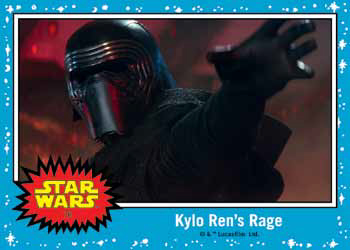 The complete base set has 110 cards. It covers many aspects of the franchise as well as offering an early look from The Last Jedi.
Base cards have several parallels. Green Starfield are the most common, landing one per pack. Others include Black Starfield (1:2 packs) and Silver Starfield (1:4). Serial-numbered parallels only found in hobby packs are White Starfield (/199), Orange Starfield (/50), Gold Starfield (/25) and Imperial Red (1/1).
Printing Plates are also randomly inserted.
Autographs and Premium Inserts
The one-per-hobby box Autographs are based on the design used for the 1977 Topps Star Wars Stickers. Signatures from more than 30 actors are slated to be on the checklist with much of that coming from those in The Force Awakens, which should carry over to The Last Jedi in many regards.
Autograph parallels, which are noted by the outline around the character, come in Purple (/99), Orange (/25), Gold (/10), Printing Plates and Imperial Red (1/1). Gold and Red Autographs are only found in hobby packs.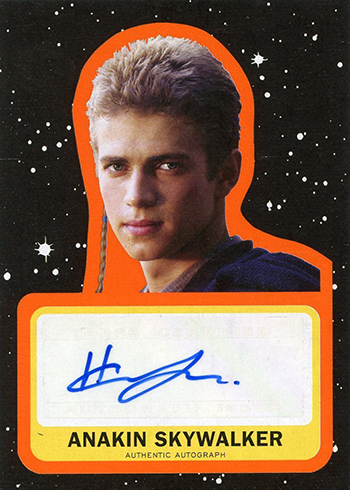 Adam Driver and Daisy Ridley both have autograph variations found only at specific retail locations. Drivers, which features an unmasked Kylo Ren, is only in Walmart packs. The Scavenger Rey Daisy Ridley autograph is exclusive to packs found at Target.
Multi-signed autographs come with two, three and six signatures.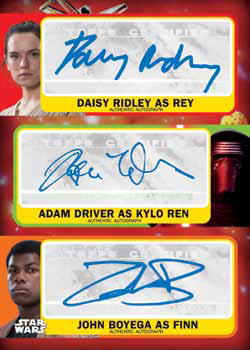 Based on early sales materials, autographs look to be done with stickers.
Plastic Emblem cards highlight both heroes and villains from the world of Star Wars.
Sketch cards can also be found in 2017 Topps Star Wars Journey to The Last Jedi. These are character-based interpretations drawn on the cards themselves.
Inserts
2017 Topps Star Wars Journey to The Last Jedi has a handful of additional inserts. Like the autographs, Character Stickers have the familiar look of the original 1977 ones. Additional inserts include Darkness Rising, Character Cards, Blueprints and Illustrated Cards.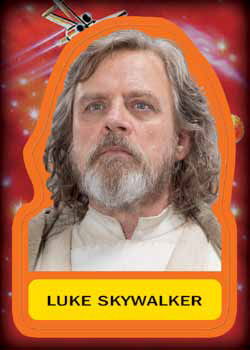 This product also kicks off a cross-set continuity insert focusing on Rey. The first five cards are here while additions to the checklist will be included in future Topps Star Wars releases.
2017 Topps Star Wars Journey to The Last Jedi Retail Exclusives
Besides the Ridley and Driver autograph variations, there are a few other 2017 Topps Star Wars Journey to The Last Jedi retail exclusives that might have you visiting several stores.
Choose Your Destiny is a ten-card insert set that's available in packs found at Target stores. The Walmart-exclusive Family Legacy set features six different familial connections found in the Star Wars saga. Finally, there's five Allies inserts that are only in special Gamestop packs.
2017 Topps Star Wars Journey to The Last Jedi trading cards at a glance:
Packs per box: 24
Cards per pack: 8
Boxes per case: 12
Set size: 110 cards
Release date: September 1, 2017
What to expect in a hobby box:
• Autographs – 1
• Additional Autographs, Sketch Cards, Plastic Emblem Cards or Printing Plates – 1
• Inserts – 24
• Parallels – 24
2017 Topps Star Wars Journey to The Last Jedi Checklist
Base
Autographs
Inserts
Sketch Cards
Comments? Questions? Contact Ryan Cracknell on Twitter @tradercracks.