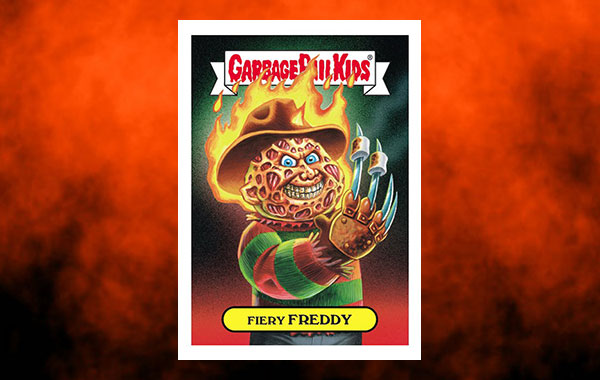 Garbage Pail Kids might be gross, but they're not exactly scary. 2017 Topps Garbage Pail Kids Halloween sticks with that tradition, poking fun at some of Hollywood's most famous monsters in the process.
Available for one week on the Topps website, the set includes 20 cards — ten different characters with A/B name variations. Among the familiar faces getting the GPK spin are Freddy, Jason, Chucky and Pennywise.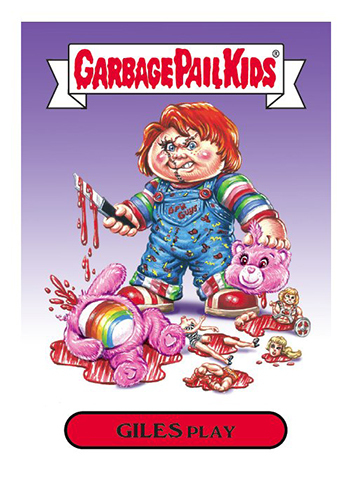 Evil Dead, They Live, Pet Cemetery and The Thing all get a satirical spoof on the checklist as well. David Gross and Brent Engstrom collaborated to do the set's artwork.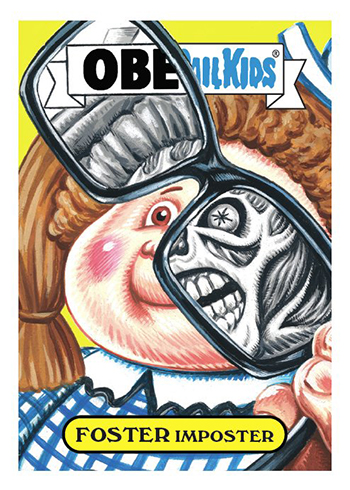 Sold only as a complete set, each costs $49.99. This is another print-on-demand mini set with print runs getting announced after the sales window closes on November 6. It came in at 272 sets.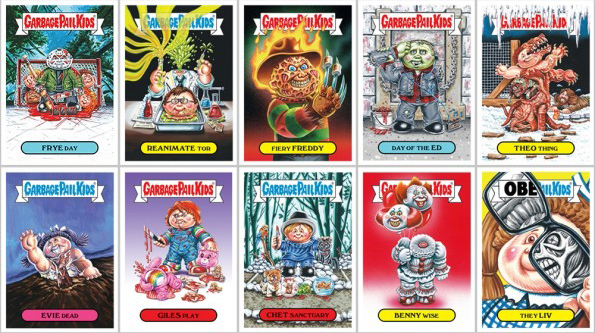 2017 Topps Garbage Pail Kids Halloween at a glance:
Set size: 20 cards
Release date: October 31, 2017
Print Run: 272 sets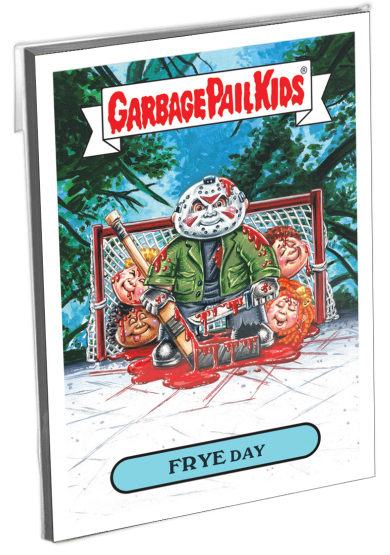 2017 Topps Garbage Pail Kids Halloween Checklist
20 cards.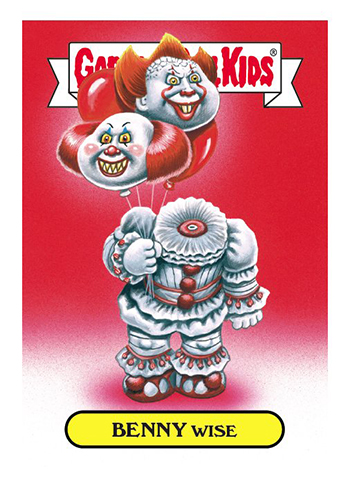 1a FRYE Day
1b Jovial JASON
2a Reanimate TOR
2b Hacked HERBERT
3a THEO Thing
3b KURT Ruffled
4a EVIE Dead
4b ANNIE of Darkness
5a GILES Play
5b Yucky CHUCKY
6a CHET Semetary
6b Gory GAGE
7a BENNY Wise
7b TIM Fury
8a Fiery FREDDY
8b Roasted ROBERT
9a They LIV
9b FOSTER Imposter
10a Day of the ED
10b Gory GEORGE
Comments? Questions? Contact Ryan Cracknell on Twitter @tradercracks or by email.