2017 Topps Jay Lynch Tribute Set Checklist and Details
The 2017 Topps Jay Lynch Tribute set has Topps and several of their artists honoring one of their own. All of the profits from the set, which is being sold on the Topps website, will go to support Lynch and his health bills.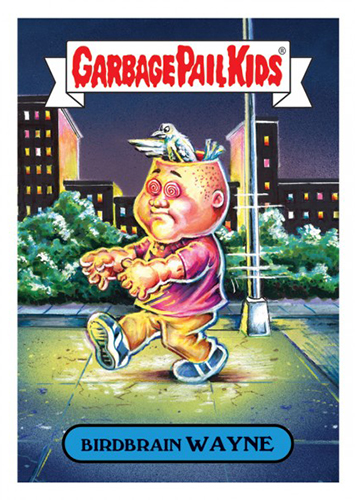 The 11-card checklist highlights some of Lynch's past Garbage Pail Kids and Wacky Packages jokes, which have new paintings from artists currently working with the lines.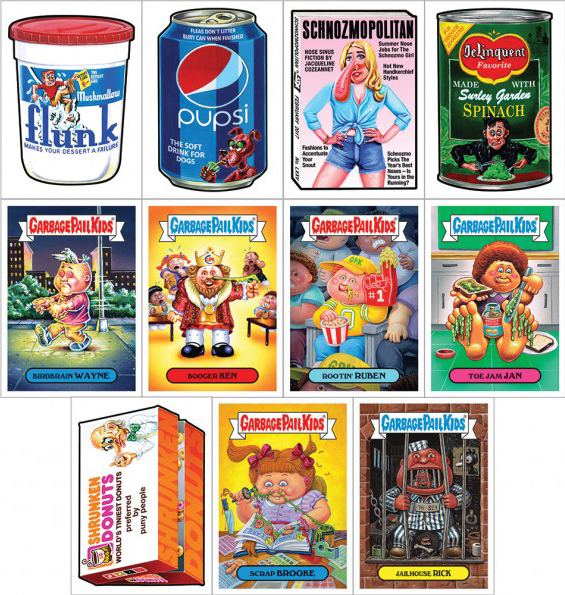 Lynch's history with the hobby and Topps go back decades. He was also an instrumental figure in the underground comix scene in the 1960s.
His influence continues to be felt today thanks to his mentoring and friendship with other artists.
"I was introduced to Jay when I was an editor at Topps and we became good friends," said Jeff Zapata. "We worked on several GPK and Wacky Packages series together. He would stay over at mine or his childhood pal Art Spiegelman's house when he visited the city. It was those times when we would draw and doodle together that I really got to soak in Jay's style of drawing and most of all, his sense of humor.
"Although I worked with him as an editor, there's nothing like spending afternoons with a cartooning legend, drawing and trying to make the other laugh. Those sessions in my old apartment are etched in my mind and shows in my art. How could it not? He's been a cherished friend and a mentor ever since."
Brent Engstrom echoed a similar sentiment, "Jay is on a short list of artists who have had a huge impact on me for as long as I can remember. From his underground comix work to his Wacky Packages and GPKs, he's always been at the top. The first GPK I ever painted was a Jay Lynch concept. I've gotten to know Jay over the years and he's a comic genius and all around nice guy. I've always felt lucky to know him in any capacity. I don't think many artists get the chance to work with their heroes."
"Jay Lynch has brought such a humorous wit and intelligence to underground comix," said Joe Simko, who contributed the Booger Ken card to the tribute set. "Being able to know him through the Topps Garbage Pail Kids and Wacky Packages family, I can only hope that a fraction of his hilarious writing skills rub off on me."
Topps is selling the Jay Lynch Tribute set for a month. The cost for the 11 cards (six Garbage Pail Kids and five Wacky Packages). The cost of each set is $64.99 with all of the profits going towards Lynch's health costs. Like other online releases, sets will be printed to order. Production runs will be announced after the initial sales window closes.
2017 Topps Jay Lynch Tribute Set Checklist
Garbage Pail Kids
1 Jailhouse RICK – Tom Bunk
2 Scrap BROOKE – James Warhola
3 Toe Jam JAN – Brent Engstrom
4 Rootin RUBEN – Layron DeJarnette
5 Booger KEN – Joe Simko
6 Birdbrain WAYNE – Jeff Zapata
Wacky Packages
7 Flunk – David Gross
8 Shrunken Donuts – Smokin Joe
9 Pupsi – Fred Wheaton
10 Schnozmopolitan – JungHwa Im
11 DeLinquent Spinach – Neil Camera
Comments? Questions? Contact Ryan Cracknell on Twitter @tradercracks.