2020 Topps Garbage Pail Kids Series 1: Late to School Checklist and Details
2020 Topps Garbage Pail Kids Series 1: Late to School are sending the line back to class to review some old ideas and move forward with some new ones.
Separate hobby and more the more premium leaning Hobby Collector configurations return, although the packaging this time around is very different, not just the content inside.

2020 Topps Garbage Pail Kids Series 1: Late to School Base Set Basics
The Late to School base set has a total of 200 cards. That's 100 new pieces of art, each with the traditional A/B name variations.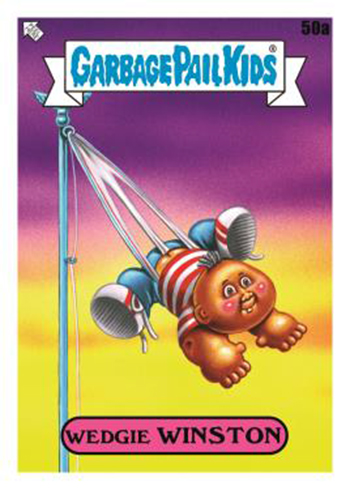 For long-time GPK fans, some of the most noticeable changes see the base cards go back to their roots a little more. Things like numbers on the front and content on the back (including checklists) return.
For the past several years, sets have largely been thematic subsets, each with different numbering.
Parallels come in several varieties, most of which revolve around the border color. Booger Green are only in regular packs, falling one per. Hobby Collector packs all have a Bruised Black card. Other exclusives to the premium packaging include Spit Blue (/99) and Blood Nose Red (/75).
Non-exclusive parallels come in Fool's Gold (/50), Printing Plates (1/1) and Artist Autographs, which have on-card signatures.
Inserts and Other Items
GPK Mascots are only in regular hobby packs. These imagine the costumed cheerleaders as through they were from the GPK-verse.
Hobby Collector boxes have a couple of exclusives. School Wacky Packages, which are one per box, poke fun at things like school supplies and lunch items.
School Pennant Patch cards pair up GPK characters with college-style pennants.
Sketch cards with original art return in a variety of forms. Hobby display boxes have basic versions that are the dimensions of traditional trading cards. In Hobby Collector packs, there are die-cut Shaped Sketch Cards and Triptych Sketch Cards, which are spread across three panels.
Another big change for GPK: Late to School is the Hobby Collector packaging. Boxes double as metal lunch boxes. There are four different pails, each done with blind packaging so you don't know which one it is until you open it.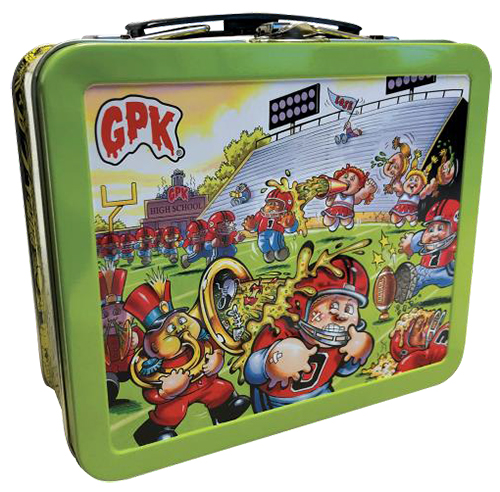 2020 Topps Garbage Pail Kids Series 1: Late to School at a glance:
Cards per pack: Hobby – 8, Hobby Collector – 8
Packs per box: Hobby – 24, Hobby Collector – 24
Boxes per case: Hobby – 8, Hobby Collector – 8
Set size: 200 cards
Release date: January 15, 2020
What to expect in a hobby box:
Booger Green Parallels – 24
What to expect in a Hobby Collector box:
School Wacky Packages – 1
Bruised Black Parallels – 24
Lunch Box
2020 Topps Garbage Pail Kids Series 1: Late to School Checklist
Base
Base Set Checklist
200 cards.
Parallels:
Booger Green – (1 per hobby/display pack)
Bruised Black – (1 per hobby collector pack)
Spit Blue – /99 (hobby collector only)
Bloody Nose Red – /75 (hobby collector only)
Fool's Gold – /50
Printing Plates – 1/1 (each has a Black, Cyan, Magenta and Yellow version)
1a Resisiting REESE
1b Dragged DRAKE
2a HOMER Schooled
2b Sheltered SHELDON
3a MISTY Bus
3b Bus Stop BECKY
4a CHRISSY Guard
4b Distracted DENISE
5a School BUSTER
5b RUSS Pass
6a Slacker SIMON
6b Late TATE
7a Ditching DIRK
7b Truant TREVOR
8a Wedgie WINSTON
8b Pulled UPTON
9a Ringing RINGO
9b Alarm BELLE
10a AL Chemy
10b Experimenting XAVIER
11a DEE I.Y.
11b Decorated DESIREE
12a Booger BRITNEY
12b Nose GOLDIE
13a Detained DWAYNE
13b Discinplinary ASHTON
14a DOUG Ate My Homework
14b AVA Alibi
15a Telling LIZA
15b Spreading RUMER
16a HOPE Scotch
16b Jumping JENNA
17a Hot FLORA Teacher
17b VANNA Halen
18a Kick MIA
18b Pranked PAMELA
19a Macaroni ART
19b Crafty CHRIS
20a PAYTON Airplane
20b Glider GLENN
21a PEPPER Rally
21b Give Me a GIA
22a Raising HANS
22b Call on CARL
23a RICKY Recorder
23b WOODY Instrument
24a ARLO T.C.
24b ULYSSES Uniform
25a Stuck STUART
25b Emoting AJ
26a Suspended SUSAN
26b Punished PAIGE
27a BEN Dreamin'
27b KENT Wake Up
28a Held-Back HANK
28b First GRADY
29a GIGI-ography
29b GRETA Globe
30a Monkey BARB
30b Climbing CHLOE
31a BRAUN Baggin' It
31b Leftover LENNY
32a Rubbed-Out ROBERT
32b Erased CHASE
33a HEATHER Ball
33b Whacked WANDA
34a Pass It JUAN
34b Love LESTER
35a Glittery GLINDA
35b SCARLET Sparkles
36a RITA Book
36b Simple MINDY's
37a SISSY Boom Bah
37b CHER Leader
38a ETHAN Paste
38b Gluey DEWEY
39a Restroom ROCCO
39b Smokin' JOE
40a Staple EARLE
40b Stapled STU
41a BRAD Influence
41b PIERCE Pressure
42a Number 2 STU
42b LOU Stool
43a Pee DON
43b Wiz Kid WILLIAM
44a CHUY Gum
44b BEN Chewed
45a CAS Your Vote
45b Running RYAN
46a RHETTA White & Blue
46b Old GLORIA
47a Paint OLIVER
47b Messy MARVIN
48a Tooter TANYA
48b S.B. DEE
49a Built BORIS
49b Level LEVI
50a GUY Set
50b Fountain FOREST
51a Embarrassed HARRIS
51b JIM Shower
52a Suck-Up SASHA
52b PEGGY Pet
53a Absorb BRENT
53b Saw DUSTY
54a SAUL Nighter
54b Cramming CRAIG
55a SKIP Van Winkle
55b Catchin' AZIZ
56a Say Cheese LUIS
56b Picture Day JAY
57a Left-Behind LEO
57b Where Are HUGH
58a Full Course MEL
58b Lunch TREY
59a Spit Wad TODD
59b Disruptive DYLAN
60a CAL Culator
60b Always DWIGHT
61a Hair ANNETTE
61b Sani TERRY
62a Illegal ELI
62b Contraband CORY
63a Carving CARTER
63b BUCK Tooth
64a Headmaster ASTOR
64b Principal CAL
65a Climbing CLEVELAND
65b Roped RICK
66a Jungle JIM
66b POLLY Playground
67a Kicked KYLE
67b RICK Ball
68a Fourtune JUNE
68b Paper PIPER
69a Funny FLOYD
69b Class Clown CLYDE
70a Frog EATON
70b Dissect SHAUN
71a Copy KATT
71b Cheater PETER
72a NED Lice
72b CODY Closet
73a RIVER Block
73b Pencil HOLDER
74a Divide ED
74b 50-50 FIN
75a Show and ELLA
75b Leaky LACEY
76a Sharp PENNY
76b Sharpen CHARLENE
77a Lunch Bag LARRY
77b BENNY Bag Lunch
78a Cramming CRAMER
78b Memorizing MIKE
79a HAL Pass
79b MONTY Hall
80a Bully BILLY
80b Jerky JACK
81a Vampy VAL
81b Goth GABE
82a Speech LES
82b Burstin' THURSTON
83a IRA Robot
83b Detector DEXTER
84a Mod DALE
84b Anat-TIMMY
85a Erupt SHAWN
85b Blue Ribbon RANDY
86a ELMA Glue
86b PATTY Paste
87a Bully BILLIE
87b Jerky JACKIE
88a Loose LEIF
88b Sketchy SKIPPY
89a Confiscate TED
89b Contra BRANDY
90a Broken-Back PAT
90b ARCHIE Back
91a Barf Bag BARB
91b Lunch Packing PAM
92a Rainy DAISY
92b SAWN Wind
93a BEA Quiet
93b NOAH Talking
94a DONNY Dunce
94b TIM Out
95a Fail DALE
95b F JEFF
96a Nervous NEIL
96b Shy GUY
97a Year BOOKER
97b Memory LANE
98a TED of the Class
98b Scholar LEE
99a Graduation DAYNA
99b PAT Toss
100a Summer BLAKE
100b Last DAYTON
Inserts
2020 Topps Garbage Pail Kids Series 1: Late to School Inserts Checklists
Base Sticker Artist Autographs
4 signers.
Brent Engstrom
David Gross
Smokin' Joe
Joe Simko
Class Superlatives Checklist
10 cards.
1a BLAKE Flake – Most Enlightened
1b Enlightened LYLE – Most Enlightened
2a Hot SCOTT – Class Hottie
2b Good LUCAS – Class Hottie
3a Weird WENDY – Most Goth
3b Gothic GRACE – Most Goth
4a Furry FRAN – Best Hair
4b Mane JANE – Best Hair
5a ASHLEY Can – Most Likely to Succeed
5b Bag LAINEY – Most Likely to Succeed
GPK Faculty Lounge Checklist
20 cards.
1a ADAM Bomb – Chemistry
1b Beaker BARRY – Chemistry
2a New Wave DAVE – Art
2b Pop ARTIE – Art
3a Guillo TINA – Woodshop
3b Whittled WANDA – Woodshop
4a Odd TODD – Music
4b Conductor TUCKER – Music
5a Virus IRIS – School Nurse
5b Vaccine MAXINE – School Nurse
6a Run Down RHODA – Driver's Ed
6b Driver's EDIE – Driver's Ed
7a RUSSEL Muscle – Gym
7b Sweaty EDDIE – Gym
8a Wrappin' RUTH – History
8b HIRO Glyphics – History
9a Brainy JANIE – Computers
9b GIGI Byte – Computers
10a Junfood JOHN – Health
10b LOWELL Carbs – Health
GPK Mascots Checklist
10 cards.
1a Notre DAMON – Notre Lame
1b Lame LIAM – Notre Lame
2a Dartmouth FRANK – Fartmouth
2b Mouthy MARTY – Fartmouth
3a VIRGINIA Blech – Virginia Blech
3b Vomit TESS – Virginia Blech
4a Garbage Pail SID – Pail
4b Trash CANDY – Pail
5a Arm PETE – Armpit
5b BRODY Odor – Armpit
School Pennant Patch Cards Checklist
10 cards.
SP-1 Fartmouth
SP-2 Puke
SP-3 Gorgetown
SP-4 Virginia Blech
SP-5 Notre Lame
SP-6 Mini Soda
SP-7 P.U.
SP-8 GoneGaga
SP-9 Fail
SP-10 Armpit
Sketch Cards Checklist
41 artists.
David Acevedo
Simone Arena
Quinton Baker
Bobby Blakey
John Brewer
Emily Burges
Neil Camera
Nik Castaneda
Patrick Chaimuang
Jasmine Contois
Sebastian Cortez
David Dabila
Vincent D'Ippolito
Joe Grotesque
Joey Fitchett
Robert "el smetcho" Garcia
K. GRiMM
Daniel Goodroad
Dennis Gortakowski
Kelly Greider
Lowell Isaac Hildebrandt
Robert Jimenez
David Gacey Jones
Rickey Kipfer
Mike McHugh
Rory McQueen
Lily Mercado
Rich Molinelli
John Monserrat
Victor Moreno
Magnus VonRobotsson
Jay O'Leary
Darrin Pepe
Cathy Razim
Chad Scheres
Brent Scotchmer
Anthony Skubis
Mike Stephens
Greg Tilson
Gavin Williams
Clinton Yeager
Wacky Package Parodies Checklist
10 cards.
1 Pirate's Sooty
2 Jerky Juice
3 Edible Water Colors
4 Tardy Grahams
5 PeePee Portfolio
6 CrayCrayola
7 GoHurt
8 All More Glue
9 Playskull Scissors
10 Garbage Jail Kids