Want to Know the 2017 Topps Finest Baseball Mystery Redemptions?
2017 Topps Finest Baseball has mystery redemptions for three different rookie autographs. Those names have been confirmed:
Mystery Redemption #1 – Cody Bellinger, Los Angeles Dodgers
Mystery Redemption #2 – Ian Happ, Chicago Cubs
Mystery Redemption #3 – Bradley Zimmer, Cleveland Indians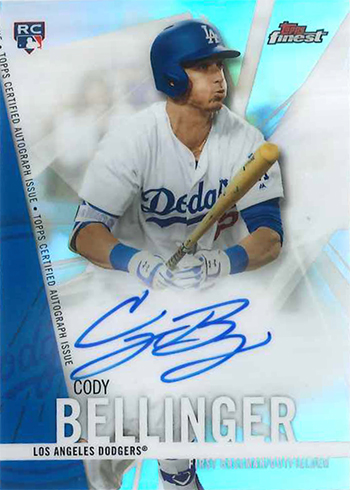 None of the three appeared in the main 2017 Topps Finest Baseball set given that their respective call-ups came too late into the season.
All three of the cards come with on-card autographs.
Last week, Topps also announced the 2017 Topps Heritage Minors Mystery Redemptions. Similar 2017 Topps Stadium Club redemptions have yet to be confirmed.