Fascinating 5: 2018 Topps Opening Day Baseball
Over the last few years, I've bought more packs of Topps Opening Day than most other baseball products. The biggest reason is its availability in my neck of the woods. Like anyone else, I'm more likely to buy something if I can find it. And baseball cards in Canada are probably similar to how hockey cards are in many parts of the United States–around but not in huge amounts.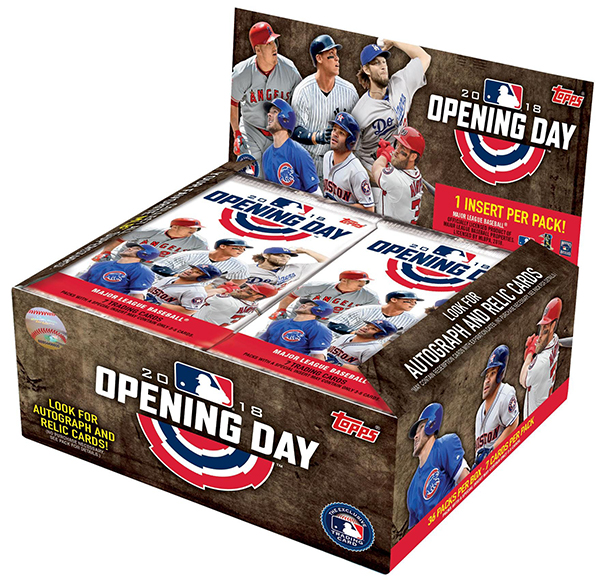 As far as the cards go, I'm not generally interested in the base set as it's so close to flagship Topps. But I love a lot of the inserts. They're fun and don't come with much in the way of frills and gimmicks. They're thematic and cover ground not in many sets.
2018 Topps Opening Day Baseball has a lot of these same elements as past years. This time around, though, one base card that should generate some early interest.
Looking through the checklist, here are five 2018 Topps Opening Day Baseball cards that have me intrigued.
Shohei Ohtani RC #200
The floodgates are about to burst as far as Shohei Ohtani cards go. He had a couple in 2018 Topps Heritage and 2018 Donruss. But most of those are autographs or short prints that not everyone can afford. 2018 Topps Opening Day brings a readily available base Rookie Card to the mix. It likely won't be worth a ton but that's not a bad thing in my book. It will allow the masses to get in on Shohei Ohtani Rookie Cards without having to spend a ton of money.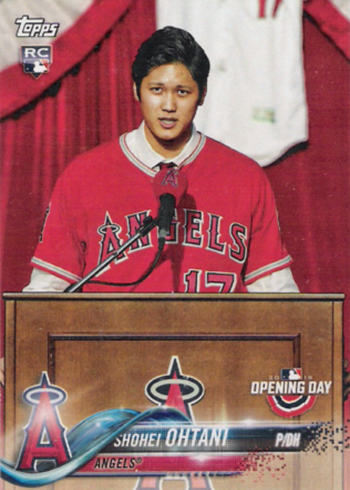 Team Traditions and Celebrations The Freeze #TTC-TF
Of all the recent ballpark traditions to come along, The Freeze is one of the best. The fact that I live on Canada's west coast and this is something that takes place in Atlanta is a testament to its genius and intrigue. The idea is simple. A fan from the stands gets a chance to race Nigel Talton, aka The Freeze. Even with the massive head start given to the challengers, The Freeze almost always wins. And it's awesome.
Yes, I will be tracking down a Freeze "Rookie Card."
Team Traditions and Celebrations "Take Me Out to the Ballgame" #TTC-TMO
Looking through the Team Traditions and Celebrations checklist, this is an insert set I could totally see myself putting together. It's not just The Freeze that I'm intrigued by. The Seventh Inning Stretch is one of the most iconic events not only in baseball but all of sports. I'm not expecting the late Harry Caray to make an appearance here, but it's nice to know there's a card with this (and other) traditions.
This isn't an insert set I'd want to see year after year, but once in a while, I think it's great. These moments are part of the MLB story and they deserve to be told in their own way through the medium of baseball cards.
Mascots Mr. Redlegs #M-7
Mascot inserts are one of the cornerstones of Opening Day for me. They're a big part of the stadium experience, even when you're not a kid.
Most of the 25-card checklist includes mascots that have appeared on Opening Day cards before. For some, they've had several cards. Mr. Redlegs is new. Cincinnati has had a couple of other mascots in Opening Day before with Gapper and Mr. Red. Now it's the mustached mascot's turn.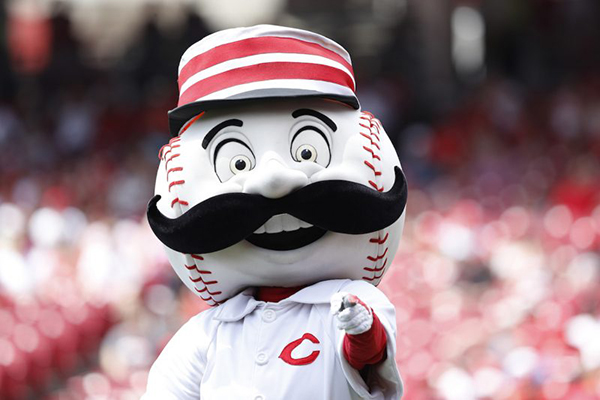 Another mascot making their debut in 2018 Topps Opening Day Baseball is Boston's Tessie.
Mascot Autograph Relics Bernie Brewer #MAR-BB
Mascots and mascot autographs have been around for a while. 2018 Topps Opening Day Baseball brings Mascot Autograph Relics. Really, I could put any of the set's five cards here but we'll go with Bernie Brewer simply because he's the lone human mascot and any potential "fur" is going to come a mustache. With any of the other mascots, fur means a haircut and that's a little more creepy. But they could also just end up being jerseys and the like, which isn't creepy. No matter the case, Mascot Autograph Relics = good.
Comments? Questions? Contact Ryan Cracknell on Twitter @tradercracks or by email.