2017 Bowman Platinum Variations Gallery
Don't let the foil shine distract your hunt for short prints. The 2017 Bowman Platinum variations showcase a handful of top stars, rookies and a trio of prospects with alternate photos.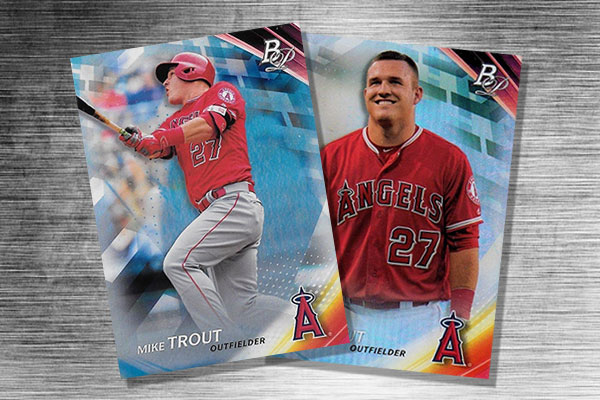 Bowman products don't usually have variations. They have, but just not very often. 2017 Bowman Platinum is an exception.
There's no real theme to the variations that's readily apparent. Many of the photos are actually fairly similar to one another. They're easy to spot if you know what you're looking for but it's not quite the extreme differences like on many 2017 Topps cards or thematic short prints like Topps Heritage.
The 2017 Bowman Platinum variations fall on two parts of the checklist. Seven base cards get the second-photo treatment. Player selection is limited to top stars like Mike Trout and Kris Bryant, and key rookies such as Andrew Benintendi and Yoan Moncada. Three Top Prospects inserts, which are very similar to the base cards, only with players who haven't made the majors yet, have variations as well.
2017 Bowman Platinum Variation Odds
2017 Bowman Platinum variations are tough, but not absurdly so. They combine to land 1:165 Collector packs. They're slightly more common in blaster boxes, falling 1:156 packs.
Combine these odds with the manageable checklist and those wanting to build a full run shouldn't have too hard of a time. Prices should also be a lot more reasonable than similar short prints in other products.
Codes
If all else fails, the codes at the end of the fine print on the card backs also tip off variations. Regular base cards end in 646. For variations, it's 671.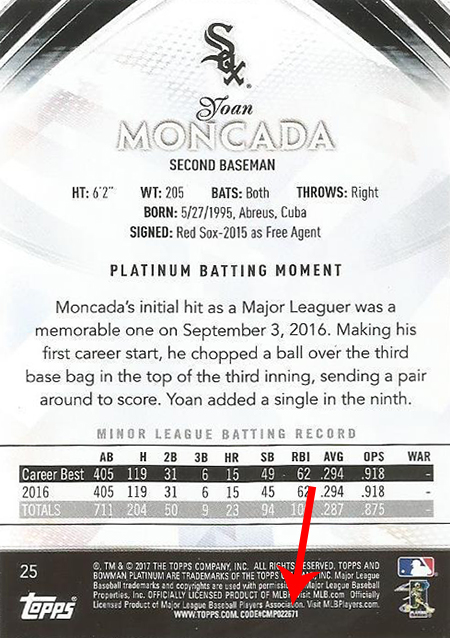 We're still awaiting word on codes for the Top Prospects and their corresponding variations.
2017 Bowman Platinum Variations Checklist
Here's a quick look at the 2017 Bowman Platinum Baseball variations. Topps has provided the full checklist. A couple of images are missing but we suspect we'll have them filled in quickly. If you're looking for a specific card, click on the link to see what's listed on eBay.
2017 Bowman Platinum Variations
1 Kris Bryant, Chicago Cubs
13 Andrew Benintendi, Boston Red Sox
25 Yoan Moncada, Chicago White Sox
63 Mookie Betts, Boston Red Sox
75 Alex Bregman, Houston Astros
78 Dansby Swanson, Atlanta Braves
100 Mike Trout, Los Angeles Angels
TP-CR Corey Ray, Milwaukee Brewers
TP-JG Jason Groome, Boston Red Sox
TP-MM Mickey Moniak, Philadelphia Phillies
Comments? Questions? Contact Ryan Cracknell on Twitter @tradercracks.