Jimmy Kimmel, Nina Agdal Get Baseball Cards with 2016 Topps Series 2 First Pitch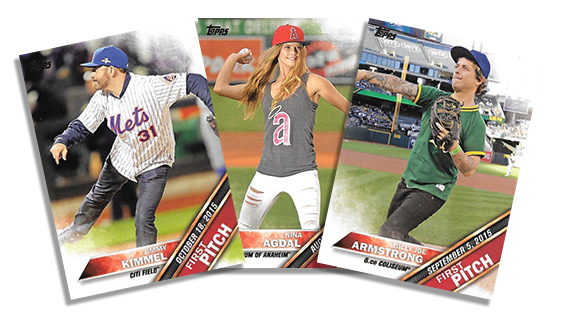 By Ryan Cracknell | Hobby Editor
The 2016 Topps Series 2 First Pitch lineup sticks with what the flagship insert has been known for since it debuted in 2015. There's another eclectic mix of celebrities, athletes from other sports, pop culture personalities and real-life heroes who have had their brief trips to the mound captured on baseball cards.
Highlights on the 20-card set include late night talk show host Jimmy Kimmel, model Nina Agdal, and Green Day frontman Billy Joe Armstrong.
On the surface, the names might not jump out quite like previous First Pitch sets. But maybe that's to be expected. It's entrenched as a part of the flagship baseball line now. That doesn't necessarily make it any lesser, though. From the beginning, the inserts have been about offering a little something for everyone but still directly connected to the game.
First Pitch cards are inserted 1:8 2016 Topps Series 2 hobby packs. This makes them one of the more plentiful basic inserts in the product. This should also help keep prices at a point where putting together a set won't be expensive.
Over time, there may be some initial confusion over which First Pitch cards are from Series 1 and which are Series 2 if you go strictly by the card number as it has been reset. However, the backs of the cards are clear on which set they're from. It is something to be aware of though if you're building wantlists or chasing them in packs.
Below is a full gallery of all the 2016 Topps Series 2 First Pitch cards plus a couple of quick notes on their accomplishments in case you're not familiar with who they are.
2016 Topps Series 2 First Pitch Gallery
FP-1 Tim McGraw, New York Mets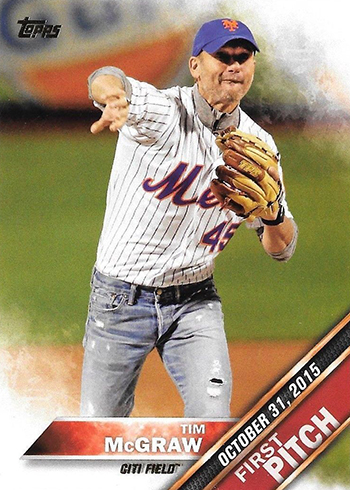 Known for: country singer, son of Tug McGraw
Date: October 31, 2015
FP-2 Jimmy Kimmel, New York Mets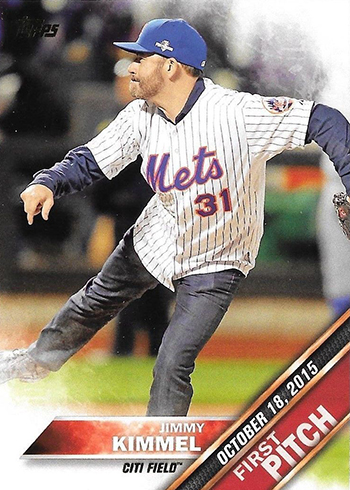 Known for: Host of Jimmy Kimmel Live!
Date: October 18, 2015
FP-3 Rosie Rios, Oakland Athletics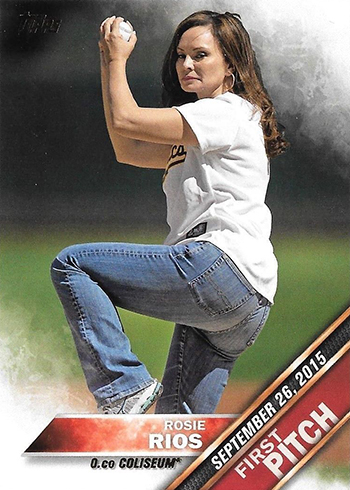 Known for: Treasurer of the United States
Date: September 26, 2015
FP-4 Billy Joe Armstrong, Oakland Athletics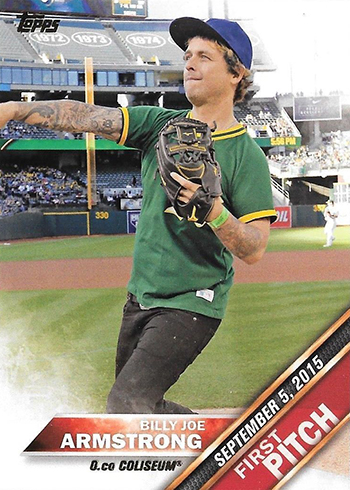 Known for: lead singer of Green Day
Date: September 5, 2015
FP-5 Nina Agdal, Los Angeles Angels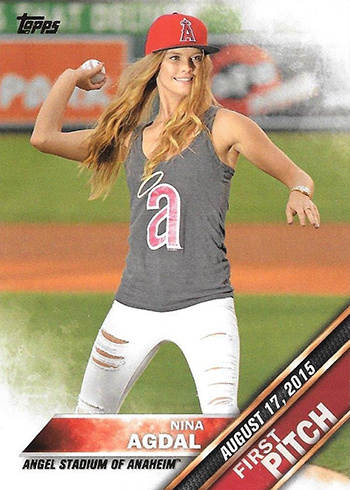 Known for: model, on the cover of 2014 Sports Illustrated Swimsuit Issue
Date: August 17, 2015
FP-6 Jeff Tweedy, St. Louis Cardinals
Known for: Wilco lead singer
Date: July 29, 2015
FP-7 Jim Harbaugh, Detroit Tigers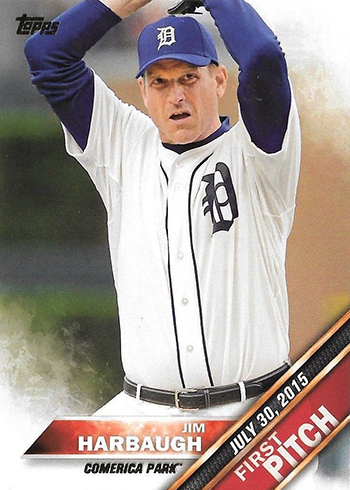 Known for: University of Michigan head football coach
Date: July 30, 2015
FP-8 Jim Breuer, New York Mets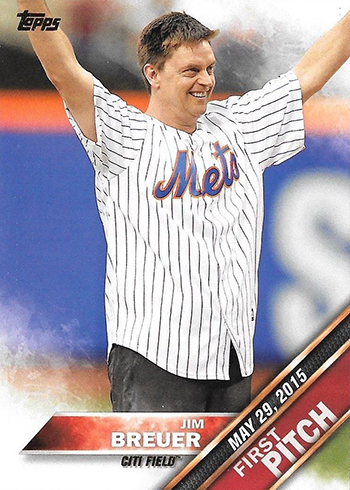 Known for: comedian, Saturday Night Live alumni
Date: May 29, 2015
FP-9 Spencer Stone, Washington Nationals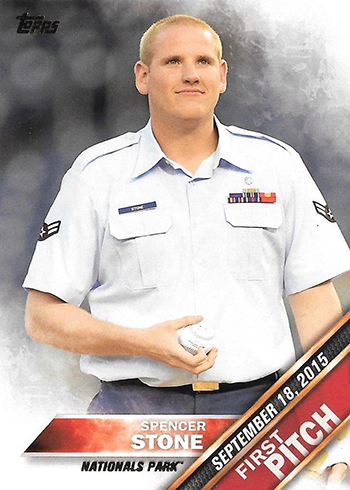 Known for: United States Air Force Staff Sergeant, known for helping stop gunman on European train in August, 2015
Date: September 18, 2015
FP-10 Kyle Larson, Boston Red Sox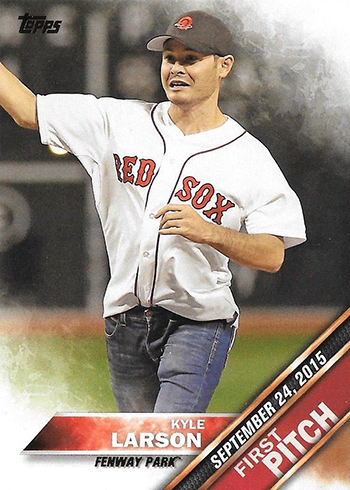 Known for: NASCAR driver
Date: September 24, 2015
FP-11 Miguel Cotto, Los Angeles Dodgers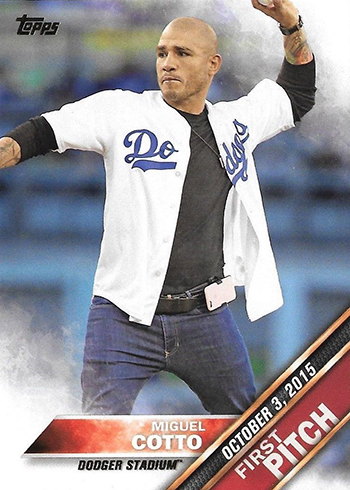 Known for: World Champion boxer
Date: October 3, 2015
FP-12 Tom Watson, Kansas City Royals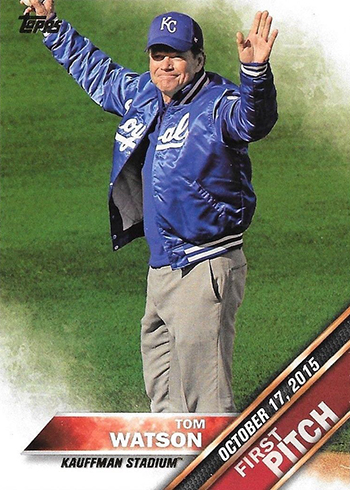 Known for: PGA golfer
Date: October 17, 2015
FP-13 Edward Burns, New York Mets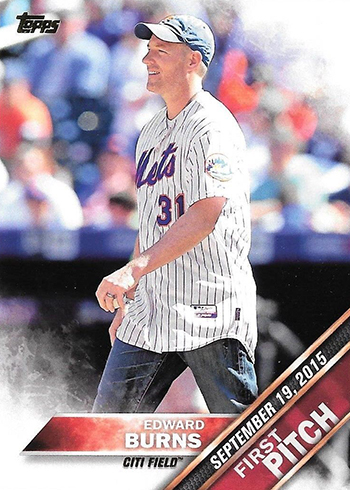 Known for: actor, director, starred in Saving Private Ryan, The Brothers McMullen
Date: September 19, 2015
FP-14 Geoff Britten, Baltimore Orioles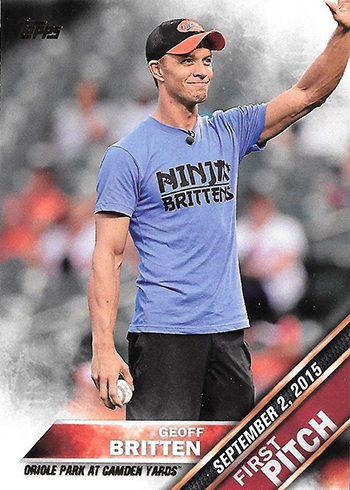 Known for: American Ninja Warrior
Date: September 2, 2015
FP-15 Lea Thompson, Los Angeles Dodgers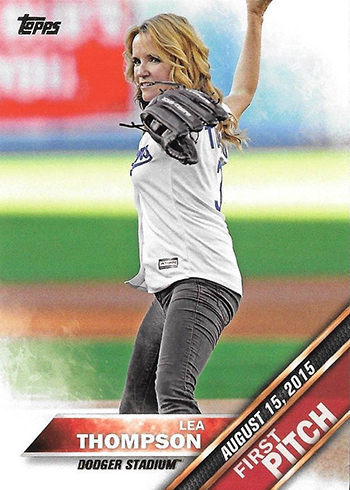 Known for: Actress, starred in Back to the Future, Howard the Duck, Some Kind of Wonderful, SpaceCamp
Date: August 15, 2015
FP-16 Jim Caviezel, Seattle Mariners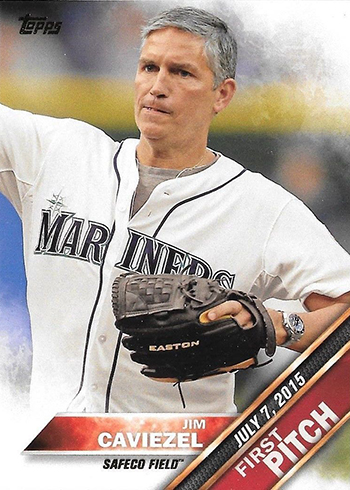 Known for: Actor, starred in The Passion of the Christ, Bobby Jones: Stroke of Genius
Date: July 7, 2015
FP-17 George H. W. Bush, Houston Astros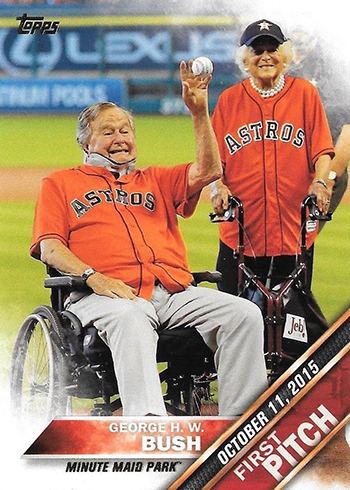 Known for: 41st President of the United States
Date: October 11, 2015
FP-18 J.K. Simmons, Detroit Tigers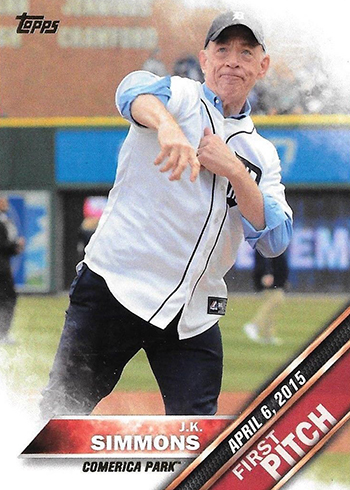 Known for: Actor, won Academy Award for Whiplash, also starred in Spider-Man, Oz
Date: April 6, 2015
FP-19 Kendrick Lamar, Los Angeles Dodgers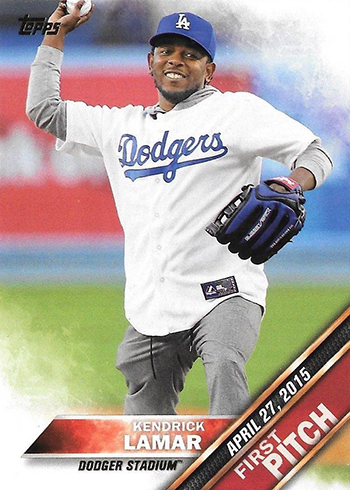 Known for: Musician
Date: April 27, 2015
FP-20 David Hearn, Toronto Blue Jays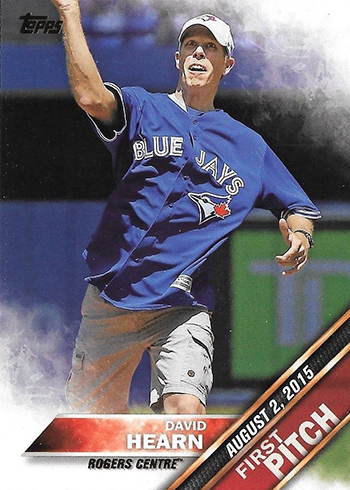 Known for: Canadian PGA golfer
Date: August 2, 2015
Comments? Questions? Contact Ryan Cracknell on Twitter @tradercracks.