2016 Topps Series 2 Baseball Variations Pay Tribute to Jackie Robinson, Cespedes' Horse
Many of the 2016 Topps Series 2 Baseball variations pay tribute to Jackie Robinson — at least some of them do. With the full list of short prints held tightly by Topps, it's about the slow reveal as variations are uncovered. This tribute doesn't include images of Robinson on the cards themselves. Rather, select players are shown wearing his number 42 for Jackie Robinson Day.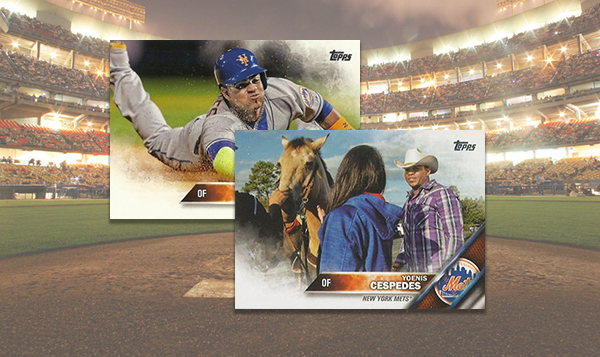 Variations in 2016 Topps Series 2 Baseball come in different levels. SP cards are short prints but not overly tough. These are the Jackie Robinson Day cards and are similar in a lot of ways to the Camo Uniform Variations from Series 1. SSP are the toughest and values will likely reflect this. The SSP cards are basic photo variations without any running theme.
Code Method for Confirming 2016 Topps Series 2 Variation Short Prints
2016 Topps Series 2 backs confirm whether they're a variation. In the fine print, there's a code that doesn't usually serve much of a purpose to collectors. However, they do identify different types of cards. In this set, base cards and variations have different code endings:
• Base – 85
• Jackie Robinson SP Variations – 33
• Photo Variation SSP Variations – 35
2016 Topps Series 2 Baseball Variations Checklist
Here's an easy-to-scan 2016 Topps Series 2 variations checklist. A full gallery follows below.
354 Tyson Ross SSP
368 Xander Bogaerts SP
400 David Ortiz SSP
405 Ruben Tejada SSP
407 Yoenis Cespedes SSP
410 Mike Moustakas SP
414 Wily Peralta SP
421 Cesar Hernandez SP
423 Carl Crawford SP
426 Joey Votto SP
426 Joey Votto SSP
432 Cameron Rupp SP
440 Tommy Pham SSP
442 Brandon Crawford SSP
443 Prince Fielder SSP
450 David Price SSP
452 Gerrit Cole SSP
464 Robinson Chirinos SSP
471 Kolten Wong SSP
478 Cody Asche SP
479 Marcus Stroman SSP
484 Trevor Rosenthal SP
489 Adeiny Hechavarria SP
496 Brett Anderson SP
500 Albert Pujols SP
507 Travis Wood SP
518 Matt Duffy SP
521 Chris Archer SSP
542 Scott Van Slyke SP
545 Hector Santiago SP
548 Lucas Duda SP
548 Lucas Duda SSP
550 Dallas Keuchel SSP
554 Daniel Murphy SSP
579 Michael Wacha SSP
583 Didi Gregorius SSP
600 Madison Bumgarner SSP
609 Billy Hamilton SSP
625 Wil Myers SP
652 Collin McHugh SP
658 Wilson Ramos SP
661 DJ LeMahieu SP
661 DJ LeMahieu SSP
665 Jared Hughes SP
673 Justin Upton SSP
678 Carlos Martinez SSP
683 Carlos Gonzalez SP
696 Lorenzo Cain SP
696 Lorenzo Cain SSP
700 Ichiro SP
2016 Topps Series 2 Variations Gallery
If you see one that you like and want to buy any, here's what's currently listed on eBay.
354 Tyson Ross, San Diego Padres
368 Xander Bogaerts, Boston Red Sox
400 David Ortiz, Boston Red Sox
405 Ruben Tejada, St. Louis Cardinals
407 Yoenis Cespedes, New York Mets
410 Mike Moustakas, Kansas City Royals
414 Wily Peralta, Milwaukee Brewers
421 Cesar Hernandez, Philadelphia Phillies
423 Carl Crawford, Los Angeles Dodgers
426 Joey Votto, Cincinnati Reds
432 Cameron Rupp, Philadelphia Phillies
440 Tommy Pham, St. Louis Cardinals
442 Brandon Crawford, San Francisco Giants
443 Prince Fielder, Texas Rangers
450 David Price, Boston Red Sox
452 Gerrit Cole, Pittsburgh Pirates
464 Robinson Chirinos, Texas Rangers
471 Kolten Wong, St. Louis Cardinals
478 Cody Asche, Philadelphia Phillies
479 Marcus Stroman, Toronto Blue Jays
484 Trevor Rosenthal, St. Louis Cardinals
489 Adeiny Hechavarria, Miami Marlins
496 Brett Anderson, Los Angeles Dodgers
500 Albert Pujols, Los Angeles Angels
507 Travis Wood, Chicago Cubs
518 Matt Duffy, San Francisco Giants
521 Chris Archer, Tampa Bay Rays
542 Scott Van Slyke, Los Angeles Dodgers
545 Hector Santiago, Los Angeles Angels
548 Lucas Duda, New York Mets
550 Dallas Keuchel, Houston Astros
554 Daniel Murphy, Washington Nationals
579 Michael Wacha, St. Louis Cardinals
583 Didi Gregorius, New York Yankees
600 Madison Bumgarner, San Francisco Giants
609 Billy Hamilton, Cincinnati Reds
625 Wil Myers, San Diego Padres
652 Collin McHugh, Houston Astros
658 Wilson Ramos, Washington Nationals
661 DJ LeMahieu, Colorado Rockies
665 Jared Hughes, Pittsburgh Pirates
673 Justin Upton, Detroit Tigers
678 Carlos Martinez
683 Carlos Gonzalez, Colorado Rockies
696 Lorenzo Cain, Kansas City Royals
700 Ichiro, Miami Marlins
Comments? Questions? Contact Ryan Cracknell on Twitter @tradercracks.