$40,000 and Counting for PSA 10 1975 Topps George Brett Rookie Card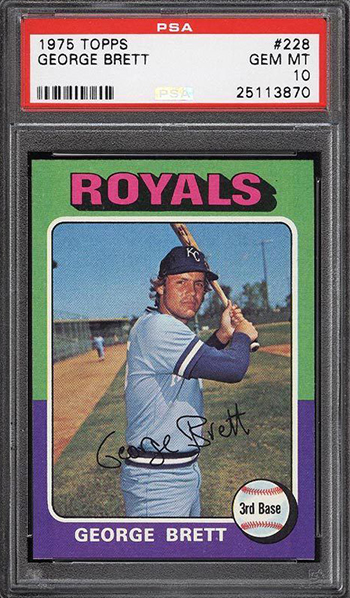 By Ryan Cracknell | Hobby Editor
Under normal circumstances, you can usually find a 1975 Topps George Brett rookie card for less than $100. A BGS or PSA 8 might cost you around $250. Well, a PSA 10 George Brett rookie is currently sitting at a touch over $40,000 on eBay with time remaining.
The card is being sold by Pre-War Card Collector Auctions, or PWCC Auctions as they're more commonly known as. One of the most popular and iconic cards of the 1970s, the Brett is scheduled to close on Wednesday, June 15.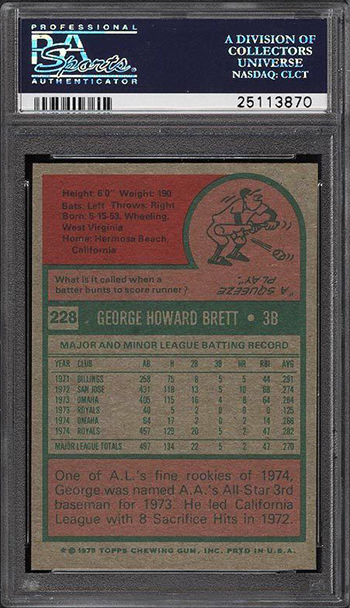 It is currently just one of nine 1975 Topps George Brett cards to get the Gem-Mint nod from PSA. The set is notorious for being tough to keep in top condition for multiple reasons.
"Full-bleed color borders are a big reason for being so condition sensitive," said Andy Broome, the senior Beckett vintage card grader. "This also makes them susceptible to re-coloring on both corners and edges."
But that's not the only issue the 1975 Topps George Brett and other cards from the iconic set encounter.
Broome continues, "Another problem that plagues the condition of this issue is quality control. Cards are often found mis-cut, diamond cut and off-center."
The last time a PSA 10 1975 George Brett rookie card sold publicly was more than four-years ago in May, 2012. Sold by SCP Auctions, it was part of the Dmitri Young Collection and was owned by the former major leaguer and big-time collector. The final price for that card was $11,596.
Comments? Questions? Contact Ryan Cracknell on Twitter @tradercracks.