2016 Topps Series 2 Baseball includes tributes to Ken Griffey Jr, Ichiro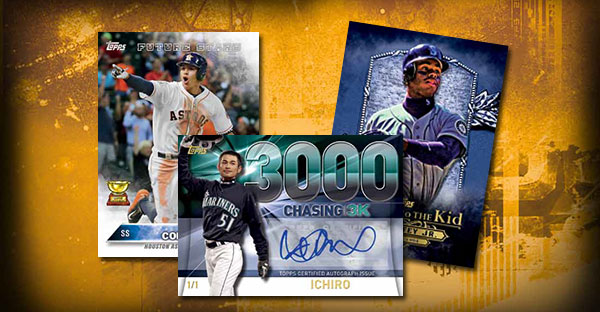 By Ryan Cracknell | Hobby Editor
2016 Topps Series 2 Baseball not only picks up from where Series 1 left off, but it includes commemorative inserts for a couple of Seattle Mariners legends.
The checklist goes well beyond the Pacific Northwest to expand on earlier themes from the first release as well as adding new ones.
Hobby boxes stick with the traditional one autograph or relic. Jumbo boxes have one autograph, one relic and one manufactured relic.
See Also: 2016 Topps Series 2 Checklist /  Series 2 Variations Gallery
Base Set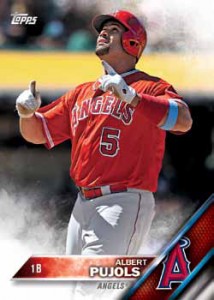 The Topps Baseball base set carries a lot of history and tradition. Even if a lot of products and collectors gloss over or even ignore the main part, this isn't the case with the flagship release. The 2016 Topps Series 2 Baseball base set has another 350 cards, carrying on from Series 1. Subsets include Future Stars and team cards.
Parallels are plenty. Hobby packs have Rainbow Foil (1:10 hobby packs), Gold (/2016), Vintage Stock (/99), Black (/65), Pink (/50), Clear (/10), Printing Plates, Platinum (1/1) and Framed (1/1). Black, Printing Plates and Framed cards can't be found in retail packs. Clear parallels are exclusive to basic hobby packs and aren't in jumbo or retail.
Variations return. These come in a couple of different styles. The first, and more common, feature players in their Jackie Robinson Day jerseys with #42. The second, and toughest, group are photo variations.
Inserts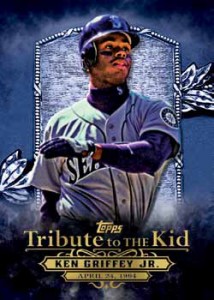 With Ichiro poised to make a run at a landmark achievement, 2016 Topps Series 2 Baseball looks back on his MLB career with Chasing 3000 (1:9). The 30-card set includes highlights and milestones since his debut with the Mariners in 2001.
In addition to basic versions, there are Chasing 3000 Relics (/10) and Autographs (1/1). Original Topps Ichiro cards are also being randomly inserted as Ichiro Stamped Originals. These come with a special Chasing 3000 foil stamp noting that they're buybacks.
Ichiro's former teammate, Ken Griffey Jr, gets an insert set of his own. Tribute to the Kid (1:8) has a similar structure with 30 cards that look back on his Hall-of-Fame career.
Tribute to the Kid also has autographs (1/1), relics (/50) and hobby-exclusive autographed patches (1/1). Tribute to the Kid Stamped Originals are Topps Griffey cards from the past with an added foil stamp.
Hallowed Highlights (15 cards, 1:8) is dedicated to the accomplishments of retired players. Premium versions have autographs (/10), relics (/25) and autographed relics (/5).
Berger's Best carries over from Series 1 with nods to 65 notable Topps Baseball cards. Select cards have autographs (/25), relics (/99) and autographed relics (/10). There are also Berger's Best Cut Signatures (1/1).
Topps Laser (/99) also returns. Based on the short-lived brand from the 1990s, this time they're done as book cards where the covers come with intricate cuts. Topps Laser Autographs (/25), Relics (/10) and Autographed Relics (/10) are also randomly inserted.
100 Years at Wrigley Field (1:8) is another returning insert from earlier in the year, commemorating memorable moments from the legendary ballpark. Autographs (/25), relics (/99) and autographed relics (/10) also appear.
For fans of pop culture subjects, First Pitch (1:8) inserts also back. These highlight some of the celebrities and other notable people to toss a ceremonial pitch in 2015.
Double Play cards combine elements of the Rip Cards from Allen & Ginter and the You Crash the Game inserts from Upper Deck Collector's Choice in the mid 1990s.
Each main card gives a date. Collectors who choose to rip it open will find an inner card with a prediction of how they'll do that game. If that prediction comes true, there's a prize element involved. Topps hasn't released details on what the prizes are.
A couple of inserts connect directly to the Topps Bunt app. Basic code cards unlock digital cards. Bunt Player cards (/25) are much tougher to pull.
Autographs and Relics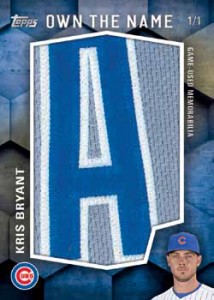 While many of the autographs and memorabilia cards in 2016 Topps Series 2 Baseball are essentially parallels of basic inserts, there are some that stand on their own.
Scouting Report has both autographed and relic versions. They're joined by scouting reports and analysis of the featured players.
Own the Name Relics (1/1) come with a letter from the nameplate on the back of a jersey.
Glove Leather Autographs (/25) come with signatures on simulate glove leather. These are similar to cards found in the past in Upper Deck Sweet Spot.
Cut Signatures are all numbered 1/1.
Manufactured Relics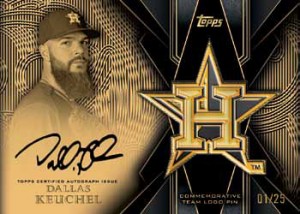 Manufactured relics are premium inserts that add texture and materials to the card. They're not game-used but they're intended to add a little something extra beyond a regular card. They combine to land one per jumbo box or one per hobby case.
Team Logo Pins has a checklist of 35 players. Autographed versions come numbered to 25.
Fifteen All-Star Futures Game alumni appear on a separate set of pin cards that have a replica pin from the year they played in the prospect showcase. These also have signed copies numbered to 25.
World Series Coin and Stamp cards combine several types of collecting. Each is embedded with a stamp and coin from the year they played in the Fall Classic. Coins can be found in the form of quarters, dimes, nickels and pennies. All are serial numbered. Select Quarter cards have autographed parallels (/25).
See Also: 2016 Topps Series 2 Baseball Box Busters
2016 Topps Series 2 Baseball at a glance:
Packs per box: 36 (hobby), 10 (jumbo)
Cards per pack: 10 (hobby), 47 (jumbo)
Boxes per case: 12 (hobby), 6 (jumbo)
Set size: 350 cards
Release date: June 15, 2016
What to expect in a hobby box:
Autographs or Relic Cards – 1
Rainbow Foil Parallels – 3
Chasing 3000 Inserts – 4
100 Years at Wrigley Field Inserts – 4
First Pitch Inserts – 4
Hallowed Highlights Inserts – 4
Tribute to the Kid Inserts – 4
Berger's Best Inserts – 9
What to expect in a jumbo box:
Autographs – 1
Relics – 1
Manufactured Relics – 1