2016 Topps Now Ichiro Autographs Surface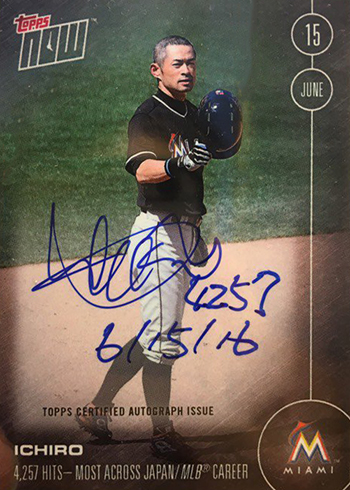 By Ryan Cracknell | Hobby Editor
Add Ichiro to the list of 2016 Topps Now Baseball autographs. The card arrives just a few weeks after the first surprise autograph, Brandon Crawford, in the on-demand line surfaced.
Like Crawford, the card is in very short supply and shipped without notice to those who ordered the original Ichiro card.
Thx @toppscards for the surprise! Ichiro is my favorite player, and the historic record inscription is awesome!! pic.twitter.com/nBIySn1W96

— okumeister (@okumeister22) June 26, 2016
The 2016 Topps Now Ichiro autograph is limited to ten serial-numbered copies. That's in addition to 2,798 copies of card #154 that were originally ordered when the card went on sale on June 16 for 24 hours.
Based on the one that's surfaced so far, the card doesn't only include Ichiro's signature. It's inscribed 4,257 along with the date 6/15/16, the day he broke the record for most hits for a career between MLB and Japan. This is also what the card commemorates.
Topps hinted that more autographs would be on the way in a recent blog post about the Crawford autograph. Like the Crawford, the 2016 Topps Now Ichiro autograph wasn't announced in advance. Both have been unsolicited extras for those making original orders. It's likely this trend will continue if more autographs are included in the future.
2016 Topps Now Baseball is an online exclusive line available through the card maker's website. Cards are based on the previous day's events and are only sold for 24 hours. All are printed on-demand with final print runs based on those orders. The Ichiro hit record card currently ranks as one of the highest selling cards thus far.
Comments? Questions? Contact Ryan Cracknell on Twitter @tradercracks.