2017 Cryptozoic Orphan Black Season 2 Trading Cards Checklist and Details
When you click on links to various merchants on this site, like eBay, and make a purchase, this can result in this site earning a commission.
Following a full release for the show's first season, 2017 Cryptozoic Orphan Black Season 2 trading cards are streamlining things.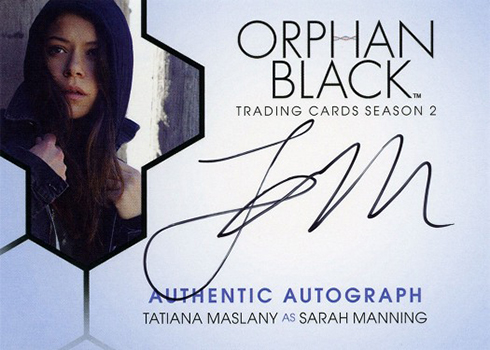 This time, it's an autograph focus done in a premium pack format. Each pack comes with three autographs plus one Crytomium insert.
Autographs
2017 Cryptozoic Orphan Black Season 2 has more than a dozen signers. But when you factor in all of the cards together, there are more than 20 total cards. That's because this is a show that revolves around clones. The lead, Tatiana Maslany, seamlessly plays several different characters, each of which is distinct and gives the show a lot of its charm.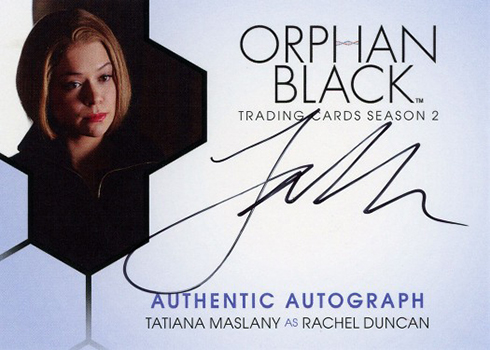 Similar to the Season 1 set, Maslany has several different autographed cards here — seven to be exact. On average, every fourth premium pack comes with a signed card from the star.
Joining Maslany on the multi-signature front is Ari Millen. He has three different cards.
Crytomium Silhouettes
The fourth card in each pack of Orphan Black Season 2 is a Crytomium Silhouettes insert. Using a chromium-style stock, these highlight different characters played by Maslany.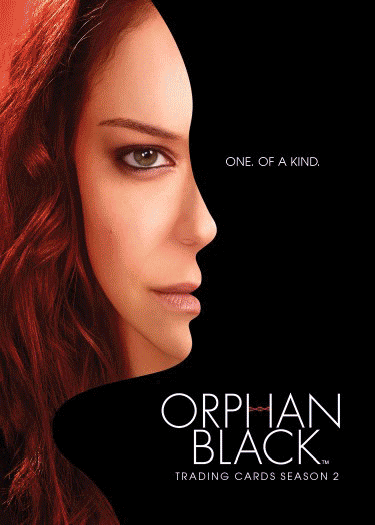 This set was originally announced with a traditional configuration in early 2016. Obviously, those plans changed. There is no longer a base set. The Season 3 set uses a similar premium pack format.
2017 Cryptozoic Orphan Black Season 2 trading cards at a glance:
Cards per pack: 4
Pakcs per case: 12
Release date: July 19, 2017
What to expect in a premium pack:
• Autographs – 3
• Cryptomium Silhouettes – 1
2017 Cryptozoic Orphan Black Season 2 Checklist
Please note that the following autograph checklist is tentative and subject to change.
Autographs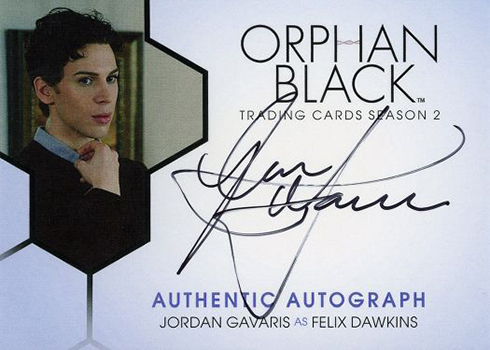 Kristin Booth as Bonnie Johanssen
Evelyne Brochu as Delphine Cormier
Kristian Bruun as Donnie Hendrix
Inga Cadranel as Detective Angela DeAngelis
Zoé De Grand Maison as Gracie Johanssen
Jordan Gavaris as Felix Dawkins
Andrew Gillies as Ethan Duncan
Kevin Hanchard as Detective Art Bell
Michael Mando as Vic
Tatiana Maslany as Alison Hendrix
Tatiana Maslany as Cosima Niehaus
Tatiana Maslany as Helena
Tatiana Maslany as Jennifer Fitzsimmons
Tatiana Maslany as Rachel Duncan
Tatiana Maslany as Sarah Manning
Tatiana Maslany as Tony Sawicki
Ari Millen as Mark Rollins
Ari Millen as Miller
Ari Millen as Rudy
Julian Richings as Benjamin Kertland
Josh Vokey as Scott
Skyler Wexler as Kira
Comments? Questions? Contact Ryan Cracknell on Twitter @tradercracks.