2015 Topps Star Wars: The Force Awakens Series 1 Checklist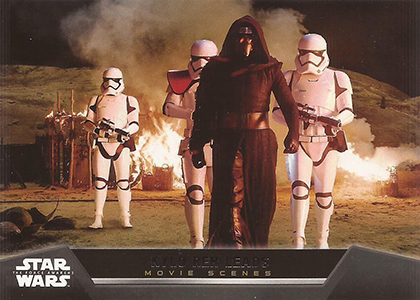 By Ryan Cracknell | Hobby Editor
A shroud of secrecy surrounded 2015 Topps Star Wars: The Force Awakens Series 1 trading cards ahead of their release. Avoid potential spoilers to the extreme, only loose details were announced in advance. No preliminary checklists, not much in the way of images or designs and definitely no story points.
But now that the movie is officially here, so are the cards. And with that, there's a 2015 Topps Star Wars: The Force Awakens Series 1 checklist to pour through.
It's a comprehensive set that, when taken as a whole, looks at a lot of angles from the movie both in front of the camera and behind it. However, one thing that it's not it heavy in a lot of the premium areas. The autograph checklist is small, but the majority of them are of big names. Most are also actors from the original trilogy. Of the new actors, there are two. John Boyega (Finn), who also signed autographs for 2015 Topps Star Wars High Tek, is included. There's also a Mystery Redemption autograph that was originally announced by Topps as Daisy Ridley. The card maker now lists the signer as TBA.
Pieces of Stormtrooper armor have been made into ten different memorabilia cards. Costume cards have been rare in the Star Wars line, which should make these feel a little more special than a lot of other similar cards from other franchises.
As far as sketch cards go, most modern sets have large artist rosters. 2015 Topps Star Wars: The Force Awakens Series 1 does not. Less than 20 artists have their work in the product.
The largest number of premium inserts appear to be Medallion cards. There are 66 different ones to chase including some short prints.
You can get the full checklist below.
2015 Topps Star Wars: The Force Awakens Series 1 Checklist
Base Set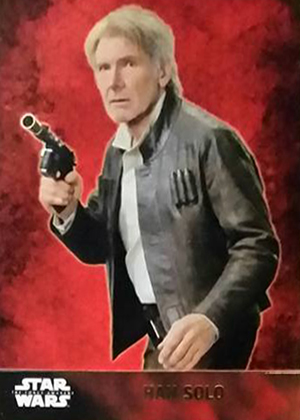 Characters – #1-60, Storyline – #61-100
1 Kylo Ren
2 Finn
3 Rey
4 Poe Dameron
5 Captain Phasma
6 BB-8
7 First Order Stormtrooper
8 Riot Control Stormtrooper
9 First Order Flametrooper
10 C-3PO
11 Teedo
12 Lor San Tekka
13 Constable Zuvio
14 Sarco Plank
15 Ilco Munico
16 Bobbajo
17 Major Ematt
18 Snap Wexley
19 Unkar Plutt
20 Unkar's Thug
21 General Hux
22 Gwellis Bagnoro & Izby
23 First Order TIE Pilot
24 Han Solo
25 Chewbacca
26 Korr Sella
27 Admiral Statura
28 Admiral Ackbar
29 Guavian Death Gang Enforcer
30 GA-97
31 PZ-4CO
32 Razoo Qin-Fee
33 Doctor Kalonia
34 Crusher Roodown
35 Jashco Phurus
36 Tasu Leech
37 Quiggold
38 General Organa
39 Bala-tik
40 FN-2187
41 Pru Sweevant
42 Chancellor Villecham
43 R2-D2
44 Strono Cookie Tuggs
45 Major Brance
46 Hassk Triplets
47 Athgar Heece
48 Nien Nunb
49 Colonel Datoo
50 Praster Ommlen
51 Unkar's Thug
52 Sidon Ithano
53 Resistance X-wing Fighter
54 First Order Transporter
55 The Finalizer
56 Special Forces TIE Fighter
57 First Order Snowspeeder
58 Poe's X-wing Fighter
59 Kylo Ren's Command Shuttle
60 First Order TIE Fighter
61 Flight of the X-Wing
62 Poe Dameron's mission
63 Invasion of Jakku
64 Stormtrooper Assault
65 The Capture of Lor San Tekka
66 Finn Faces Captain Phasma
67 FN-2187, also known as Finn!
68 Scavenging the Battlefield
69 A Scavenger known as Rey
70 Rey and her Speeder
71 In the Niima Marketplace
72 Rey faces Unkar Plutt
73 Rey Returns Home
74 Rey Dines at Home
75 Teedo's big find
76 Freeing BB-8
77 Teedo walks away
78 Directions to Niima Outpost
79 Rey's new friend?
80 Rey's Invitation
81 BB-8 tags along
82 Unkar's offer
83 Rey refuses Unkar
84 Poe's interrogation
85 Finn's grand plan
86 Crash on Jakku
87 Finn through the desert
88 Battle for BB-8
89 Running from Stormtroopers
90 Rey and Finn's escape
91 Rey starts the Millennium Falcon
92 Finn Fires!
93 Escaping from TIEs
94 Pursuit through the wreckage
95 Into the Super Star Destroyer
96 Free from the First Order
97 The Millennium Falcon!
98 Kylo Ren's Promise
99 A clever hiding spot
100 Han Solo & Chewbacca return home
Autographs
Kenny Baker as R2-D2
John Boyega as Finn
Anthony Daniels as C-3PO
Warwick Davis as Wollivan
Carrie Fisher as Leia Organa
Peter Mayhew as Chewbacca
Mike Quinn as Nien Nunb
Tim Rose as Admiral Ackbar
Retro Autograph
Harrison Ford as Han Solo
Mystery Redemption Autograph
TBA
Dual Autographs
Carrie Fisher as Leia Organa, Anthony Daniels as C-3PO"
Anthony Daniels as C-3PO, Kenny Baker as R2-D2"
Mike Quinn as Nien Nunb, Tim Rose as Admiral Ackbar
Anthony Daniels as C-3PO, Peter Mayhew as Chewbacca
Triple Autographs
Carrie Fisher as Leia Organa, Peter Mayhew as Chewbacca, Anthony Daniels as C-3PO
First Order Stormtrooper Costume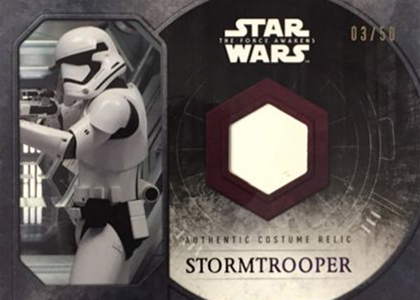 Chest Plate
Corset
Pauldrons
Upper arm Piece Forearm Piece Thigh Piece
Back Plate
Lower Leg Piece Seat Piece Cannister
Medallion Cards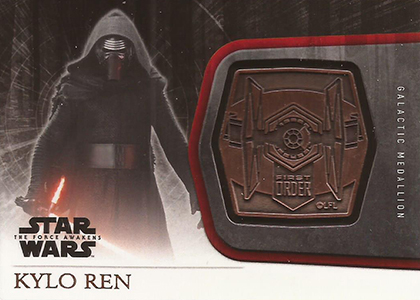 X-Wing
M-1 Finn
M-2 Finn
M-3 Rey
M-4 Rey
M-5 Rey
M-6 BB-8
M-7 Poe Dameron
M-8 Poe Dameron
M-9 Han Solo
M-10 Chewbacca
M-11 Chewbacca
M-12 C-3PO
M-13 R2-D2
M-14 C-3PO
M-15 R2-D2
Resistance
M-16 Finn
M-17 Finn
M-18 Rey
M-19 Rey
M-20 Rey
M-21 BB-8
M-22 Poe Dameron
M-23 Poe Dameron
M-24 Han Solo
M-25 Chewbacca
M-26 Chewbacca
M-27 C-3PO
M-28 R2-D2
M-29 C-3PO
M-30 R2-D2
Short Prints
M-31 Finn
M-32 Rey
M-33 BB-8
M-34 Poe Dameron
M-35 Chewbacca
M-36 Nien Nunb
M-37 Admiral Ackbar
M-38 Han Solo
First Order (1)
M-39 Kylo Ren
M-40 Kylo Ren
M-41 Captain Phasma
M-42 Captain Phasma
M-43 Flametrooper
M-44 Stormtrooper
M-45 Stormtrooper
M-46 Snowtrooper
M-47 Snowtrooper
M-48 TIE Fighter
M-49 TIE Fighter Pilot
M-50 Kylo Ren's Shuttle
First Order (2)
M-51 Kylo Ren
M-52 Kylo Ren
M-53 Captain Phasma
M-54 Captain Phasma
M-55 Flametrooper
M-56 Stormtrooper
M-57 Stormtrooper
M-58 Snowtrooper
M-59 Snowtrooper
M-60 TIE Fighter
M-61 TIE Fighter Pilot
M-62 Kylo Ren's Shuttle
Short Prints
M-63 Kylo Ren
M-64 Captain Phasma
M-65 Flametrooper
M-66 Stormtrooper
Sketch Card Artists
Alejandro Iniguez
Bob Stevlic
Brent Ragland
Carlos Cabaleiro
Dan Parsons
Dan Bergren
Doug Cowan
Francois Chartier
Gabe Farber
Ingrid Hardy
Jeff Mallinson
Justin Mauk
Kris Penix
Kyle Babbit
Rob Teranishi
Robert Hendrickson
Sarah Wilkinson
Sean Pence
Stephanie Swanger
Behind the Scenes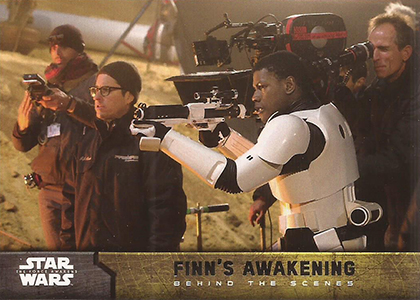 1 The Cast Assembled
2 Scripting the Future
3 Finn's Awakening
4 J.J. and Daisy
5 The Immense Happabore
6 With BB-8
7 Set of Heroes
Character Montages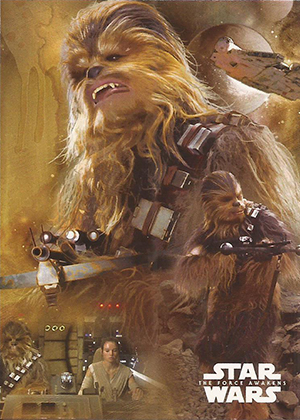 1 Rey
2 Finn
3 Poe Dameron
4 Kylo Ren
5 Captain Phasma
6 Chewbacca
7 BB-8
8 Stormtrooper
Concept Art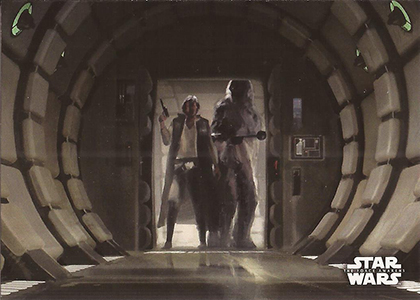 1 Resistance X-Wings
2 Kylo Ren
3 Jakku Pursuit
4 Starkiller Base
5 Crash on Jakku
6 Finding the Millennium Falcon
7 Captain Phasma
8 Jumping to Hyperspace
9 Aboard the Falcon
10 First Order Landing
11 Speeder on Jakku
12 Finalizer
13 Stormtroopers
14 Blue goggles
15 The Crimson Corsair
16 Rey
17 Finn
18 Poe Dameron
19 Resistance Pilots
20 Sarco Plank
The First Order Rises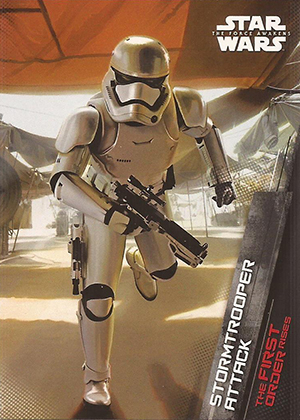 1 Kylo Ren's Attack
2 Captain Phasma
3 Stormtrooper Attack
4 Flametrooper
5 Stormtroopers Assembled
6 The First Order's Arrival
7 Stormtrooper Defense
8 Aim of the Stormtrooper
9 Kylo Ren's Strength
Locations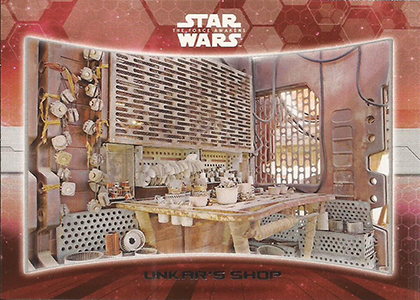 1 Jakku
2 Unkar's Shop
3 Tuanul Village
4 Niima Outpost
5 Rey's AT-AT
6 Maz's castle
7 Resistance base
8 Starkiller base
9 Ship Graveyard
Movie Scenes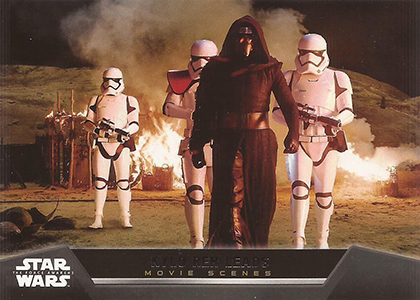 1 Landing on Jakku
2 Kylo Ren Leads
3 New Found Friends
4 Finn and the Happabore
5 The First Order Confers
6 Stormtroopers in Pursuit
7 Stowaways Discovered
8 The Rightful Pilot?
9 The Guavian Death Gang
10 The Millennium Falcon's Cockpit
11 Creatures in the Castle
12 In the Castle of Takodana
13 Meeting with General Organa
14 Resistance Conference
15 Monitoring Resistance Operations
16 Resistance Briefing
17 Resistance Pilot Snap Wexley
18 Making Repairs
19 Poe Dameron and BB-8
20 Han and Finn: Ready for Battle
Stickers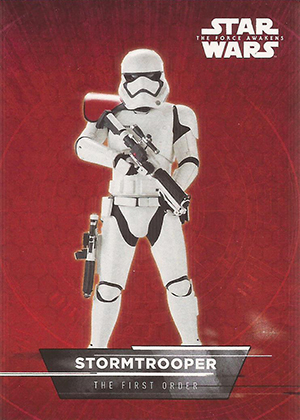 1 Rey
2 Finn
3 Poe Dameron
4 Kylo Ren
5 Captain Phasma
6 Stormtrooper
7 Snowtrooper
8 BB-8
9 Chewbacca
10 C-3PO
11 R2-D2
12 Rey
13 Finn
14 Poe Dameron
15 Kylo Ren
16 C-3PO & R2-D2
17 The Millennium Falcon
18 TIE Fighter
Weapons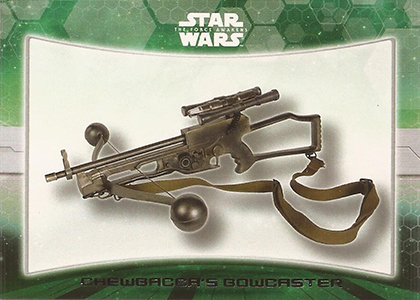 1 Kylo Ren's lightsaber
2 Finn's blaster
3 D-93 Incinerator Flamethrower
4 Captain Phasma's Blaster Rifle
5 Rey's Quarterstaff
6 Rey's blaster
7 Leia Organa's blaster
8 General Hux's blaster
9 Han Solo's Blaster
10 Chewbacca's Bowcaster
Target Promo Cards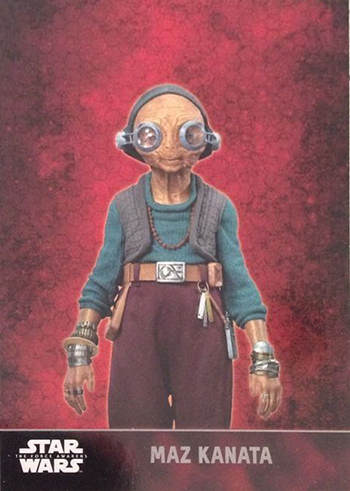 101 Maz Kanata
102 Wollivan
103 Grummgar