2015 Topps Employee Kris Bryant Autographs make for an elusive Christmas card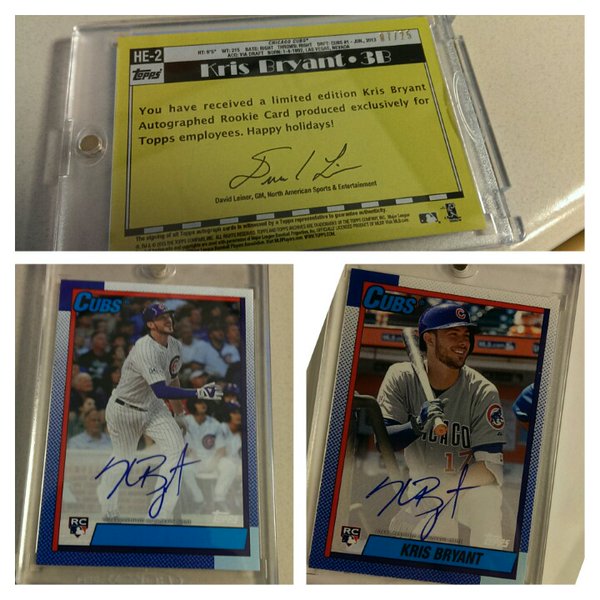 By Ryan Cracknell | Hobby Editor
Kris Bryant is bring a little bit of holiday cheer to Topps HQ. Staff were treated to an early Christmas gift in the form of a special 2015 Topps Employee Kris Bryant Autograph.
A total of four different cards were created, each numbered to 25. However, there are only two different photos. Taking a nod to the 1990 Topps Frank Thomas rookie card, each of the different cards has a regular version and one without Bryant's name on the front. Staff receiving the cards only received one autograph, not a complete set.
The 2015 Topps Employee Kris Bryant Autographs have an Archives vibe to them, using the 1990 Topps Baseball design. This is the same one that was used for a special Jose Abreu autograph given to attendees at the company's meet and greet at the 2015 National Sports Collectors Convention.
Although it's possible that some of these may end up on the secondary market, the way in which they were given out will likely mean that it'll be limited.
Card companies have a history of creating employee exclusives. For example, Upper Deck has given out autographs and memorabilia cards of their spokesmen like Michael Jordan.
Comments? Questions? Contact Ryan Cracknell on Twitter @tradercracks.