Kris Bryant Superfractor pulled, graded by BGS
[youtube]http://www.youtube.com/watch?v=iNRrrUKVHQA[/youtube]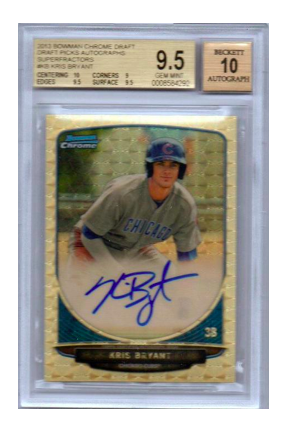 The Kris Bryant 2013 Bowman Chrome Superfractor autograph visited Beckett Grading Services for encapsulation after it was pulled by a customer of Neuhart Cards in Delaware, Ohio.
Beckett Baseball's Chris Olds caught up with Neuhart's Brian Rideout who hand-delivered the card to BGS for examination and encapsulation on Friday.
What's the future of this big card? How much has been offered for it?
Check out our video interview to find out …
Update: The card is now listed on eBay with an $89,999 Buy It Now price and has more than 300 watchers.