2016 Topps Star Wars Card Trader Physical Trading Cards Checklist and Details
Just like Bunt got for baseball, Topps' Star Wars digital trading card app is getting a physical release. 2016 Topps Star Wars Card Trader trading cards take many of the elements and designs of the app's cards and give them a more traditional spin. That said, the product still attempts to work in both realms with code cards that unlock digital exclusives. In fact, every pack of 2016 Topps Star Wars Card Trader includes a digital code of some sort.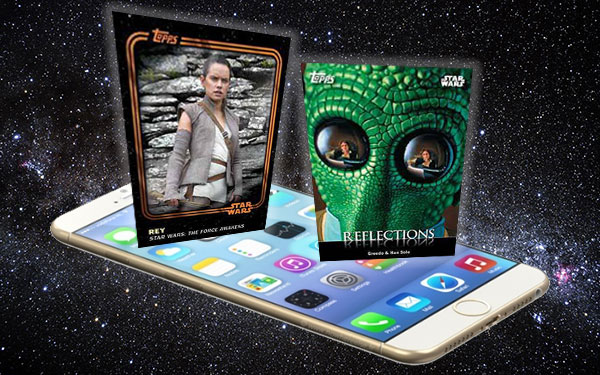 The physical 2016 Topps Star Wars Card Trader base set has 100 cards. It's based on the 2015 digital design, although with different photos and some characters from The Force Awakens who didn't make the original checklist.
Base cards come with six levels of parallels: Blue (one per pack), Red (1:4 packs), Green (/99), Orange (/50), Battle Damaged (/10) and Slave I (/5). Parallels are among the cards with a dual purpose. They can be used to unlock app exclusives as well.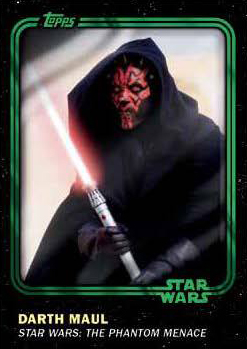 Just like the traditional modern pack chase, autographs are a key element in the SWCT app. Of course, these are digital versions, which makes the ink impossible to transfer onto your phone, but their rarity can be a driving force. 2016 Topps Star Wars Card Trader replicates a similar idea. Digital Autographs are like printed versions of the digital cards with facsimile signatures. Arriving with a lower price point than other Star Wars trading card products, it's not focused on delivering traditional hits. That said, the Digital Autographs are tough. Base versions are numbered to 25 while parallels come in Red (/10) and Gold (/5).
A handful of popular insert sets from the app have also made the jump to the physical 2016 Topps Star Wars Card Trader. Reflections and Classic Art are both based on artwork, although in two very different styles. Reflections takes a detailed route that approaches photo-realism. Classic Art is more of a pop art look, reminiscent of the illustrations found on the back of vintage Star Wars cards. Galactic Moments focus on real-life turning points for the franchise and its reception. Film Quotes highlights famous bits of dialogue. Finally, there's Topps Choice, a set dedicated to some of the stranger and overlooked characters that often lurk in the background and in the shadows on the screen.
Bounty Cards are inserted 1:24 packs. These can be redeemed for a full digital pack.
2016 Topps Star Wars Card Trader trading cards at a glance:
Packs per box: 24
Cards per pack: 6
Boxes per case: 16
Set size: 100 cards
Release date: December 2, 2016
2016 Topps Star Wars Card Trader Checklist
Jump directly to:
Base Set
100 cards.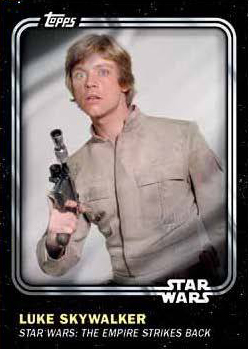 Parallels:
• Blue – 1 per pack
• Red – 1:4 packs
• Green – /99
• Orange – /50
• Battle Damaged – /10
• Slave I – /5
1 Luke Skywalker
2 Princess Leia Organa
3 Han Solo
4 Darth Vader
5 C­‐3PO
6 R2­‐D2
7 The Emperor
8 Chewbacca
9 Jabba The Hutt
10 Yoda
11 Lando Calrissian
12 Boba Fett
13 Stormtrooper
14 Admiral Ackbar
15 Nien Nunb
16 Admiral Piett
17 Moff Jerjerrod
18 Chief Chirpa
19 Wedge Antilles
20 Dak Ralter
21 Greedo
22 Imperial Royal Guard
23 Grand Moff Tarkin
24 Wicket W. Warrick
25 Lobot
26 IG‐88
27 Jawa
28 Tusken Raider
29 General Veers
30 Mon Mothma
31 Bossk
32 Dengar
33 Sy Snootles
34 Salacious B. Crumb
35 General Dodonna
36 Biggs Darklighter
37 Zuckuss
38 4‐LOM
39 General Madine
40 Max Rebo
41 Captain Antilles
42 Bib Fortuna
43 Ponda Baba
44 Dr. Evazan
45 Rey
46 Finn
47 Poe Dameron
48 BB­‐8
49 Major Ematt
50 Snap Wexley
51 Admiral Statura
52 Doctor Kalonia
53 PZ­‐4CO
54 Kylo Ren
55 Captain Phasma
56 First Order Stormtrooper
57 First Order Flametrooper
58 Riot Control Stormtrooper
59 General Hux
60 Supreme Leader Snoke
61 Teedo
62 Unkar Plutt
63 Sidon Ithano
64 Razoo Qin‐Fee
65 Tasu Leech
66 Bala­‐tik
67 Korr Sella
68 Lor San Tekka
69 Maz Kanata
70 Obi‐Wan Kenobi
71 Anakin Skywalker
72 Darth Sidious
73 Mace Windu
74 General Grievous
75 Qui­‐Gon Jinn
76 Padmé Amidala
77 Jango Fett
78 Count Dooku
79 Darth Maul
80 Clone Trooper
81 Zam Wesell
82 Nute Gunray
83 Bail Organa
84 Rune Haako
85 Commander Cody
86 Ezra Bridger
87 Kanan Jarrus
88 Sabine Wren
89 Hera Syndulla
90 Zeb Orrelios
91 Chopper
92 The Grand Inquisitor
93 Asajj Ventress
94 Captain Rex
95 Savage Opress
96 Fifth Brother
97 Seventh Sister
98 Ahsoka Tano
99 Cad Bane
100 First Order Snowtrooper
Inserts
Bounty Cards
20 cards. 1:24 packs.
B‐1 Greedo
B‐2 Bossk
B‐3 Darth Maul
B‐4 Cad Bane
B‐5 Dengar
B‐6 Boushh
B‐7 4‐LOM
B‐8 Zuckuss
B‐9 Dr. Cornelius Evazan
B‐10 Garindan
B‐11 IG‐88
B‐12 Sixtat
B‐13 Bulduga
B‐14 Onca
B‐15 Mon Mothma
B‐16 Luke Skywalker
B‐17 Han Solo
B‐18 Chewbacca
B‐19 Leia Organa
B‐20 Wedge Antilles
Classic Artwork
20 cards.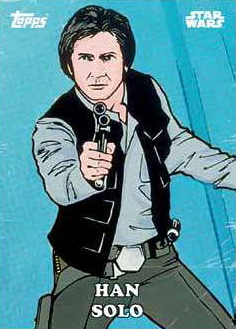 CA‐1 Han Solo
CA‐2 Luke Skywalker
CA‐3 Princess Leia (Boushh Disguise)
CA‐4 Darth Vader
CA‐5 Chewbacca
CA‐6 Yoda
CA‐7 Boba Fett
CA‐8 Captain Phasma
CA‐9 Stormtrooper
CA‐10 Wicket W. Warrick
CA‐11 Jabba the Hutt
CA‐12 Admiral Ackbar
CA‐13 Emperor Palpatine
CA‐14 Bossk
CA‐15 BB‐8
CA‐16 C‐3PO
CA‐17 Kylo Ren
CA‐18 Finn
CA‐19 Rey
CA‐20 Poe Dameron
Digital Autographs
20 cards.
Signatures are facsimile recreations.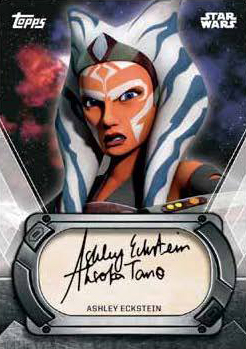 Parallels:
Red – /10
Gold – /5
DA‐1 Billy Dee Williams /25
DA‐2 Steve Blum /25
DA‐3 Vanessa Marshall /25
DA‐4 Tiya Sircar /25
DA‐5 Taylor Gray /25
DA‐6 Daniel Logan /25
DA‐7 Daniel Logan (The Clone Wars) /25
DA‐8 Ray Park /25
DA‐9 Nika Futterman /25
DA‐10 Warwick Davis /25
DA‐11 Phil Eason /25
DA‐12 Michonne Bourriague /25
DA‐13 Mike Quinn /25
DA‐14 David Bowers /25
DA‐15 Ashley Eckstein /25
DA‐16 John Ratzenberger /25
DA‐17 Hassani Shapi /25
DA‐18 Andy Secombe /25
DA‐19 Zachariah Jensen /25
DA‐20 Caroline Blakiston /25
Film Quotes
20 cards.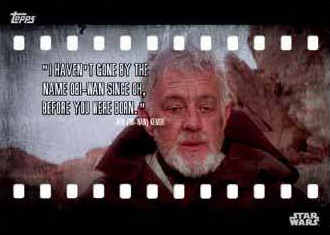 FQ‐1 Han Solo
FQ‐2 Han Solo
FQ‐3 Boba Fett
FQ‐4 Darth Vader
FQ‐5 Princess Leia
FQ‐6 Han Solo
FQ‐7 Darth Vader
FQ‐8 Luke Skywalker
FQ‐9 Han Solo
FQ‐10 Darth Sidious
FQ‐11 Ben (Obi‐Wan) Kenobi
FQ‐12 C‐3PO
FQ‐13 Luke Skywalker
FQ‐14 Supreme Chancellor Palpatine
FQ‐15 Mace Windu
FQ‐16 Admiral Ackbar
FQ‐17 Darth Maul
FQ‐18 C‐3PO
FQ‐19 Ben (Obi‐Wan) Kenobi
FQ‐20 Ben (Obi‐Wan) Kenobi
Galactic Moments
20 cards.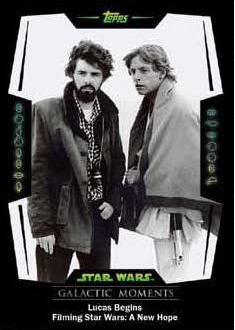 GM­‐1 Ralph McQuarrie
GM­‐2 Luke Skywalker Introduced
GM­‐3 Rebels Premiere
GM­‐4 The Prequel Trilogy
GM­‐5 Lucas Begins Filming Star Wars: A New Hope
GM­‐6 1997 Special Editions
GM­‐7 Star Wars Celebration I
GM­‐8 Industrial Light & Magic
GM­‐9 First Star Wars Comic
GM­‐10 Kenner Early Bird Special
GM­‐11 Super Star Wars
GM­‐12 First Star Wars Video Game
GM­‐13 Revenge of the Jedi Announced
GM­‐14 Topps Trading Cards 1977
GM­‐15 The Force Awakens
GM­‐16 Darth Vader Reveals
GM­‐17 The Clone Wars Movie
GM­‐18 Star Wars Heir to the Empire
GM­‐19 May 29th, 1977
GM­‐20 Topps Star Wars Card Trader
Reflections
7 cards.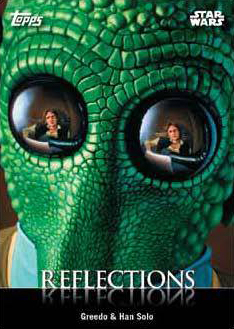 R­‐1 Greedo/Han Solo
R­‐2 Darth Vader/Obi­‐Wan Kenobi
R­‐3 Jango Fett/Mace Windu
R­‐4 Stormtrooper/Rebel Troopers
R­‐5 R2­‐D2/Princess Leia
R­‐6 Boba Fett/Han Solo
R­‐7 Darth Vader/Luke Skywalker
Topps Choice
13 cards.
TC­‐1 Lok Durd
TC­‐2 Duchess Satine
TC­‐3 Ree­‐Yees
TC­‐4 Kabe
TC­‐5 Ponda Baba
TC­‐6 Bossk
TC­‐7 Lak Sivrak
TC­‐8 Yarael Poof
TC­‐9 Momaw Nadon
TC­‐10 Bo­‐Katan Kryze
TC­‐11 Grizz Frix
TC­‐12 Beedo
TC­‐13 Todo 360
Comments? Questions? Contact Ryan Cracknell on Twitter @tradercracks.