2016 Star Wars: The Force Awakens Chrome Autographs Include Daisy Ridley, Mark Hamill, John Boyega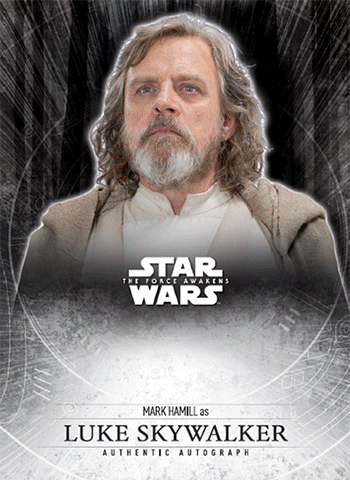 By Ryan Cracknell | Hobby Editor
Some familiar faces are making their way onto the 2016 Topps Star Wars: The Force Awakens Chrome Autographs checklist. While most of the initial lineup have appeared in earlier sets for the film, one of the biggest hasn't — Mark Hamill.
The actor looks a lot different now than when the original trilogy wrapped up. Although Hamill is hardly new to signing Star Wars autograph cards, this is his first for the new trilogy.
Others signing for the set include John Boyega (Finn), Carrie Fisher (Leia) and Anthony Daniels (C-3P0). Andy Serkis (Supreme Leader Snoke) and Yayan Ruhian (Tassu Leech) are two signers who did not appear in either of The Force Awakens Series 1 or Series 2 sets.
Oh, and there's Daisy Ridley too. This is the first set of Star Wars trading cards cards to feature the autograph of the breakout star who played Rey.
2016 Topps Star Wars: The Force Awakens Chrome releases August 19. Each hobby box has a premium insert but not all of those are autographs. Sketch and Medallion cards are also in that mix.
2016 Topps Star Wars: The Force Awakens Chrome Autographs Checklist
CA-AB Anna Brewster as Bazine Netal
CA-AC Aidan Cook as Bobbajo
CA-AD Anthony Daniels as C-3PO
CA-AS Andy Serkis as Supreme Leader Snoke
CA-BV Brian Vernel as Bala-Tik
CA-CF Carrie Fisher as General Leia Organa
CA-DAF David Acord, Voice of FN-2199
CA-DAT David Acord, Voice of Teedo
CA-DR Daisy Ridley as Rey
CA-EB Erik Bauersfeld, Voice of Admiral Ackbar
CA-EE Emun Elliott as Major Brance
CA-GG Greg Grunberg as Snap Wexley
CA-HF Harrison Ford as Han Solo
CA-HW Harriet Walter as Doctor Kalonia
CA-JB John Boyega as Finn
CA-JS Joonas Suotamo – Double for Chewbacca
CA-KB Kenny Baker as R2-D2
CA-KR Kiran Shah as Teedo
CA-KS Kipsang Rotich – Voice of Nien Nunb
CA-MD Mark Dodson – Voice of Prashee
CA-MH Mark Hamill as Luke Skywalker
CA-MQ Mike Quinn as Nien Nunb
CA-MWG Matthew Wood – Voice of Guavian Death Gang Enforcer
CA-MWU Matthew Wood – Voice of Ukar's Thug
CA-PM Peter Mayhew as Chewbacca
CA-RM Rocky Marshall as Colonel Datoo
CA-SA Sebastian Armesto as Lt. Mitaka
CA-TR Tim Rose as Admiral Ackbar
CA-WD Warwick Davis as Wollivan
CA-YR Yayan Ruhian as Tasu Leech
Comments? Questions? Contact Ryan Cracknell on Twitter @tradercracks.