2015 Funko Pop NFL features Odell Beckham Jr. and lots of quarterbacks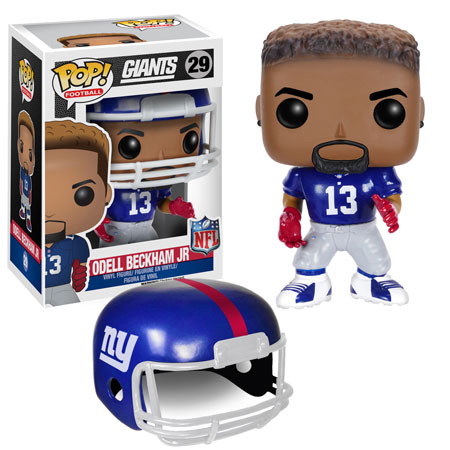 By Ryan Cracknell | Hobby Editor
They not exactly McFarlanes but they probably have more detail than some of the early Starting Lineups. 2015 Funko Pop NFL expands on last year's line with more big names, albeit with a significantly smaller checklist.
Instead of the more than 25 that marked the line's debut, just a dozen players have the stylized vinyl figures this time around. Leading the way is the first Pop! of Odell Beckham Jr. as well as two of the year's more high-profile rookies, Jameis Winston and Marcus Mariota.
The 2015 Funko Pop NFL figures bring with them that distinct look that carries throughout all Pop! figures. The heads are large, similar to a bobblehead. The eyes are essentially black buttons. But through other details like hairstyles and notable gear like J.J. Watts' breathing strip on his nose — not to mention team jerseys — they end up resembling the player they're based on.
Half of the 2015 Funko Pop NFL figures appeared in last year's set. These repeats do have different jerseys. The boxes also have different numbers.
Over the past couple of years, the detailing on Pop! figures has gotten better. They're still not for everyone, but they do have a wide net of collectors, particularly with some of their movie and television lines.
In addition to the basic figures, each comes with a removable helmet.
The figures release in December.
2015 Funko Pop NFL Checklist
29 Odell Beckham Jr, New York Giants
30 Aaron Rodgers, Green Bay Packers
31 Ben Roethlisberger, Pittsburgh Steelers
32 Colin Kaepernick, San Francisco 49ers
33 Jameis Winston, Tampa Bay Buccaneers
34 J.J. Watt, Houston Texans
35 Marcus Mariota, Tennessee Titans
36 Marshawn Lynch, Seattle Seahawks
37 Peyton Manning, Denver Broncos
38 Russell Wilson, Seattle Seahawks
39 Tom Brady, New England Patriots
40 Tony Romo, Dallas Cowboys