2020 Funko POP NFL List Led by Patrick Mahomes, Lamar Jackson
Much of football's youth is on display in the 2020 Funko POP NFL lineup. A total of 11 players get the vinyl figure treatment in the seventh set of POPs for the league. A couple of decorated quarterbacks lead the way.
First up is Patrick Mahomes who helped lead the Kansas City Chiefs to a Super Bowl LIV victory. He was also the league's MVP in 2018, his first season playing full-time. The 2019 NFL MVP, Lamar Jackson, is also present in Series 7. Both already have previous POPs, although these are in different poses.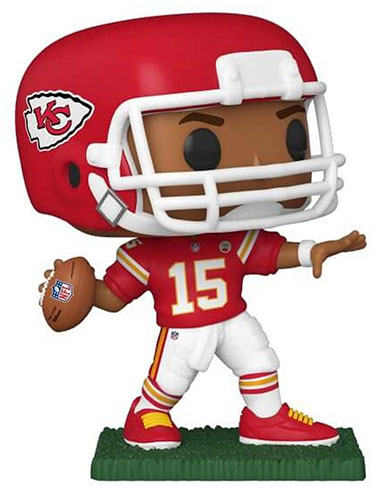 Mahomes' opposing QB in the Super Bowl, Jimmy Garoppolo, makes his POP debut. He's joined by fellow 49er George Kittle, making San Francisco the only team with multiple figures in the wave.
This time around there are three basic poses. Quarterbacks are all ready to throw the ball. Running backs are carrying the ball downfield. Other players are in a standard running pose.
The 2020 Funko POP NFL figures are scheduled to release in October.
2020 Funko POP NFL Checklist
139 Alvin Kamara, New Orleans Saints
140 Nick Chubb, Cleveland Browns
141 Jimmy Garoppolo, San Francisco 49ers
142 Mike Evans, Tampa Bay Buccaneers
143 Dalvin Cook, Minnesota Vikings
144 George Kittle, San Francisco 49ers
145 Derrick Henry, Tennessee Titans
146 Lamar Jackso, Baltimore Ravens
147 D.K. Metcalf, Seattle Seahawks
148 Patrick Mahomes II, Kansas City Chiefs
149 J.J. Watt, Houston Texans