Meet the Man Who Paid $400K for the 2009 Bowman Chrome Mike Trout Superfractor Autograph
When you click on links to various merchants on this site, like eBay, and make a purchase, this can result in this site earning a commission.
The 2009 Bowman Chrome Draft Mike Trout Superfractor Autograph is officially on record as a $400,000 card. The sale on eBay was legit and the deal is now closed.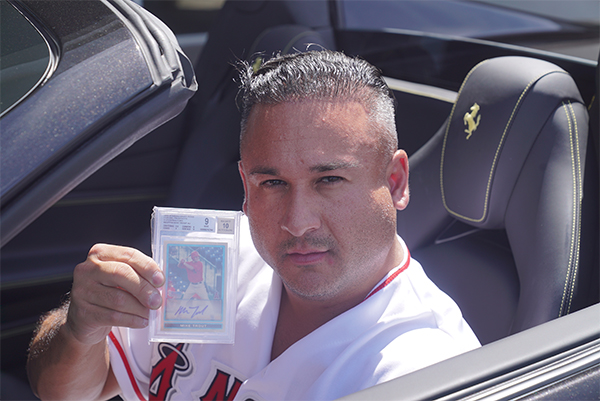 The new owner of the one-of-a-kind card is Dave Oancea, known to many as Vegas Dave. It's his latest — and biggest — addition to an impressive collection of 2009 Bowman Chrome Draft Mike Trout autographs. He's already got eight of the 25 Orange Refractors and one of the five Red Refractors.
Not your normal eBay transaction, it took some time to coordinate and finalize as the seller came over from Taiwan to deliver it to Oancea personally. But now the deal is done, completed in person in Las Vegas this afternoon.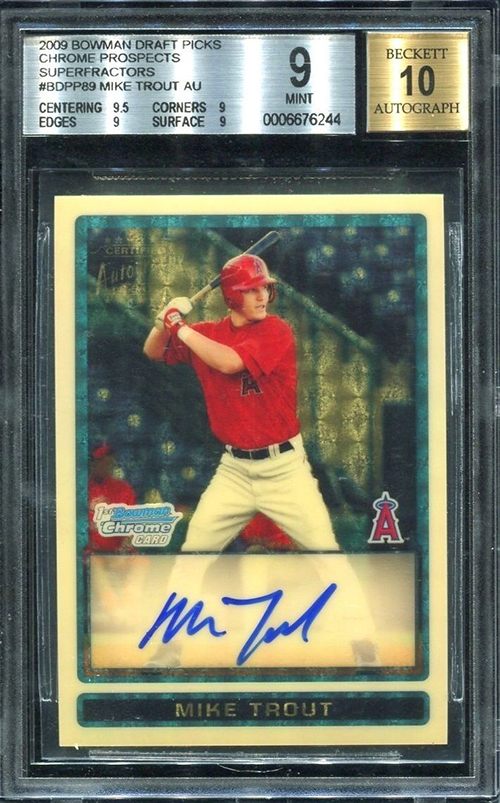 He's very direct in his approach in seeing this, and his entire Trout collection, as investments.
"This is a hobby for most people but I saw it as a business opportunity," he said.
Oancea is someone known for taking risks. In fact, it's a big part of how he made a name for himself. In the past few years, he's made large bets and won on long shots like the Kansas City Royals winning the World Series in 2015 and the Broncos taking the Super Bowl in 2016 long before they emerged. Like before the seasons started.
With both wagers, Oancea made millions.
He put money on Holly Holm over Ronda Rousey then flipped it around taking Miesha Tate over Holm a few month later.
Oancea specialized in futures bets, making smart picks far in advance while the odds were still long.
According to Oancea himself, he became too good. He's currently working through some lawsuits (in 2017 he was charged with using false Social Security numbers to open up player accounts) and is banned from casinos. Which is what ultimately brought Vegas Dave back to the hobby after leaving it behind as a teenager.
And he's bringing his high-stakes futures outlook with him.
"When the casinos banned me, I was bored," he said. "I don't like to play the stock market so this is what I did."
That was about a year-and-a-half ago. And now Oancea has established he's willing to do what it takes to get what he wants. Like cornering the market on the rare 2009 Bowman Chrome Draft Mike Trout autographs.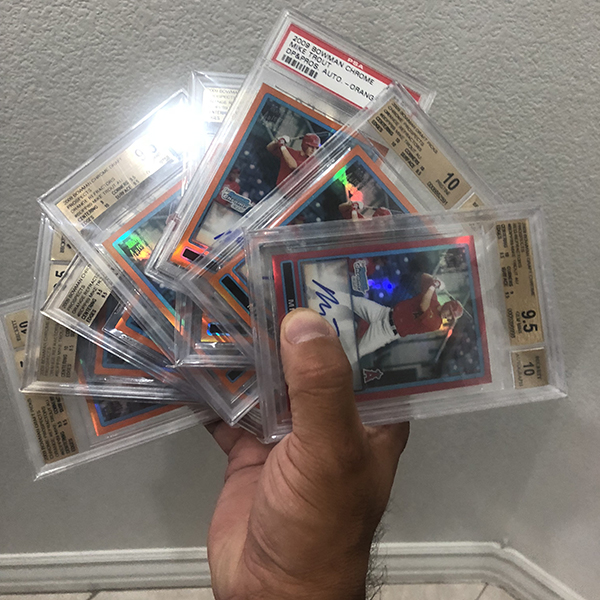 "I just felt that Trout's the best player. Someone told me you'll never find a Red Trout, you'll never find the Super and you'll never find the Orange," he said. "Within one year I found the Super, a Red and eight Oranges."
But they didn't come cheap. Part of that was because a lot of the cards he was targeting weren't necessarily available.
"I had to pay $60,000 to $100,000 to get them out of peoples' hands. They would say, they're not for sale, they're not for sale. But if you offer $100,000 cash to them, they sell," he explained.
It was that same whatever-it-takes attitude that led Oancea to the Superfractor.
He originally saw it shortly after getting back into the hobby. It had been sitting on eBay with a $500,000 asking price. Oancea made some legitimate offers but that seller ultimately admitted he wasn't willing to sell it.
"I was kind of pissed off," Oancea said. He told the seller, "You're showboating. Why even list it? And he said, 'You're right. I'll take it off.'" And that's what he did.
But then it came back with the same asking price but a different seller. Oancea initially offered $300,000 to start and the seller countered at $400,000.
"I could have negotiated. I didn't want to nickel and dime him so I hit the Buy It Now," he said. "Everyone had the opportunity but I'm the only one that had the balls to hit the bid."
For many, spending $400,000 on a baseball card that's less that ten-years old is difficult to comprehend and a massive risk. For Oancea, it's the opposite.
"There's risk when you jump in an airplane, when you drive down the road," he said.
But when it comes to the Trout Superfractor, without hesitation, Oancea continued, "There's no risk."
To Oancea, the card is an investment. And for someone to get it, he has a clear picture on what it's going to take.
"I'm a record breaker. I broke every single sports betting record," Oancea proclaimed. "I won't sell it until I can sell it for the highest price of any card ever sold.
And I'll get it because I don't need money."
Oancea got into sports cards early, starting out by setting up at shows in the '80s while he was still in elementary school.
"I got to the point where I'd rent out the hotel room and charge for the tables," he said. "I was always an entrepreneur and I was making $4,000 at 12-years old hustling baseball cards and running card shows."
But in high school, he sold everything he had for a nice car and left the hobby behind.
Looking forward, Trout isn't the only player that Oancea is focused on. He sees even bigger things for Derek Carr and is grabbing all of the top cards he can of his.
"When the Raiders move to Vegas, it'll be the biggest thing to ever happen in sports," he predicted. "The Raiders will be good. Derek Carr: good guy, good quarterback, big-market team, has a weapon. His cards will go through the roof."
As for the Trout Superfractor Autograph, Oancea is confident with his purchase and what the future holds, "Someone could offer me $2 million tomorrow and I would say no. I'd rather hold it and have the accomplishment of breaking the record for the highest paid card.
And I believe I'll get it."
Comments? Questions? Contact Ryan Cracknell on Twitter @tradercracks or by email.