The Baseball Prospects You Need to Be Collecting Now
This baseball season we have already seen multiple top prospects like Ronald Acuña, Gleyber Torres and others get "the call" in the early season. Top prospects cards can double in price once the player reaches the majors. Some prospects like Vladimir Guerrero Jr. are already sky high in value, while others are still obtainable. Here are the top five prospects that you should be collecting now.
Kyle Tucker, OF – Houston Astros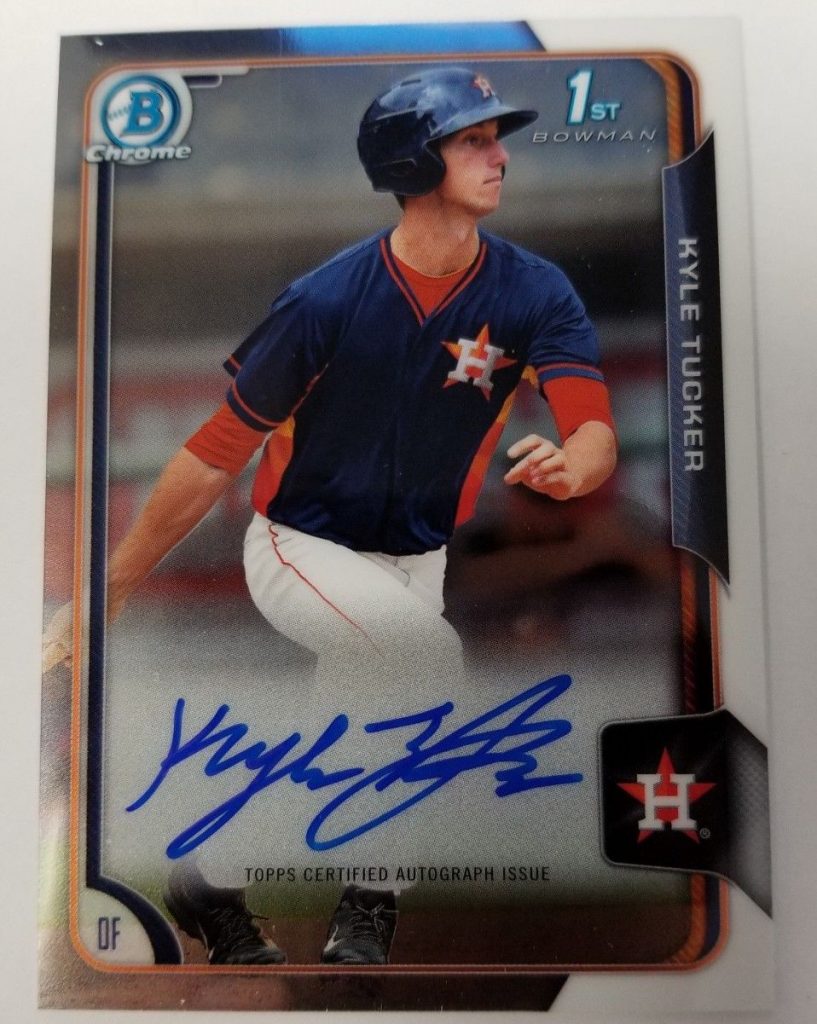 Tucker has heated up at AAA in the Astros system batting .292 with 2 homers and 20 RBIs thus far. The Astros were trying to be patient with him and play Evan Gattis, Derek Fisher and Jake Marisnick but none of these players have hit well to start the year. I would look for Tucker to be called up by mid-June and make an immediate impact with his bat. His most sought after card remains his 2015 Bowman Chrome Autograph which sells for $80-85 ungraded and $160 in a BGS 9.5/10 at eBay auction. I would expect his card to receive a bump in value once he gets the call.
Willy Adames, SS – Tampa Bay Rays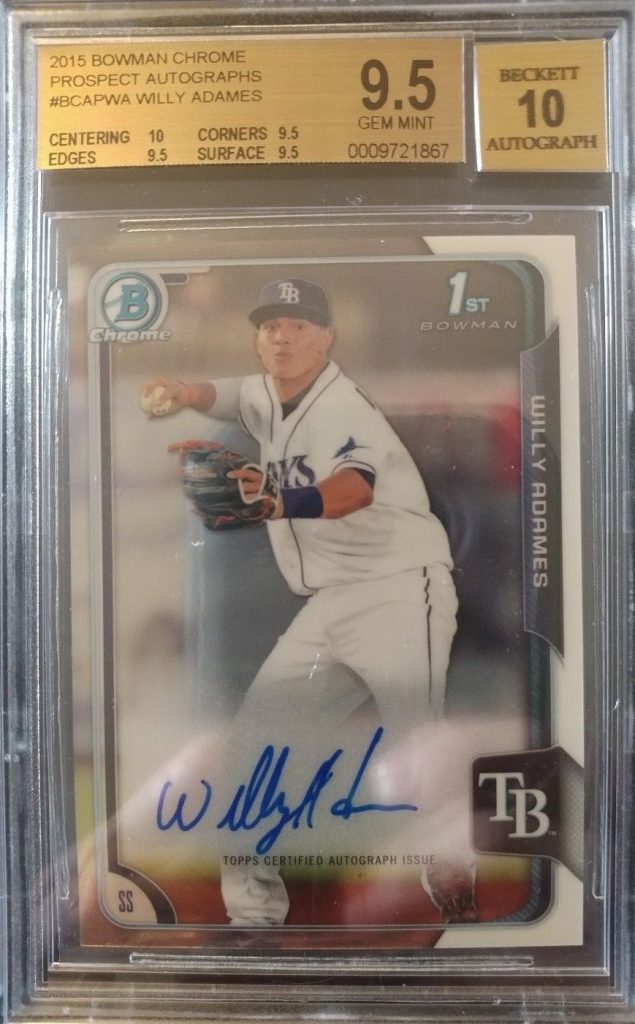 He is arguably one of the most major-league-ready players left in the minors. Adames is just 22 and batting over .300 at AAA in the Rays system this year with 3 homers. He will most likely force his way onto the big league roster sooner rather than later. I would expect him to receive the call by the end of June. His cards remain very undervalued for a shortstop with his potential. His most popular card is his 2015 Bowman Chrome Autograph which sells for 20-30 ungraded and $70-80 in a BGS 9.5/10 at eBay auction. Shortstops with big potential have really big upside in the Hobby. Invest in Adames before it's too late.
Willie Calhoun, OF – Texas Rangers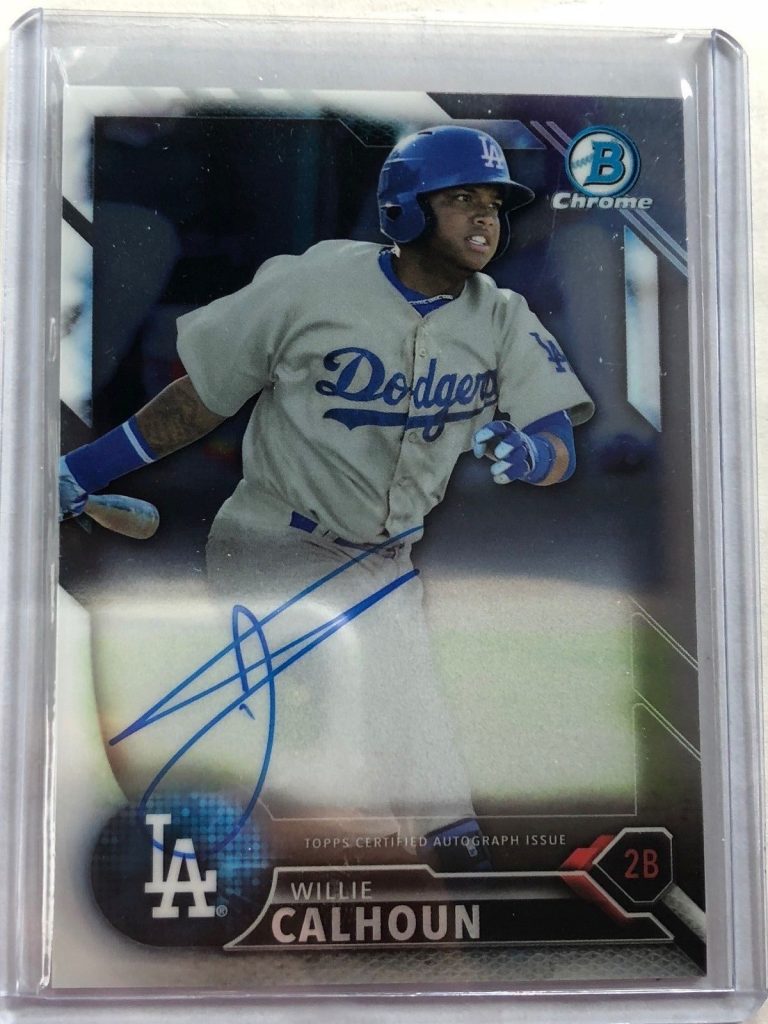 He was called up late last season in September and showed flashes with his powerful bat. Calhoun hit 31 homers last year in the minors amongst different levels. Supposedly, the reason he is still in the minors with the Rangers is because the team is holding him back in order to gain an extra year of service time for him in the future. He is also working on his defense in left field. Look for Calhoun to be called up by mid-June with the Rangers. The card you want is his 2016 Bowman Chrome Auto which sells for $25-30 ungraded and $55-60 in a BGS 9.5/10 at eBay auction. Calhoun is a bargain price with huge power potential. Invest with confidence!
Eloy Jimenez, OF – Chicago White Sox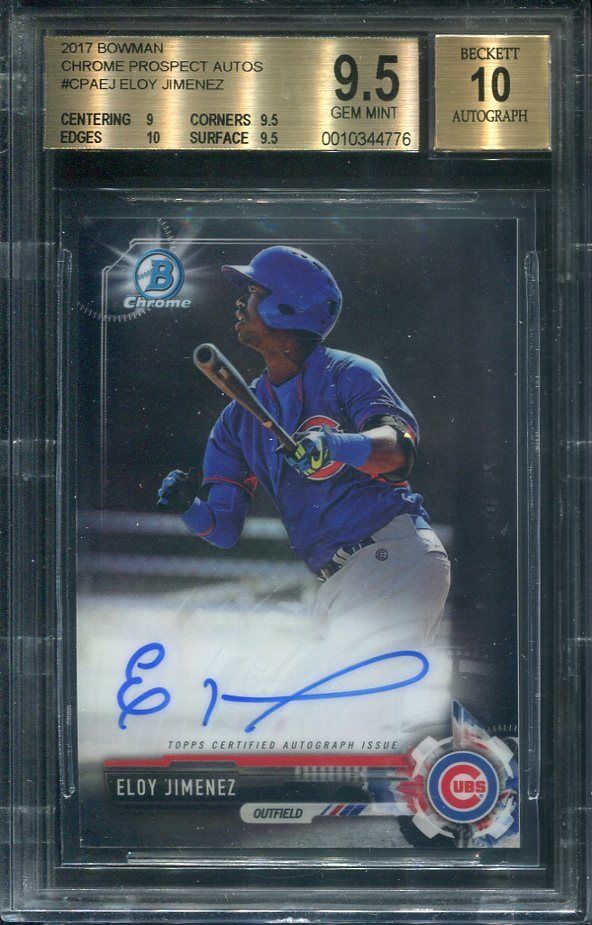 He ranks as one of the elite prospects in the minors and has recently gone a big hot streak in Double A. I would expect him to be called up in late July or early August. He is batting well over .300 and already has 6 HRs thus far. His recent hot streak in the minors has caused his cards to already explode so he is a pricier prospect than most. One of his most sought-after cards is his 2017 Bowman Chrome Auto which sells for a $300 in a BGS 9.5/10 and $150-175 ungraded at eBay auction. Jimenez has light tower power and should showcase that power sooner rather than later in the windy city.
Franmil Reyes, OF – San Diego Padres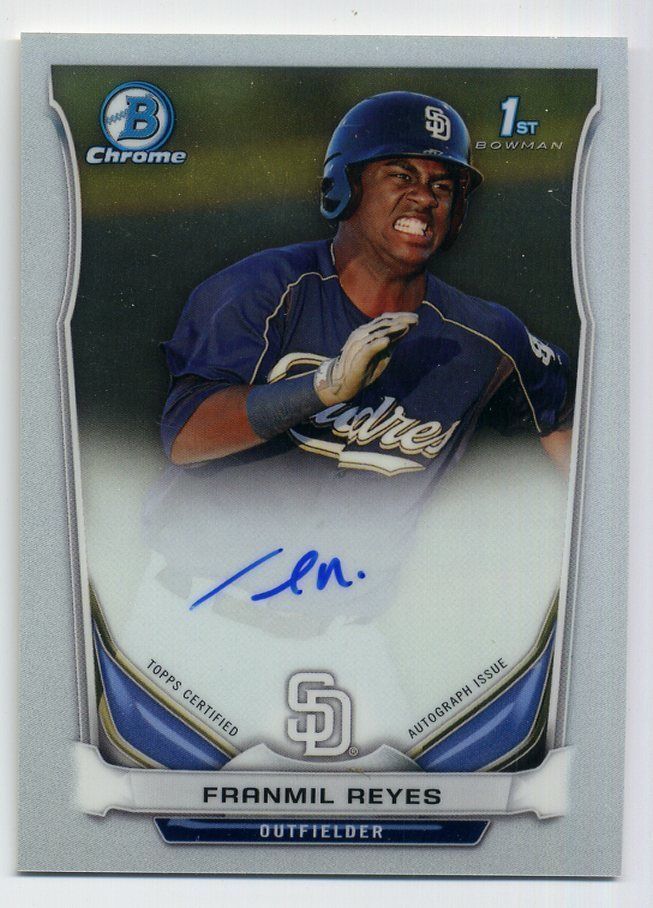 An under-the-radar prospect at the beginning of the 2018 season, Reyes is creating some buzz with standout performances. He hit eight HRs last week and homered in five straight games at the AAA level and is just 22-years-old. Reyes now has 13 homers already to go along with a .345 average. He should arrive on the Padres big league team immediately. His most popular card remains his 2014 Bowman Chrome Autograph which sells for just $25 ungraded. The same card was only $5-10 a few weeks ago. Invest in Reyes before it's too late!
Baseball prospects in the Hobby often cause huge buzz, some players are always going to be pricier than others. These are just a few examples of future players that should make an impact within a few months in the big leagues.