NLCS hero Marco Scutaro is a cardboard enigma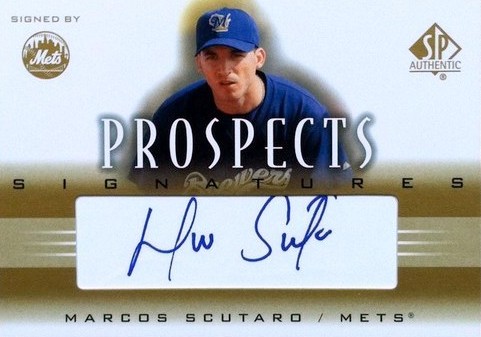 By Chris Olds | Beckett Baseball Editor
Marco Scutaro's emergence as one of the San Francisco Giants' key players late this season culminated with him being named the NLCS MVP Monday night.
But that's not the only surprising thing about this 11-year big-leaguer who has played for six teams and hit .276 with 75 home runs and 478 RBI in his career.
He has just one certified autograph. He has just one Rookie Card.
[youtube]http://www.youtube.com/watch?v=bgAXhcJhrys[/youtube]
In a collecting world where junior high standouts have certified autographs and dozens of cards sometimes years before they're even draftable, Scutaro is a bit of an anomaly.
Of his 347 baseball cards — a paltry number even for a reserve player — Scutaro has just the two key cards.
His autograph is found in the 2002 SP Authentic Prospects Signatures set from Upper Deck and has catapulted to $50, while his only Rookie Card is found in 2001 Topps Fusion, a one-year wonder that fused several designs under one umbrella with his RC showing him on a Gold Label card as a Cleveland Indian.
While his RC books for less than $1, it has seen surges of moderate interest on eBay. Meanwhile the autograph is a brisk seller at lower prices and has shown signs of growth in some auctions.
Scutaro has been a reliable player for much of his big-league career, but one could argue that his previous claim to fame might be his story as a minor leaguer told in a 2005 documentary, A Player to be Named Later (trailer above). In it, the lives of several players and their families are watched as they try to work their way to The Show.
How far as Scutaro come? Well, on Wednesday, he will be playing in the World Series.
Chris Olds is the editor of Beckett Baseball magazine. Have a comment, question or idea? Send an email to him at colds@beckett.com. Follow him on Twitter by clicking here.